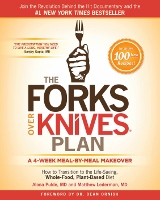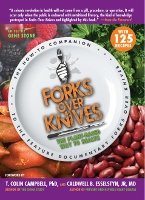 The Forks Over Knives video and series of books recommend a low-fat, whole-food, plant-based diet for health.
Avoid all meat (including fish), dairy, eggs; also oils/fats and processed foods.
Eat freely: fruits, vegetables, legumes, whole grains.
Limit lightly-processed whole foods.
See below on this page for a description of the food recommendations in the diet.  Foods to eat freely  |  Foods to eat sparingly  |  Foods to avoid  |  Transition guide.  There's a lot more in the book.
Get a copy of Forks Over Knives book, Forks Over Knives Kindle Edition, Forks Over Knives DVD, or Forks Over Knives Cookbook for more information on why plant-based diets are better for your health, animals, and the environment, and for recipes.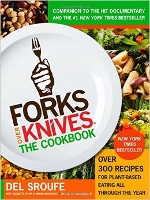 Get The Forks Over Knives Plan by Alone Pulde MD and Matthew Lederman MD (2014) for a 4-week guide to transitioning to a whole-food, plant-based diet, as well as calorie density charts, eating out guidelines, how to respond to social pressures when eating a vegan diet, and more recipes.
The reasoning behind Forks Over Knives
The books suggest that plant-based whole foods are good for your health, good for animals, and good for the environment.
Forks Over Knives diet plan – food list
What can you eat on the Forks Over Knives diet? The foods listed here are taken from the Forks Over Knives book (which says whether you can eat foods freely or sparingly), and the Forks Over Knives Cookbook (which lists ingredients), as well as The Forks Over Knives Plan. There are some assumptions made about which ingredients from the cookbook should go in each list.
Foods to eat freely in Forks Over Knives
Whole foods
Fruits

E.g. apples, apricots, bananas, berries, blackberries, blueberries, cherries, citrus, dates (presumably fresh dates as dried fruits should be limited), figs, grapes, lemons, limes, mangos, melons, oranges, peaches, pears, pineapple, plums, pomegranate, raspberries, strawberries, tangerines

Vegetables

Cruciferous vegetables including bok choy, baby bok choy, broccoli, brussels sprouts, cabbage, cauliflower, napa cabbage, radishes, swiss chard, turnips, watercress
Leafy greens including arugula, beet greens, chard, collard greens, dandelion greens, escarole, kale, lettuce, parsley, spinach
Other vegetables e.g. acorn squash, artichokes, asparagus, beets, butternut squash, carrots, cauliflower, celery, corn, cucumbers, eggplant, fennel, garlic, green beans, leeks, onions, parsnips, peas, snow peas, sugar snap peas, bell peppers, hot peppers, pumpkin, scallions/green onions/spring onions, shallots, spaghetti squash, squash, tomatillos, tomatoes, yellow squash, zucchini
Bean sprouts and other sprouts including adzuki bean sprouts, alfalfa sprouts, broccoli sprouts, mung bean sprouts, soybean sprouts, sunflower sprouts
Tubers including potatoes, sweet potatoes, yams
Mushrooms including button mushrooms, cremini, porcini, portobello, shiitake, and other mushrooms

Legumes

Beans, e.g. adzuki beans, anasazi beans, black beans, cannellini beans, fava beans, great northern beans, kidney beans, lima beans, mung beans, navy beans, pinto beans, white beans
Chickpeas/garbanzos
Lentils, e.g. green lentils, red lentils
Edamame
Dried peas, e.g. black-eyed peas

Whole grains

Whole, not ground into flour (whole grain flours and products made from them should be eaten sparingly, see below)
E.g. amaranth, barley, buckwheat groats, bulgur wheat, corn, hominy, kasha, millet, rolled oats/old-fashioned oats, steel-cut oats, quinoa, brown rice/brown basmati rice, rye berries, spelt berries, wheat berries, wild rice

Herbs and spices

Herbs – e.g. basil, bay leaf, cilantro, dill, marjoram, mint, parsley, rosemary, sage, tarragon, thyme
Spices – e.g. allspice, ancho chili powder, cardamom, cayenne pepper, chipotle peppers, cinnamon, cloves, coriander, crushed red pepper, cumin, curry powder, fennel, fenugreek, garam masala, garlic powder (not garlic salt), ginger, kaffir lime leaves, kombu, lemongrass, mustard powder, nutmeg, onion powder, paprika (smoked and sweet), peppercorns, saffron, turmeric

Slightly processed foods which are okay to eat

Oil-free salad dressings, also low in added sweeteners
Tofu
Pasta sauces with little or no added oils
Unsweetened applesauce, pumpkin puree

Soups make from whole foods
Foods to limit / eat sparingly in Forks Over Knives
Fatty whole foods

Avocados
Nuts e.g. almonds, (raw) cashews, coconut, peanuts, pecans, pine nuts, pistachios, walnuts
Nut and seed butters, e.g. almond butter, cashew butter, chestnut puree, peanut butter, tahini
Seeds, e.g. chia seeds, flaxseeds and ground flaxseeds, sesame seeds, sunflower seeds
Olives
Coconut products, e.g. coconut, unsweetened shredded coconut, coconut meat, coconut flour, lite coconut milk, coconut water

Sugary whole foods

Dried fruits (preferably unsulfured) – e.g. dried apples, dried apricots, dried blueberries, dried cherries, dried cranberries, currants, dates, mejdool dates, prunes, golden raisins, raisins

Dairy substitutes

Unsweetened plain soy yogurt

Beverages

Fruit juices
Plant milks (unsweetened) including soy milk, rice milk, oat milk, hemp milk, and nut milks such as almond milk
Fruit juices and plant milks are okay to have a little on cereal or to flavor foods when cooking, however you should avoid drinking glasses of them
Smoothies can be enjoyed occasionally, if desired, but should not be a major part of the diet

Whole grain products (The Forks Over Knives plan doesn't ask you to limit these, although the original book does)

Whole grain breads, mixes, and crackers, including whole-grain bagels, cereals, muffins, pancakes, pastas, pita pockets, pizza crusts, and waffles
Corn or whole wheat tortillas
Whole grain pasta, brown rice noodles, soba noodles
Foods made with whole grain flours such as brown rice flour, cornmeal, oat flour, sorghum flour, spelt flour, whole wheat pastry flour
Be careful to avoid added oils, sugars, and other unwanted ingredients

 Sweeteners

Minimally processed dry sweeteners, e.g. evaporated cane juice, cane sugar, sucanat, date sugar, maple sugar
Pure maple syrup, Grade A or Grade B (don't substitute pancake syrup, table syrup, or maple-flavored syrup as they often consist primarily of high-fructose corn syrup)
Brown rice syrup, date molasses, date syrup, unsulfured molasses

Condiments and pantry – barely processed

Arrowroot powder, barbecue sauce, low-sodium vegetable broth, Bragg liquid aminos, capers, cornstarch, gochujang, hot sauce such as Tabasco, ketchup, mirin, miso, mustard, nutritional yeast, sambal oelek (Indonesian chili sauce), low-sodium soy sauce, sun-dried tomatoes (not packed in oil), low-sodium tamari, Thai red curry paste, tomato paste, tomato puree, tomato sauce, vinegar (including balsamic vinegar, brown rice vinegar, red wine vinegar, apple cider vinegar), vegan Worcestershire sauce, wasabi paste
Aluminum-free baking powder, baking soda, grain-sweetened chocolate chips, unsweetened cocoa powder, unsweetened apple cider, unsweetened pineapple juice, tamarind paste, tahini, pure vanilla extract
Egg replacer, such as Ener-G
Don't worry about carbohydrates – it's important to eat carbohydrate-rich food
Consider a vitamin B12 supplement
Foods to avoid with Forks Over Knives
Animal-based foods

Meat, e.g. beef, pork, lamb, etc.
Poultry, e.g. chicken, turkey, etc.
Game meats and birds
Fish and shellfish

Eggs

Eggs including egg whites
Any foods containing eggs or ingredients made from eggs

Dairy

All milk products, including milk, cheese, butter, yogurt, cream, etc.
Dairy from all kinds of animals, including cows, goats, sheep, etc.
An foods containing dairy products or ingredients made from dairy products

Hidden animal ingredients that may be on labels as casein, whey, whey protein, albumen, caseinate, sodium caseinate, lactose, lactic acid, rennet, and rennin
Liquid calories

Soda, energy drinks, and other sweetened beverages

Refined foods

Foods made with bleached flour
Refined sugars and foods made with them
Potato chips, pretzels

Oils

Extracted oils including olive oil, vegetable oils, coconut oil, etc.
Fish oil

Artificial foods

Foods containing chemical additives such as artificial colorings, flavorings, and preservatives, including dairy-free pastries, low-calorie soda
Transition guide from The Forks Over Knives Plan
How much to eat
Consider calorie density instead of counting calories. Leafy vegetables contain 100 to 200 calories per pound while oil contains 4,000 calories per pound
Aim for 15% of calories from fat, which allows for only a minimal amount of your food to contain a higher percentage than that
A diet of 10% of calories from protein is sufficient for most people, athlete and nonathlete alike
Aim to keep sodium to no higher than 1 mg per calorie, unless the product is a condiment or you're using just a small amount of it as part of a larger recipe
75-80% of your calories will come from carbohydrates
General guidelines
Eat until you are satisfied, of "foods to eat freely" above
For more rapid weight loss – for any meal, begin with foods that have lower calorie density, such as salads or vegetables
Don't go to extreme and eat only green leafy vegetables – this isn't sustainable and you're more likely to "fall off the wagon"
Make a meal plan for each week of the diet – and build your shopping list at the same time
Keep a "food and mood" journal of what you eat and how you feel
You don't have to eat a variety of foods at a given meal (for example combining different plant foods to get proteins)
Week by week
Week One: Change your breakfast – try to follow the diet for all your breakfast meals
Week Two: Change your lunch – try to follow the diet for all your lunchtime meals, and your between-meal snacks
Week Three: Change your dinner – try to follow the diet for all your evening meals
Week Four: Fine-tuning and feeling the freedom of just eating
What if I'm not losing weight?
Start keeping a food and mood journal, if you haven't already, or step up your use of it if you have
For a week or two, include absolutely everything that goes in your mouth, and read all the labels on your food to ensure that you have no dairy or oil
Look at what you're eating on the calorie density chart; you may need to substitute more foods that are lower in calorie density than what you are currently eating
How to cook without oil or fat
Use primarily nonstick pots and pans. These are not mandatory – if you prefer to avoid Teflon-coated nonstick pans, you can use good-quality, heavy-bottomed stainless steel pans, enamel-coated cast iron, or ceramic titanium
To sauté without oil or butter, use vegetable broth or water instead. Don't use too much liquid, as this would lead to steamed, not browned vegetables. Look at the recipes in the book for examples of how to do this
For baking, use pureed fruit such as unsweetened applesauce, dates, or crushed pineapple in place of oil or butter
Health benefits claimed in Forks Over Knives
The diet in these books claims to reduce the risks for: acne and other skin conditions, Alzheimer's disease, arthritis, asthma, bad breath, birth defects, bloating, body odor, cancer, cataracts, constipation, dementia, depression, diabetes I and II, diarrhea, diverticular disease, ear infections, erectile dysfunction, food addiction, gallstones, gout, headaches, heart disease, high cholesterol, hypertension / high blood pressure, infertility, inflammatory bowel disease IBD, insomnia, irritable bowel syndrome IBS, kidney disease, kidney stones, lupus, macular degeneration, migraine, multiple sclerosis, muscular dystrophy, overweight/obesity, osteoporosis, Parkinson's disease, prostate disease, reflux, rheumatoid arthritis, sexual dysfunction, sleep apnea, stomachaches, stress, stroke
As always, this is not intended to be a replacement for professional medical diagnosis or treatment for a medical condition. Consult your doctor before starting a new diet. This page describes what the authors of the diet recommend – Chewfo is describing the diet only, and does not endorse it.
Get a copy of the Forks Over Knives book for a description of why you should follow a plant-based diet.


Original book
Get The Forks Over Knives Plan for a 4-week meal-by-meal makeover, a transition guide to a whole-food plant-based diet, as well as over 100 new recipes.


Diet plan
See the Forks Over Knives DVD, the original documentary behind the books.


Documentary DVD
Get a the Forks Over Knives Cookbook for more information on why plant-based diets are better for your health, animals, and the environment, and for recipes.


Cookbook
The diet's website is http://www.forksoverknives.com; it's on Twitter at https://twitter.com/ForksOverKnives, Facebook at https://www.facebook.com/forksoverknives, and Pinterest at http://pinterest.com/forksoverknives/.
How has this diet helped you? Please add a comment below.