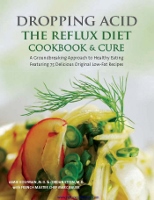 Dropping Acid (2010) by Jamie Koufman MD, Jordan Stern MD, and Marc Bauer is a book that describes a diet to cure acid reflux:
Low fat
Low acid
Avoiding other foods that may trigger reflux
Foods are listed in the book – good foods in green, bad foods in red
This diet avoids discussion of sugar, refined foods, and processed foods and makes no recommendations one way or the other on them, except for suggesting people should eat whole grains.
Below is a description of the food recommendations in the diet. Induction  |  Maintenance  | Foods to avoid or limit. There's a lot more in the book.
Use this page as a cheat sheet alongside the book. Send this page to friends, family, and anyone else who you want to understand what you're eating on this diet.
Get a copy of Dropping Acid: The Reflux Diet Cookbook & Cure for the full details – this is an outline of the food recommendations in the book.
Also see their blog at www.refluxcookbookblog.com (link removed – security issue seen).
The reasoning behind Dropping Acid
The authors estimate that 100 million Americans have reflux, many of them unaware of it, and many of them incorrectly diagnosed. The incidence is on the rise, and they believe it has largely to do with excessive acid in our diets as prepared foods have been increasingly acidified to prevent bacterial growth and add shelf life. The real villain is the digestive enzyme pepsin, not acid, so an antacid won't help many reflux symptoms. Pepsin breaks down proteins, and can only do its job when acid is around to activate it. Once a pepsin molecule is bound to, say, your throat, any dietary source of acid can reactivate it – and eat at your digestive linings.
Dropping Acid – acid reflux diet – food list
Induction  |  Maintenance  | Foods to avoid or limit
Eat smaller meals more frequently, instead of large meals. Avoid overeating and especially overdrinking
Do not eat anything 3 hours before bedtime, have a light dinner, and avoid alcohol before bedtime
Generally, organic is preferable
Average at around 10% fat content
Foods to eat in Dropping Acid – induction
Begin with 2-4 weeks on a very strict, acid-free diet – The Induction Reflex Diet. This gives the membranes lining your throat, esophagus, etc. a chance to heal
Eat only foods which are on the alkaline end of the scale, above pH 4
"If your symptoms are severe, it's well worth considering the even stricter induction phase diet for two weeks, in which you eat nothing below pH 5" (p.45). That means that in the maintenance list, the foods below with a star* next to them may be better avoided if you have severe symptoms.
Proteins

Eat only organic poultry and fish
Chicken – grilled/broiled/baked/steamed, no skin
Egg whites (for some people, eggs may trigger reflux)
Fish (including shellfish) – grilled/broiled/baked/steamed/sushi
Tofu
Turkey breast – organic, no skin

Carbs

Bagels
Beans – black beans, red beans, lima beans, lentils, etc.
Bread – whole grain, rye, unprocessed wheat
Muffins – non-fruit, low-fat
Oatmeal and all whole-grain cereals
Pasta – with non-acidic sauce
Popcorn – plain or salted, no butter
Rice (healthy rice is a staple during induction)
Whole-grain breads, crackers, and breakfast cereals

Low-acid fruits

Apples (max. 4 per week, only red apples – Fuji, Red Delicious*, Gala*)
Bananas (a small number of people with reflux need to avoid them)
Melons – cantaloupe, honeydew, watermelon (a small number of people with reflux need to avoid them)
Pears (max. 4 per week, only if ripe)

Low-acid vegetables

Green vegetables – excluding bell pepper
Fennel
Mushrooms – raw or cooked
Parsley
Potatoes – and all of the root vegetables except onions
Red bell peppers* (max. 1 per week)
Turnips
Vegetables – raw or cooked, no onion, tomato, peppers. These vegetables are mentioned in the book and in recipes: arugula, asparagus, beets, broccoli, cabbage (green, red, savoy), carrots, cauliflower, celery, corn, eggplant, endive, green beans, parsnips, peas, radish, snow peas, squash (acorn squash, butternut squash, spaghetti squash), watercress, yams, zucchini

Condiments and dressings

Vinaigrette – 1 tablespoon per day

Sweeteners

Agave nectar*
Artificial sweetener (max 2 teaspoons per day)
Caramel (less than 4 tablespoons per week)
Honey

Beverages

Water – non-carbonated
Chamomile tea (most other herbal teas are not okay)
Coffee (one cup per day, best with milk)

Other

Aloe vera
Chicken stock or bouillon
Ginger – ginger root, powdered or preserved – one of the best foods for reflux
Herbs – excluding all peppers, citrus, and mustard
Milk – 2% or fat-free, Lactaid lactose-free, or soy milk
Olive oil – 1-2 tablespoons per day
Soups – homemade with noodles and low-acid veggies
Foods to eat in Dropping Acid – maintenance
In the third week, go to the "maintenance" phase of the diet by choosing your foods from "good" and "bad" food lists, sticking to foods with a pH above 4.0.
The following foods are mentioned in the book, as well as the foods in the Induction diet:
Proteins

Egg whites (for some people, eggs may trigger reflux)
Lean preserved meats – e.g. prosciutto with the fat removed
Lean pork

Carbs

All-purpose flour, oat flour
Filo dough
Graham crackers
Pancake batter
Panko / bread crumbs
Polenta
Quinoa

Low-acid fruits
Condiments and dressings

Italian dressing (use sparingly)
Hoisin sauce, plum sauce

Sweeteners

Brown sugar, maple syrup, turbinado sugar
Dried fruit (non-citrus), e.g dates, raisins

 Other

Baking powder, gelatin powder
Capers, clam juice, anchovies, olives
Dijon mustard
Fish sauce
Herbs – cilantro, basil, bay leaves, dill, parsley, oregano, rosemary, lemongrass, cardamon, cafir, lime leaves, tarragon, thyme
Lemon or lime zest (peel only)
Miso paste
Low-sodium soy sauce
Spices (not pepper or chili) – e.g. allspice, cardamom, cloves, juniper, nutmeg
Vanilla beans, vanilla extract, rose water, orange blossom water
Yogurt*, non-fat sour cream – 2% or fat-free

Fatty foods that may be used in small amounts

Butter, olive oil, whole egg, toasted nuts and seeds, salad dressings, citrus oils from zest (orange, lemon, lime), Italian Parmesan or Romano cheese, cheddar cheese extra sharp, blue cheeses e.g. Rocquefort
Note this is not a salt-restricted diet
Foods to avoid or limit with Dropping Acid
Notoriously bad reflux foods
Fatty foods

Deep-fried foods
Fatty meats – bacon, sausage, ribs, high-fat hamburgers
Cream sauce e.g. Alfredo
Butter, margarine, lard, shortening
High-fat nuts, including peanut butter

Acidic foods

Carbonated beverages including all sodas
Citrus fruits/juices – lime, lemon, nectarine, grapefruit, orange
Alcohol – beer, liquor, and wine
Vinegar

Chocolate, especially high-fat milk chocolate
Caffeinated beverages – coffee, tea – limit to one cup a day, best with milk
Mint, especially peppermint and spearmint
Hot sauces and pepper (cracked black, white, or red peppers)
Idiosyncratic, usually bad foods for reflux
Acidic foods

Tomatoes, tomato sauce, tomato paste, tomato juice
Onions
Apples and applesauce

Garlic
Nuts
Cucumber
Green peppers
Spicy food
Some herbal teas (chamomile is the best tea for refluxers)
Other acidic foods that may be bad for reflux
Condiments and sauces

Barbecue sauce
Caesar dressing
Hot sauce
Ketchup
Mustard
Pickles
Ranch dressing
Russian dressing
Salsa
Thousand island dressing
Worcestershire sauce

Fruits

Blackberries
Blueberries
Cherries
Cranberries, cranberry juice
Grapes
Kiwi
Mango
Peaches
Pineapple
Pomegranate
Strawberries

Iced tea
Milk, full-fat
Yogurt, full-fat
V8 vegetable juice
Health benefits claimed in Dropping Acid
The diet in this book claims to reduce the risks for: acid reflux/GERD, atypical reflux disease, extraesophageal reflux disease, gastric reflux, heartburn, indigestion, laryngopharyngeal reflux (LPR), reflux laryngitis, silent reflux, supraesophageal reflux disease, other reflux-related symptoms and conditions:
Reflux-related symptoms and conditions (LPR and GERD):
Symptoms: heartburn, regurgitation, chest pain, shortness of breath, choking episodes, hoarseness, vocal fatigue, voice breaks, chronic throat clearing, excessive throat mucus, post-nasal drip, chronic cough, dysphagia, difficulty swallowing, difficulty breathing, choking episodes, globus, food getting stuck, a sensation of a lump in the throat, intermittent airway obstruction, wheezing
Conditions include esophagitis, dental caries and erosions, esophageal spasm, esophageal stricture, esophageal cancer, reflux laryngitis, larynx (laryngeal) cancer, endotracheal intubation injury, contact ulcers and granulomas, posterior glottis stenosis, arytenoid fixation, paroxysmal laryngospasm, globus pharyngeus, throat cancer, vocal cord dysfuntion, paradoxical vocal fold movement, vocal nodules and polyps, pachydermia laryngitis, recurrent leukoplakia, polypoid degeneration, laryngomalacia, sudden infant death syndrome SIDS, sinusitis and allergic symptoms, sleep apnea, asthma
As always, this is not intended to be a replacement for professional medical diagnosis or treatment for a medical condition. Consult your doctor before starting a new diet. This page describes what the authors of the diet recommend – Chewfo is describing the diet only, and does not endorse it.
Get a copy of Dropping Acid: The Reflux Diet Cookbook & Cure for more information on medical issues of reflux and for recipes


The book's website is http://www.refluxcookbook.com (link removed – security issue seen), and there's a blog at http://www.refluxcookbookblog.com (link removed – security issue seen). Dr. Koufman is on Twitter at https://twitter.com/RefluxDoctor.
How has this diet helped you with acid reflux? Please add a comment below.