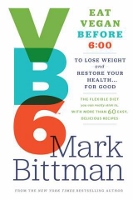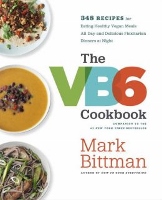 VB6 (2013) is a weight loss book that encourages you to restrict what you eat before 6pm every day of the week, and to eat more freely late at night
Eat vegan before 6pm, mostly produce
After 6pm, you can also eat animal protein and slightly processed foods
Try to avoid more processed foods – if you do have them, limit them to after 6pm
Time of cutoff depends on your lifestyle – your evening meal is your trigger for freer eating
Below is a description of the food recommendations in the book.  Summary  |  Unlimited foods  |  Flexible foods  |  Treats  |  Foods to drastically limit.  There's a lot more in the book.
Get a copy of VB6 for a description of why the VB6 diet works, how to make it work for you, meal plans, and recipes
Order The VB6 Cookbook for "More than 350 Recipes for Healthy Vegan Meals All Day and Delicious Flexitarian Dinners at Night"
The reasoning behind VB6
The book argues that we should eat more real, wholesome foods – when we eat a lot of foods with a low caloric density, such as fruits and vegetables, we can lose weight. Animal food production is unsustainable, and we should have less of it but higher quality. Processed foods are bad for us and bad for the environment.
VB6 diet plan – food list
Start the plan for 28 days, and preferably continue it as a lifelong diet
It's about doing your best to nourish yourself with real, wholesome foods most of the time and not beating yourself up when you don't. As long as you're committed to that, the occasional trip-up is not a big deal
Unlimited foods
Eat freely and luxuriously from this category:
Vegetables

Cabbage-like vegetables and greens – bok choy (and other Asian greens), broccoli, broccoli rabe, brussels sprouts, cabbage, cauliflower, chard, chicory, collards, dandelion, endive, escarole, kale, all lettuce and salad greens, spinach, watercress
Nightshades – bell peppers, chiles, eggplant, tomatillos, tomatoes
Stalk or stem vegetables – artichokes, asparagus, cactus, cardoons, celery, fennel, kohlrabi, mushrooms
Edible-pod legumes – green and wax beans, snap peas, snow peas
Root vegetables and tubers – beets, carrots, celery root, jícama, parsnips, radishes, rutabaga, sweet potatoes, turnips, yams
Summer squashes – pattypan squash, yellow squash, zucchini
Winter squashes – acorn, butternut, delicata, kabocha, pumpkin, spaghetti
Aromatics – garlic, ginger, leeks, onions, scallions, shallots
Sprouts – alfalfa, bean sprouts, lentil, radish, soy, wheat
Sea vegetables – seaweeds and sea beans

Fruits

Citrus – clementines, grapefruit, lemons, limes, mandarins, oranges, tangerines, tangelos
Melons – cantaloupe, casaba, honeydew, watermelon
Berries – blueberries, strawberries, etc.
Stone and tree fruits – apples, apricots, cherries, figs, nectarines, pears, peaches, plums
Tropicals – bananas and plantains, kiwi, mango, papaya, pineapple
Any other fresh fruit

Condiments and seasonings

Salt and pepper
Fresh herbs, e.g. basil, chives, cilantro, dill, mint, oregano, parsley, rosemary, thyme, etc.
Dried herbs, e.g. marjoram, oregano, rosemary, sage, thyme
Vinegars – e.g. balsamic vinegar, sherry vinegar, wine vinegars
Mustard – whole-grain and/or Dijon style; mustards without added sugars (like honey mustard)
Horseradish
Salsa (without fat) – get the good stuff in jars, not cans
Pickles – any vegetable, as long as the brine is unsweetened – e.g. sauerkraut, roasted red peppers, olives, capers – wherever possible in glass containers instead of plastic and cans
Soy sauce – the real stuff
Miso – any color
Spices and spice blends – e.g. cardamom, chili powder, cumin, curry powder, fennel seeds, fines herbes, garam masala, ginger, jerk seasoning, mustard, nutmeg, pimentón (smoked paprika)
Worcestershire sauce, fish sauce/nam pla – not technically vegan, but the amount of animal products they contain is trivial
Categorizations are taken from the book
Flexible foods
These foods provide important nutrients, but they are generally more calorie dense than fruits, vegetables, condiments, and seasonings. Eat them sparingly at breakfast, lunch, or in snacks; after 6pm you have more latitude with the foods in this category
Beans/legumes

E.g. black beans, black-eyed peas, cannellini, chickpeas/garbanzos, cranberry beans, fava beans, flageolets, gigante beans, great northern beans, kidney beans, lentils, lima beans, mung beans, navy beans, pinto beans, soy beans, white beans
Tofu or silken tofu, tempeh

Whole grains

Amaranth, barley (hulled not pearled), brown rice (all kinds), buckwheat groats and kasha, bulgur, cornmeal, cracked wheat, farro, grits, hominy, kamut, millet, oats (all kinds except instant), polenta, quinoa, rye berries, wheat berries, wild rice
Whole wheat or whole grain bread, whole wheat or other whole-grain pasta, whole wheat couscous, whole-grain crackers (minimally processed, little or no fat)
Seitan

Flexible fruits and vegetables

Avocadoes, coconut
Corn, peas, potatoes (all kinds), tropical tubers (like cassava, taro, and yucca)
100% fruit and vegetable juices

Nuts and seeds

Almonds, cashews, hazelnuts/filberts, macadamia nuts, peanuts, pecans, pistachios, walnuts
Chia seeds, flax seeds, poppy seeds, pumpkin seeds, sesame seeds

Oils

Choose minimally processed, flavorful, unsaturated fats
Olive oil
Nut oils, sesame oil
Grapeseed oil, peanut oil, sunflower oil, or other vegetable oils

Sweet condiments and sweeteners

Almond milk, coconut milk, hazelnut milk, nut milks, oat milk, rice milk, soy milk
A-1 sauce, barbecue sauce, ketchup
Relishes and chow-chows, sweet pickles
Honey (not technically vegan), maple syrup (grade B packs the most punch), sugar (turbinado is the least processed)

Baking ingredients

Baking powder, baking soda
Yeast
Whole wheat and other whole-grain flours e.g. brown rice flour
Cornmeal, polenta
Nut flours

Dried fruits

Apricots, cranberries, dates, figs, pineapple, raisins, etc.
Keep portions small, and reserve these for special occasions or as additions to salads, bean dishes, pilafs, and desserts
Coffee isn't mentioned, although it's vegan – tea is recommended
Treats
Eat these after 6pm, but don't eat them nearly as often, or in as large quantities, as you used to
Meats, including

Chicken, duck, goose, pheasant, quail, turkey, and other poultry/birds
Beef, lamb, pork, and other meats
Venison and other game meats
Smoked and cured meats – like bacon, hams, salamis, sausages, etc.
Try to think of meat as a garnish rather than a centerpiece
Choose the best quality

Eggs

Eggs and products made with eggs, like custard and mayonnaise

Dairy

Hard cheeses – cheddar, manchego, Parmesan, and other aged and dried cheeses
Soft cheeses – aged mozzarella, blue cheeses, brie, feta, Monterey Jack, Muenster
Fresh cheeses – fresh goat cheeses, fresh mozzarella, mascarpone, quark, ricotta
Milk, butter, cream, sour cream, buttermilk, crème fraîche
Yogurt – preferably plain; the fat content doesn't matter
Best: real milk and cream, plain cultured yogurt, and well-made, flavorful cheeses

Fish and seafood

Thick fish fillets – bass, char, cod, hake, halibut, salmon, striped bass, etc.
Thin fish fillets – catfish, flounder, mackerel, tilapia, trout
Fish steaks – halibut, salmon (wild is best), swordfish
Small-to-medium whole fish – anchovies, mackerel, porgies, sardines, smelt, whiting
Shellfish and mollusks – clams, crab, crawfish, langoustines, lobster, mussels, octopus, shrimp, squid
Canned or jarred fish are fine
It's difficult to recommend eating fish very frequently because of sustainability issues – check the Monterey Bay Seafood Watch listings
Wild is probably better than farmed/aquaculture

Quality processed carbs

White pasta
White rice – e.g. basmati, jasmine, short grain
Rice noodles
Good white breads – the crusty, airy kind from a good baker
Egg breads – brioche, challah, and the like
Sandwich breads, focaccia
Pizza
White flour – unbleached – for breading and other baking
Crackers – whether they're gluten-free, whole grain, other otherwise, they're still treats

Fats

Implied in the book – vegetable-based saturated fats like coconut oil and palm oil should be limited, presumably as "treats"

Alcohol

Definitely off limits during the day, and up to you at night
If you're seriously trying to lose weight, very limited drinking – or none at all – is something you should consider

Dessert

A small piece of cake is almost always just as good as a big one
Choose good-quality, preferably homemade, sweet treats – or a piece of dark chocolate or caramel – over a bag of supermarket cookies
After a week or so eating VB6, you may find that your cravings for sugar will be sharply diminished
Drastically limit
These foods should only be eaten during "treat" times, and only very occasionally if at all
Eat (almost) no junk food
Foods with more than five ingredients count as hyper-processed
Dairy

Processed cheese and sugary flavored yogurt

Fats

Avoid hydrogenated fats like vegetable shortening

Fast food

Be selective and resist temptation

Protein, granola, or so-called diet bars

Just eat real candy instead – it will feel more like dessert, it is likely to contain more real food, and might even have fewer calories

Frozen meals

Microwave dinner, Hot Pockets, etc.
Including "diet" ones

Chips

All kinds – fried, baked, or otherwise

Packaged salty snacks

Especially super-salty powdery snacks like Cheetos, Doritos, and Pringles

Processed bread
Soda or sweetened beverages

Including energy drinks, Gatorade, and sweet tea
Diet drinks probably aren't good for you, either

Packaged desserts

Packaged cookies, doughnuts, fruit roll-ups, Twinkies, etc.

Sugary cereal

Most packaged cereal
Even so-called healthy options and granola are filled with sugar
Health benefits claimed in VB6
The diet in this book claims to reduce the risks for: type 2 diabetes, high cholesterol, high blood pressure, high blood sugar / hypoglycemia, metabolic syndrome, overweight/obesity, prediabetes, stroke
As always, this is not intended to be a replacement for professional medical diagnosis or treatment for a medical condition. Consult your doctor before starting a new diet. This page describes what the authors of the diet recommend – Chewfo is describing the diet only, and does not endorse it.
Get a copy of VB6 for a description of why the VB6 diet works, how to make it work for you, meal plans, and recipes

 Diet book
Order The VB6 Cookbook for "More than 350 Recipes for Healthy Vegan Meals All Day and Delicious Flexitarian Dinners at Night"

 Cookbook
How has this diet worked for you? Please add a comment below.