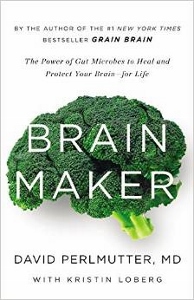 Brain Maker (2015) is a book that focuses on nourishing gut bacteria for a healthier body and brain.
Eat a diet high in prebiotics, probiotics, fermented foods, low-carb foods, gluten-free foods, and healthful fat.
Limit starchy foods.
Avoid gluten, sugar (especially fructose), processed foods.
See below on this page for a description of the food recommendations in the diet. What to eat  |  Foods to eat in moderation  |  Foods to avoid.  There's a lot more in the book, which provides a new twist on the author's previous book, Grain Brain.
Use this page as a cheat sheet alongside the book. Send this page to friends, family, and anyone else who you want to understand what you're eating on this diet.
Get a copy of Brain Maker for risk factors for the state of your microbiome, gut-brain biology, connections between the gut and the brain, how gut microbiology affects your health and mood, links to obesity and autism, a guide to supplements including probiotics, a 7-day menu/meal plan, and recipes for fermented foods.
The reasoning behind Brain Maker
As described in the author's previous book Grain Brain, the two key mechanisms that lead to brain degeneration are chronic inflammation and the action of free radicals, which for now you can think of as byproducts of inflammation that cause the body to "rust." Brain Maker takes a new look at these mechanisms and how they are influenced by gut bacteria and your overall gut health.
Our intestinal organisms participate in a wide variety of physiologic actions, including immune system functioning, detoxification, inflammation, neurotransmitter and vitamin production, nutrient absorption, signaling being hungry or full, and utilizing carbohydrates and fat. The microbiome affects our mood, libido, metabolism, immunity, and even our perception of the world and the clarity of our thoughts. It helps determine whether we are fat or thin, energetic or lethargic. Everything about our health— how we feel both emotionally and physically— hinges on the state of our microbiome.
Brain Maker diet plan – what to eat and foods to avoid
What to eat  |  Foods to eat in moderation  |  Foods to avoid
The regimen focuses on 6 essential keys:
Prebiotics
Probiotics
Fermented foods
Low-carb foods
Gluten-free foods
Healthful fat
Foods to eat in Brain Maker
General

Eat a low-carb, high-fat, high-fiber diet to support the microbiome
Ideal meal: a sizeable portion of vegetables (2/3 of your plate) and about 3-4 ounces of protein
Choose organic wherever possible
Non-GMO
Gluten-free
Fast every season / intermittent fasting, as discussed in Grain Brain

Vegetables

Low- and moderate-carb vegetables, e.g. alfalfa sprouts, artichoke, asparagus, avocados, bell peppers, bok choy, broccoli, Brussels sprouts, cabbage, cauliflower, celery, chard, collards, cucumber, daikon, eggplant, endive, fennel, garlic, ginger, green beans, Jerusalem artichokes, jicama, kale, leafy greens, leek, lettuce, mushrooms, onions, parsley, pumpkin, radishes, scallions, shallots, spinach, squash, tomato, turnip, watercress, water chestnuts, zucchini
Fermented vegetables, e.g. kimchi, fermented pickles, fermented sauerkraut, other fermented vegetables (pickled in brine, not vinegar)
Foods rich in probiotics – 12 gram-per-day minimum: acacia gum (or gum arabic), raw asparagus, raw chicory root, raw dandelion greens, raw garlic, raw Jerusalem artichoke, raw leek, raw onion, cooked onion

Herbs and spices

No restrictions on herbs and seasonings (but be mindful of packaged products that may have been made at plants that process wheat and soy)
Herbs, e.g. bay, cilantro, dill, mint, parsley
Spices, e.g. allspice, chili powder, cinnamon, cloves, coriander, ginger, juniper berries, mustard seeds, black pepper, salt (preferably Himalayan pink salt), star anise

Proteins

Whole eggs
Wild fish, e.g. black cod, grouper, herring, mahimahi, salmon, sardines, trout
Shellfish and mollusks, e.g. clams, crab, lobster, mussels, oysters, shrimp
Grass-fed, antibiotic-free, organic meat, e.g. beef, bison, lamb, liver, pork, veal
Pastured organic fowl / poultry, e.g. chicken, duck, ostrich, turkey
Wild game
Fermented meat, fish, and eggs

Dairy and non-dairy equivalents

Fermented dairy, e.g. kefir, live-culture sour cream, live-cultured yogurt (unsweetened, no artificial sweeteners or flavors)
Whey from fermented dairy
Non-dairy equivalents e.g. coconut kefir, coconut yogurt
Almond milk
Cheeses (except for blue cheeses)

Fats

Vegetable fats, e.g. extra-virgin olive oil, sesame oil, coconut oil
Animal fats, e.g. grass-fed tallow and organic or pasture-fed butter, ghee

Nuts and seeds

Nuts including coconut
Nut butters
Seeds, e.g. chia seeds, flaxseed, pumpkin seeds, sesame seeds, sunflower seeds

Legumes
Low-sugar fruits

Lemons, limes
Fermented fruits

Beverages

Filtered water
Fermented beverages, e.g. kombucha, water kefir

Pantry and condiments

Condiments – gochugaru, mustard, horseradish, tapenade, and salsa if they are free of gluten, wheat, soy, and sugar
Raw cider vinegar
Olives
Natural anchovy paste
Cultured condiments, e.g. lacto-fermented mayonnaise, mustard, horseradish, hot sauce, relish, salsa, guacamole, salad dressing, fruit chutney
Foods to use in moderation with Brain Maker
"Moderation" means eating small amounts of these ingredients once a day or, ideally, just a couple times a week).
Vegetables
Dairy

Cow's milk and cream: Use sparingly in recipes, coffee, and tea

Legumes

Beans, lentils, peas (note that the book says "exception: chickpeas (hummus is fine)" – we take that to mean that you don't have to have it in moderation, but that's unclear)
Fermented soy, e.g. tempeh – presumably miso and natto are also okay, although they're not listed in this book

Non-gluten grains

g. amaranth, buckwheat, millet, oats (make sure any oats you buy are truly gluten-free), quinoa, rice (brown, white, wild), sorghum, teff

Sweeteners

Natural stevia
Chocolate – presumably should be at least 70% cocoa per Grain Brain

Fruit

Whole sweet fruit
Berries are best; be extra cautious of sugary fruits such as apricots, mangos, melons, papayas, plums (or prunes), and pineapples

Beverages
Canned, processed, and prepared foods
Foods to avoid with Brain Maker
This book is pretty unspecific about foods to avoid, apart from gluten and fructose. Below is the list from Grain Brain, which appears to meet the guidelines from this book as well, plus as a couple of recommendations on foods to avoid from this book.
Gluten-containing foods

Gluten grains – barley, kamut, rye, spelt, triticale, wheat (and wheat germ)
Oats and oat bran (unless certified gluten-free)
Grains cracked or made into flour – bulgur (and tabbouleh), farina, graham flour, semolina
Gluten-containing cereals
Pasta, couscous, noodles – including whole-grain and whole-wheat forms
Breads and breadcrumbs, including matzo
Pastries and baked goods
Meat and dairy with gluten – blue cheeses, hot dogs, ice cream, imitation crabmeat, imitation bacon and other imitation meats, meatballs, meatloaf, processed cheese (e.g. Velveeta), sausage
Other foods with gluten – baked beans (canned), breaded foods, cold cuts, energy bars, French fries (often dusted with flour before freezing), fried vegetables/tempura, fruit fillings and puddings, roasted nuts, seitan, soups, trail mix, veggie burgers
Drinks/beverages with gluten – beer, chocolate milk (commercially prepared), flavored coffees and teas, instant hot drinks, non-dairy creamer, root beer, vodka, wheatgrass, wine coolers
Pantry and condiments with gluten – bouillon/broth (commercially prepared), egg substitute, gravy, ketchup, malt/malt flavoring, malt vinegar, marinades, mayonnaise, salad dressings, soy sauce, teriyaki sauce, syrups
Ingredients that are often code for gluten: amino peptide complex, Avena sativa, brown rice syrup, caramel color (frequently made from barley), cyclodextrin, dextrin, fermented grain extract, Hordeum distichon, Hordeum vulgare, hydrolysate, hydrolyzed malt extract, hydrolyzed vegetable protein, maltodextrin, modified food starch, natural flavoring, phytosphingosine extract, Secale cereale, soy protein, tocopherol/vitamin E, Triticum aestivum, Triticum vulgare, vegetable protein (HVP), yeast extract

Processed "gluten-free" foods

Watch out for foods marked (and marketed) "gluten-free" – some of these foods are fine because they never contained gluten to begin with, but many are labeled as such because they have been processed, e.g. their gluten has been replaced by another ingredient such as cornstarch, cornmeal, rice starch, potato starch, or tapioca starch, all of which raise blood sugar enormously; also trace amounts of gluten can remain
Be extra cautious about gluten-free sauces, gravies, and cornmeal products – e.g. tacos, tortillas, gluten-free cereals, and corn chips

Starchy vegetables

Corn, potatoes, sweet potatoes, yams

Non-fermented soy

Non-fermented soy foods such as tofu and soy milk
Processed foods made with soy (look for "soy protein isolate" in the list of ingredients) – avoid soy cheese, soy burgers, soy hot dogs, soy nuggets, soy ice cream, soy yogurt
Soy sauce containing gluten – although some naturally brewed soy sauces are technically gluten-free, many commercial brands have trace amounts of gluten – if you need to use soy sauce in your cooking, use tamari soy sauce made with 100% soybeans and no wheat

Fruit products with high sugar levels

Fruit juices
Dried fruit (might be used in moderation)

Fats

Processed fats and oils
Margarine, vegetable shortening, trans fats
Any commercial brand of cooking oil, even if they are organic – soybean oil, corn oil, cottonseed oil, canola oil, peanut oil, safflower oil, grapeseed oil, sunflower oil, rice bran oil, wheat germ oil, vegetable oil
Cooking sprays
Fried foods

"Fat-free" and "low-fat" foods

Packaged foods labeled "fat-free" or "low-fat" (unless they are authentically so and within the protocol, such as water, mustard, and balsamic vinegar)

Processed carbs, sugar, and starch

Savory – chips, crackers, cookies, pastries, muffins, pizza dough
Sweet – cakes, doughnuts, sugary snacks, candy, energy bars, ice cream, frozen yogurt, sherbet, jams, jellies, preserves

Drinks/beverages – sports drinks, soft drinks, soda (diet or regular)
Pantry – chutney, ketchup, processed cheese spreads, cornstarch, cornmeal, rice starch, potato starch, tapioca starch
Sweeteners

Natural sweeteners, including agave, honey, maple syrup (stevia is allowed in moderation)
Processed sweeteners, including corn syrup, sugar (white and brown)

Food preparation and storage methods

Microwaving in plastic
Nonstick / Teflon-coated pans
Plastic containers, plastic wrap made from PVC, plastic water bottles
Health benefits claimed in Brain Maker
The diet in this book claims to reduce the risks for: acne, allergies, Alzheimer's disease, amyotrophic lateral sclerosis (ALS), anxiety disorders, arthritis, asthma, atherosclerosis, attention deficit hyperactivity disorder ADHD, autism spectrum disorders ASD, bad breath, bloating, blood sugar imbalances, brain fog, cancer, candidiasis, celiac disease, chronic fatigue, poor concentration, constipation, coronary artery disease, Crohn's disease, dementia, dental problems, depression, diabetes, diarrhea, eczema, epilepsy, fibromyalgia, food sensitivities, frequent colds or infections, gum disease, headaches, high blood pressure, insomnia, insulin resistance, intestinal disorders, irritable bowel syndrome IBS, painful joint inflammations, leaky gut, lupus, memory problems, migraines, mood disorders, multiple sclerosis MS, neurological conditions, obsessive-compulsive disorder OCD, overweight/obesity, Parkinson's disease, rheumatoid arthritis, schizophrenia, skin problems, strokes, sugar cravings, Tourette syndrome, chronic yeast problems
As always, this is not intended to be a replacement for professional medical diagnosis or treatment for a medical condition. Consult your doctor before starting a new diet. This page describes what the authors of the diet recommend – Chewfo is describing the diet only, not endorsing it.
Get a copy of Brain Maker for risk factors for the state of your microbiome, gut-brain biology, connections between the gut and the brain, how gut microbiology affects your health and mood, links to obesity and autism, a guide to supplements including probiotics, menu, and recipes for fermented foods.


The author's website is http://www.drperlmutter.com/. He's on Facebook at https://www.facebook.com/DavidPerlmutterMd and Twitter at https://twitter.com/DavidPerlmutter, and his YouTube channel is https://www.youtube.com/user/DavidPerlmutterMD.
How has this diet helped you? Please add a comment or question below.