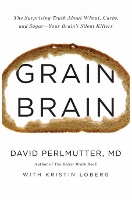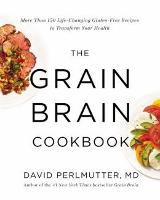 Grain Brain (2013) is a book that describes how to improve your brain health and reduce the risk of brain diseases such as Alzheimer's disease and conditions such as ADHD, depression, anxiety, insomnia, and headaches.
High in healthy fats, naturally raised animal proteins, vegetables.
Low carbohydrate and low fruit, no processed carbs or sugars.
Below is a description of the food recommendations in the diet. Summary  |  Optional fast  |  Foods to eat liberally  |  Foods to eat in moderation  |  Foods to avoid  | Food and headaches  |  Food and sleep. There's a lot more in the book.
Get a copy of Grain Brain for a detailed discussion of the recommendations, self-assessment of risk factors, testing recommendations, supplementation, exercise, information on sleeping, sample menu plan, and recipes.
Get The Grain Brain Cookbook for more than 150 recipes.
Also, see Dr. Perlmutter's following book Brain Maker for more information on brain health.
The reasoning behind Grain Brain
This book claims that brain dysfunction is really no different from heart dysfunction – it develops over time through our behaviors and habits.
Inflammation is increased with high-carb low-fat diets – Many modern chronic diseases have a common denominator of inflammation – brain diseases fit the pattern, and high-carb low-fat diets can lead to inflammation.
Gluten is dangerous – Gluten is a modern poison – the grains we eat are not the same as our ancestors ate, and they are more addictive than ever. As many as 40% of us can't properly process gluten, the other 60% could be in harm's way – gluten sensitivity is linked to neurological dysfunction.
Low-carb is healthier – High levels of carbohydrates, which convert to glucose, can lead to insulin resistance and its knock-on effects. The body's proteins get harmed and aged by exposure to glucose from carbs as well.
Unprocessed fats and cholesterol are good for you – Cholesterol protects the brain, which consists of more than 70% fat: low-fat and low-cholesterol diets may harm it (they also have been shown not to reduce heart disease). Cholesterol is only harmful when it's oxidized, which happens when eating a high-carb diet.
Reduce your waist size to improve your brain – The larger the waist-hip ratio (the bigger your belly), the smaller your brain's memory center.
Grain Brain diet plan – what to eat and foods to avoid
Optional fast  |  Foods to eat liberally  |  Foods to eat in moderation  |  Foods to avoid  | Food and headaches  |  Food and sleep
This diet is for both the old and the young, including women who plan to become or who are pregnant.
Follow this diet for 4 weeks, along with other recommendations including a fitness regime, getting sleep, and supplementation. The dietary changes help you shift your body away from relying on carbs for fuel.
Try to stick to a 90/10 rule – for 90% of the time, eat within these guidelines and let the last 10% take care of itself. If you ever feel like you've fallen off the wagon, you can fast for a day and commit again to the same four weeks of restricting carbs to 30-40 grams a day
Optional fast
Ideally, start week 1 after you have fasted for one full day. Many people find it helps to do the fast on a Sunday (last meal is dinner Saturday night) and then begin the diet program on a Monday morning
No food but lots of water for a 24-hour period
Avoid caffeine
When you've established this diet for life and want to fast for further benefits, you can try a 72-hour fast (check with your doctor first).
Fast at least 4 times a year, fasting during the seasonal changes – e.g. the last week of September, December, March, and June.
Foods to eat liberally in Grain Brain
Go organic and local with your whole-food choices wherever possible. Flash-frozen is fine, too
Healthy fats

Extra-virgin olive oil, coconut oil, sesame oil
Organic or grass-fed/pasture-fed butter, ghee
Cheese (except blue cheeses) – e.g. cheddar cheese, feta cheese, goat cheese, Gruyère, parmesan/Parmagiano-Reggiano cheese, Pecorino cheese (the book implies these should be full-fat)
Grass-fed tallow / rendered animal fat
Almond milk
Avocados, olives
Nuts – raw, unsalted – including almonds, cashews, pine nuts, walnuts
Nut butters such as almond butter, tahini
Nut flours such as almond flour, ground flaxseed
Coconuts, coconut oil, coconut flour, coconut meat, coconut milk, shredded coconut
Seeds including chia seeds, flaxseed, pumpkin seeds, sesame seeds, sunflower seeds

Proteins

Whole eggs – eat a lot of them
Wild fish – e.g. anchovies, black cod, grouper, halibut, herring, mahimahi, red snapper, salmon, sardines, trout, tuna, white fish. Steer clear of any fish that are likely to be high in mercury. Canned fish are fine – opt for sustainably caught, pole- or troll-caught fish – use Monterey Bay Aquarium's Seafood Watch program as a resource for up-to-date information: http://www.montereybayaquarium.org/cr/seafoodwatch.aspx
Shellfish and mollusks – e.g. clams, crab, lobster, mussels, oysters, shrimp
Grass-fed meat – beef, bison, lamb, liver, pork, veal
Grass-fed fowl/poultry – chicken, duck, ostrich, turkey
Wild game

Vegetables

"Fruit" vegetables – avocados, bell peppers, cucumber, eggplant, hot peppers e.g. jalapeño peppers, pumpkin, squash, tomatoes, zucchini
Green and other nonstarchy vegetables – alfalfa sprouts, artichoke, arugula, asparagus, bok choy, broccoli, Brussels sprouts, cabbage, red cabbage, cauliflower, Swiss chard, celery, celery root, collards, fennel, frisée, garlic, ginger, green beans, jicama, kale, leafy greens, leek, lettuces, mushrooms, onions, parsley, radishes, sauerkraut, scallions, shallots, spinach, turnip, water chestnuts, watercress

Lowest-sugar fruits
Herbs, seasonings, and condiments

Free of gluten, wheat, soy, and sugar
Herbs of all types, including basil, bay leaves, chives, cilantro, cinnamon, dill, mint, mustard cress, oregano, parsley, rosemary, sage, tarragon, thyme
Spices and seasonings of all types – watch out for packaged products made at plants that process wheat and soy – including allspice, cayenne pepper, cloves, cumin, nutmeg, paprika, pink peppercorns, red pepper flakes, saffron
Capers, chicken or vegetable stock/broth (gluten-free, preferably homemade) horseradish, mustard, salsa, tapenade, tomato paste, vinegar (e.g. balsamic vinegar, red wine vinegar), wine for cooking
Hummus (listed as an exception in legumes)

Beverages

Ideally, stick to purified water
Drink half of your body weight in ounces of purified water daily. E.g. if you weight 150 pounds, that means drinking at least 75 ounces, or about 9 glasses, of water par day
You can also opt for tea or coffee (assuming you don't have any issues with coffee), but be careful about caffeine late in the day. For every caffeinated beverage you consume, include an extra 12-16 ounces of water
Almond milk is another alternative drink

Snack ideas

You're not likely to find yourself hungry between meals following these guidelines, but if you do here are some ideas:
A handful of raw nuts or a mix of nuts and olives; a few squares of dark chocolate; chopped raw vegetables dipped in hummus, guacamole, goat cheese, tapenade, or nut butter; cheese and wheat-free, low-carb crackers; slices of cold roasted turkey or chicken dipped in mustard; half an avocado drizzled with olive oil, salt, and pepper; two hard-boiled eggs; caprese salad; cold peeled shrimp with lemon and dill; one piece or serving of whole, low-sugar fruit
Avoid eating out during the first 3 weeks on the program so you can focus on getting the dietary protocol down. Toward the end of week 4, work on the goal of being able to eat anywhere – at a restaurant, ask for baked fish with steamed vegetable and no bread basket. Watch out for elaborate dishes that contain multiple ingredients. When in doubt, ask about the dishes. In general, on most days of the week, commit to consuming foods that you prepare.
Foods to use in moderation with Grain Brain
"Moderation" means eating small amounts of these ingredients once a day or, ideally, just a couple times weekly
Carbs are limited to 30-40 grams a day during the 4 weeks, after which you can increase to 60 grams a day (see http://ndb.nal.usda.gov/ndb/search/list for macro- and micronutrient levels of different foods). You can measure the degree of ketosis that you achieve using test strips, aiming for levels of 5-15
Moderately starchy vegetables
Milk products

The book implies that milk and milk products should be full-fat
Cottage cheese, (plain unsweetened) yogurt, kefir – use sparingly in recipes or as a topping
Cow's milk and cream – use sparingly in recipes, coffee, and tea
Buttermilk is listed in recipes (note that this is by nature usually lower-fat)

Legumes/pulses

Beans, lentils, peas
It looks like fermented soy is okay – e.g. miso, natto, tempeh – presumably should be eaten in moderation rather than liberally as it's a legume

Non-gluten grains

When non-gluten grains are processed for human consumption (e.g. milling whole oats and preparing rice for packaging), their physical structure changes, and this increases the risk of an inflammatory reaction – for this reason, these foods are limited
Amaranth, buckwheat, corn, millet, quinoa, rice (brown rice, white rice, wild rice), sorghum, teff
Gluten-free oats – must be guaranteed gluten-free

Sweeteners

Natural stevia
Chocolate, at least 70% or more cocoa. Cocoa powder is also included in the recipes

Whole sweet fruit

In the self-assessment, the author says that having more than one serving of fruit a day is a risk factor for brain disease
Berries are best
Other lower-sugar fruits: apple, cherries, grapes, grapefruit, kiwi, melon, nectarine, orange, peach, pear, plum
Bananas
Be extra cautious of sugary fruits such as apricots, mangos, melons, papaya, pineapple

Beverages

Wine – one glass a day if you so choose, preferably red (no guidelines on other alcoholic beverages, but implied that wine is the only one you should have)
Foods to avoid with Grain Brain
Foods containing gluten

Gluten grains – barley, kamut, rye, spelt, triticale, wheat (and wheat germ)
Oats and oat bran (unless certified gluten-free)
Grains cracked or made into flour – bulgur (and tabbouleh), farina, graham flour, semolina
Gluten-containing cereals
Pasta, couscous, noodles – including whole-grain and whole-wheat forms
Breads and breadcrumbs, including matzo
Pastries and baked goods
Meat and dairy with gluten – blue cheeses, hot dogs, ice cream, imitation crabmeat, imitation bacon and other imitation meats, meatballs, meatloaf, processed cheese (e.g. Velveeta), sausage
Other foods with gluten – baked beans (canned), breaded foods, cold cuts, energy bars, French fries (often dusted with flour before freezing), fried vegetables/tempura, fruit fillings and puddings, roasted nuts, seitan, soups, trail mix, veggie burgers
Drinks/beverages with gluten – beer, chocolate milk (commercially prepared), flavored coffees and teas, instant hot drinks, non-dairy creamer, root beer, vodka, wheatgrass, wine coolers
Pantry and condiments with gluten – bouillon/broth (commercially prepared), egg substitute, gravy, ketchup, malt/malt flavoring, malt vinegar, marinades, mayonnaise, salad dressings, soy sauce, teriyaki sauce, syrups
Ingredients that are often code for gluten: amino peptide complex, Avena sativa, brown rice syrup, caramel color (frequently made from barley), cyclodextrin, dextrin, fermented grain extract, Hordeum distichon, Hordeum vulgare, hydrolysate, hydrolyzed malt extract, hydrolyzed vegetable protein, maltodextrin, modified food starch, natural flavoring, phytosphingosine extract, Secale cereale, soy protein, tocopherol/vitamin E, Triticum aestivum, Triticum vulgare, vegetable protein (HVP), yeast extract

Processed "gluten-free" foods

Watch out for foods marked (and marketed) "gluten-free" – some of these foods are fine because they never contained gluten to begin with, but many are labeled as such because they have been processed, e.g. their gluten has been replaced by another ingredient such as cornstarch, cornmeal, rice starch, potato starch, or tapioca starch, all of which raise blood sugar enormously; also trace amounts of gluten can remain
Be extra cautious about gluten-free sauces, gravies, and cornmeal products – e.g. tacos, tortillas, gluten-free cereals, and corn chips

Starchy vegetables

Corn, potatoes, sweet potatoes, yams

Non-fermented soy

Non-fermented soy foods such as tofu and soy milk
Processed foods made with soy (look for "soy protein isolate" in the list of ingredients) – avoid soy cheese, soy burgers, soy hot dogs, soy nuggets, soy ice cream, soy yogurt
Soy sauce containing gluten – although some naturally brewed soy sauces are technically gluten-free, many commercial brands have trace amounts of gluten – if you need to use soy sauce in your cooking, use tamari soy sauce made with 100% soybeans and no wheat

Fruit products with high sugar levels

Fruit juices
Dried fruit (although dried blueberries and cranberries are included in a recipe, and prunes are listed to eat in limited quantities)

Fried foods
Processed fats and oils

Margarine, vegetable shortening, trans fats
Any commercial brand of cooking oil, even if they are organic – soybean oil, corn oil, cottonseed oil, canola oil, peanut oil, safflower oil, grapeseed oil, sunflower oil, rice bran oil, wheat germ oil, vegetable oil

"Fat-free" and "low-fat" foods

Packaged foods labeled "fat-free" or "low-fat" (unless they are authentically so and within the protocol, such as water, mustard, and balsamic vinegar)

Processed carbs, sugar, and starch

Savory – chips, crackers, cookies, pastries, muffins, pizza dough
Sweet – cakes, doughnuts, sugary snacks, candy, energy bars, ice cream, frozen yogurt, sherbet, jams, jellies, preserves
Drinks/beverages – sports drinks, soft drinks, soda (diet or regular)
Pantry – chutney, ketchup, processed cheese spreads, cornstarch, cornmeal, rice starch, potato starch, tapioca starch

Sweeteners

Natural sweeteners, including agave, honey, maple syrup (stevia is allowed in moderation)
Processed sweeteners, including corn syrup, sugar (white and brown)
Food recommendations to reduce the risk of headaches
Watch caffeine and alcohol usage – each of these in excess can stimulate a headache
Don't skip meals or keep erratic eating habits
Go gluten-, preservative-, additive-, and processed-free
Be especially careful about aged cheese, cured meats, and sources of monosodium glutamate MSG, as these ingredients may be responsible for triggering up to 30% of migraines
Track the patterns of your headache experience
The book also has other lifestyle recommendations to reduce headaches and migraines.
Food recommendations to help you sleep
Avoid caffeine after 2pm
Alcohol can disrupt sleep
Avoid foods that can act as stimulants, such as colorings, flavorings, and refined carbs
Time your dinner appropriately – find your sweet spot, leaving approximately 3 hours between dinner and bedtime
Be aware of ingredients in foods that can be difficult to digest easily before going to bed – everyone will be different in this department
Eat on a regular schedule, not erratically. This will keep your appetite hormones in check and keep the nervous system calm
Eat small portions of foods high in tryptophan, such as turkey, cottage cheese, chicken, eggs, and nuts (especially almonds) as a bedtime snack. A handful of nuts might be perfect
The book also has other lifestyle recommendations to help you sleep.
Health benefits claimed in Grain Brain
The diet in this book claims to reduce the risks for: ADD/ADHD, alcoholism, ALS/Lou Gehrig's disease, Alzheimer's disease, anxiety, arthritis, ataxia/muscle twitches and loss of balance, autism, bipolar disorder, bloating, bone pain, brain fog, brain disease, cancer, celiac disease, chest pain, cognitive decline, mild cognitive impairment, constipation, constantly getting sick, cramping, dairy intolerance, delayed growth, dementia, depression, diabetes, diarrhea, digestive disturbances, dystonia, epilepsy, focus and concentration problems, gas, gluten sensitivity, Hashimoto's thyroiditis, chronic headaches, heart disease, hives/rashes, impotence, infections, infertility, inflammatory conditions and diseases, insomnia, insulin resistance, intestinal problems, irritable bowel syndrome IBS, leptin resistance, malabsorption of food, memory problems, migraines, miscarriages, mood disorders, nausea/vomiting, nerve damage, neurological disorders, osteoporosis/osteopenia, overweight/obesity, Parkinson's disease, rheumatoid arthritis, schizophrenia, seizures, chronic stress, sugar cravings, Tourette's syndrome, and much more. Many of these are related to gluten sensitivity. The book claims that this diet can extend longevity.
As always, this is not intended to be a replacement for professional medical diagnosis or treatment for a medical condition. Consult your doctor before starting a new diet. This page describes what the authors of the diet recommend – Chewfo is describing the diet only, not endorsing it.
Get a copy of Grain Brain for a detailed discussion of the recommendations, self-assessment of risk factors, testing recommendations, supplementation, exercise, information on sleeping, sample menu plan, and recipes.

Diet Book
Get The Grain Brain Cookbook for more than 150 recipes.

Cookbook
The author's website is http://www.drperlmutter.com/ – visit to access the latest studies and recommendations, read his blog, and download material to tailor the information in the book to your personal preferences.
How has this diet helped you? Please add a comment or question below.