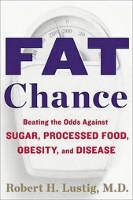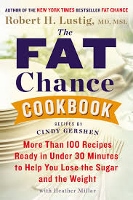 Fat Chance (2012) is a book discussing the causes of obesity and the dangers of sugar –
Avoid sugars, especially fructose, and sugary / processed foods
Eat intact whole grains, eggs, meat, nuts and seeds, dairy, beans, fruits, vegetables
Limit fatty and slightly processed foods
Below is a description of the food recommendations in the diet.  General guidelines  |  Foods to eat whenever you want  |  Foods to have in moderation  |  Foods to avoid or strongly limit.  There's a lot more in the book.
Get a copy of Fat Chance for details of the science behind the recommendations, what to do if altering your environment isn't enough, and suggestions for a public health solution.
Get The Fat Chance Cookbook for more than 100 recipes ready in under 30 minutes.
The reasoning behind Fat Chance
This book argues that the current formulation of gluttony and sloth, diet and exercise, while accepted by virtually everyone, is based on faulty premises and myths that have taken hold in the world's consciousness. Obesity is not a behavioral aberration, a character flaw, or an error of commission. Most foods available are highly palatable, processed, and contain highly addictive sugars, which cause hormonal imbalances that drive ongoing weight gain – leptin resistance is the key to the obesity epidemic. 4 foodstuffs particularly cause metabolic disturbance: trans fats, branched-chain amino acids (found in high concentration in corn, so every animal fed on is a potential contributor to your total body load), alcohol, and fructose – the "villain" in the book. Fiber is half the antidote, and exercise the other half.
Fat Chance diet plan – food list
Foods to eat whenever you want  |  Foods to have in moderation  |  Foods to avoid or strongly limit
The foods listed below show a sample shopping list, based on four principles: (1) low sugar, (2) high fiber, (3) low omega-6 fats, (4) low trans fats
Meals and snacks:
Make sure each meal has some sort of protein, especially breakfast – don't go for a baked good, which is just fat, carbohydrates, and sugar
Wait 20 minutes for seconds
Stop nighttime eating – eat a sensible breakfast and lunch with no snacks added, and dinner must consistently occur a good 4 hours before bedtime
If you're buying a dish at a coffee shop or diner, make sure it has something green in it
Don't buy anything you can eat while standing up
Beware packaged products, even those claiming to be organic, as many of them contain the same amount of sugar as their commercial counterparts
Foods to eat in Fat Chance – ad lib, whenever you want
"Greens" – eat these foods ad lib
The goal is to shift your food buying from a high-fructose, high-trans-fat, low-fiber (i.e. processed) grocery basket to a low-fructose, zero-trans-fat, high-fiber (natural) basket. The only rational way is to buy real food in the first place – meat, dairy, produce
Intact whole grains

High fiber cereal, > 5 g fiber, < 3 g sugar – e.g. steel-cut oatmeal, Shredded Wheat no added sugar, Fiber One bran cereal
Whole-grain bread, >3 g fiber – e.g. German fitness bread, coarse wheat kernel bread, cracked wheat/bulgur, coarse barley kernel, coarse rye kernel (pumpernickel), whole-grain pumpernickel
Whole grains – e.g. wild or brown rice, whole amaranth, whole barley, whole corn (including air-popped unsweetened popcorn), whole millet, whole oats, whole quinoa, whole rye, whole sorghum, whole teff, whole triticale, whole wheat (all varieties)

Eggs
Meat

Low-omega 6, unprocessed
Grass-fed beef
Wild fish
Lamb
Turkey
Free-range chicken

Nuts/seeds

Almonds, macadamias, peanuts, pecans, walnuts
Flaxseeds, pumpkin seeds, sunflower seeds
Nut/seed butters, all natural, made only of nuts/seeds and salt: almond butter, cashew butter, macadamia butter, peanut butter, hazelnut butter, sunflower seed butter

Non-meat proteins

Veggie / garden burger, Boca burger
Tofu (made with calcium), tempeh

Dairy

Plain milk
Plain yogurt
String cheese, cottage cheese, mozzarella cheese, farmer's cheese, full-fat cream cheese, jack cheese, queso fresco, colby cheese, cheddar cheese
Butter
Sour cream

Beans

Adzuki beans, anasazi beans, black beans, black-eyed peas, edamame, fava beans, garbanzo beans/chickpeas, kidney beans, lentils, lima beans

Fruits

Any whole, fresh fruit (unprocessed): apples, apricots, banana, blueberries, cantaloupe, cherries, grapes, guava, honeydew, kiwi, mandarin orange, mango, papaya, peach, pear, pineapple, plum, raspberries, star fruit, strawberries, watermelon

Vegetables

Any whole vegetable (unprocessed) except corn and potatoes: asparagus, bean sprouts, bell peppers (all colors), bok choy, broccoli, carrots, cauliflower, cucumber, eggplant, green beans, green peas, lettuce, mushroom, onion, peas, peppers (all varieties), radish, spaghetti squash, spinach, squash, sweet potatoes, tomato, yams

Vegetable oils

Olive and canola oil are best for cooking, dipping, and salad dressings

Condiments

All herbs
All spices
Earth Balance buttery spread, homemade salad dressing, homemade barbecue sauce, hummus, salsa, yogurt sauce
Lard
Mustard, Tabasco and other hot sauces (without sugar)

Beverages

Water, bottled water, club soda, sparkling water
Plain milk (unflavored)
Plain soy milk (fortified), plain rice milk (fortified)
Herbal and other teas (black and green), unsweetened
Coffee (black, no sweetener)
Liquids should have 5 calories or less (not clear whether this is per serving or all that you drink)
Foods to have in moderation in Fat Chance
"Yellows": You should eat minimally processed foods such as these with caution, 3-5 times a week
Processed whole grains

Medium-fiber, medium-sugar cereal – > 3 g fiber, > 3 g sugar – e.g. rolled oats, Cheerios, Nature's Path Organic Optimum Slim, All Bran, Kashi Go Lean, Quaker High Fiber Instant Oatmeal, Raisin Bran, Grape Nuts, Go Raw Simple Granola, Frosted Mini Wheats, Amrosial Granola, Kix, Total Whole Grain, Laughing Giraffe Cherry Ginger Granola
Pulverized whole grain products – e.g. whole-grain pastas, protein-enriched pasta, whole-corn tortilla, whole-wheat tortilla
Pulverized whole grain breads – e.g. pita bread, 100% Whole Grain Natural Ovens, Oat Bran Bread, Healthy Choice Hearty 7-Grain, buckwheat bread

Meat

Higher in omega-6, processed, higher in salt
Commercial beef, ground beef, hamburger
Chorizo, sausage, hot dog, turkey bacon, turkey dog, bacon, salami, lunch meat

Dairy

Reduced-fat cream cheese
Sugar-free flavored yogurt (this is a stretch)

Beans
Fruits

Dried fruits, including: dried figs, dates, banana chips, raisins, dried pears, craisins (dried cranberries)
Unsweetened apple sauce

Vegetables
Vegetable oils and fats

Safflower oil, corn oil, soybean oil

Condiments

Salt soy sauce, mayonnaise, reduced-fat mayonnaise, cocktail sauce, steak sauce, worcestershire sauce, commercial salad dressing (made with canola or olive oil)

Beverages

Flavored soy milk, flavored rice milk
Sweetened coffee
Foods to avoid or limit with Fat Chance diet recommendations
"Reds": You should eat highly processed foods such as these for special occasions, only 1-2 times a week.
Reduce the amount of sugar that you have – make dessert special. If any form of sugar is one of the first three ingredients, it's a dessert.
Refined grains

Cereals: Cream of Wheat, Rice Krispy, granola, Fruity Pebbles
Processed grains: semolina, white rice, long-grain rice, arborio rice (risotto), jasmine rice, couscous, basmati rice
Processed breads: bagels, white bread, corn bread, potato bread, rice bread, hamburger bun, hot dog bun, baguettes
Pastries: croissants, cinnamon roll, doughnuts, waffles, pancakes
Cakes, brownies
Chips, crackers, rice cakes
Pizza crust

Non-meat proteins

Peanut butter and other commercial nut butters with more than two ingredients

Vegetables

Baked potatoes, tater tots, French fries
Onion rings, deep fried vegetables (breaded, fried in trans fat)

Fruits

Spreadable fruit
Fruit canned in syrup

Vegetable oils and fats

Coconut oil, palm oil, palm kernel oil
Margarine, vegetable shortenings (trans fats)

Condiments

Sweet-and-sour sauce, BBQ sauce, ketchup, teriyaki sauce
Commercial salad dressings (made with corn oil, soy oil, or safflower oil), ranch dressing

Sugars and sweeteners

Jam, jelly
Sugar, honey, maple syrup, agave nectar, pancake syrup
Take note of sugars added to processed foods (*contains fructose) – agave nectar*, barbados sugar*, barley malt, beet sugar*, blackstrap molasses*, brown sugar*, buttered syrup*, can juice crystals*, cane sugar*, caramel*, carob syrup*, castor sugar*, confectioner's sugar*, corn syrup, corn syrup solids, crystalline fructose*, date sugar*, demerara sugar*, dextran, dextrose, diastatic malt, diatase, ethyl maltol, evaporated cane juice*, Florida crystals*, fructose*, fruit juice*, fruit juice concentrate*, galactose, glucose, glucose solids, golden sugar*, golden syrup*, grape sugar*, high-fructose corn syrup HFCS*, honey*, icing sugar*, invert sugar*, lactose, malt syrup, maltodextrin, maltose, maple syrup*, molasses*, muscovado sugar*, organic raw sugar*, panocha*, raw sugar*, refiner's syrup*, rice syrup, sorghum syrup*, sucrose*, sugar*, treacle*, turbinado sugar*, yellow sugar*

Beverages

Soda
Flavored milk
Fruit juice – all, including organic, fresh squeezed, and commercial
Chocolate rice milk, chocolate soy milk
Hot chocolate
Gatorade and other sports beverages, energy drinks
Fruit smoothies
Agua fresca
Lemonade, slurpies
Sweetened iced tea
Sweetened coffee drinks such as Frappuccinos
Vitamin water
Tomato juice, vegetable juice

Avoid alcohol
"Limbo" – the data on artificial sweeteners / diet sweeteners remains elusive and the author says he's agnostic on the subject
Diet anything
Sugar-free hot cocoa
Crystal Lite, Propel, Diet Snapple, sugar-free flavored waters
Diet soda
Health benefits claimed in Fat Chance
The diet in this book claims to reduce the risks for: depression, type 2 diabetes, food addiction, gallstones, heart disease, hyperinsulemia / excess insulin levels, hypertension/high blood pressure, insulin resistance, kidney disease, leptin resistance, lipid disorders, metabolic syndrome, nonalcoholic fatty liver disease (NAFLD), overweight/obesity, polycystic ovarian syndrome PCOS, sleep apnea
As always, this is not intended to be a replacement for professional medical diagnosis or treatment for a medical condition. Consult your doctor before starting a new diet. This page describes what the authors of the diet recommend – Chewfo is describing the diet only, not endorsing it.
Get a copy of Fat Chance for details of the science behind the recommendations, what to do if altering your environment isn't enough, and suggestions for a public health solution.


Diet book
Get The Fat Chance Cookbook for more than 100 recipes ready in under 30 minutes.


Cookbook
How has this diet helped you? Please add a comment below.