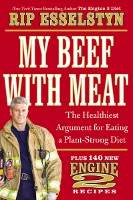 My Beef with Meat (2013) is a book written to persuade readers to eat a "Plant-Strong" diet without any animal products –
Unprocessed, whole foods – whole grains, vegetables, fruits, legumes
Vegan – no meat, poultry, eggs, dairy
Low fat, no oil
Get a copy of My Beef with Meat for detailed discussions of the reasons to follow a plant-based diet, and recipes
The reasoning behind My Beef with Meat
This book argues that a plant-based, vegan diet is better for you. Points discussed include: plants provide enough protein, iron, and bone-building materials and are good for athletes; humans are designed to be herbivores; eating meat is cruel to animals and bad for the environment; eating plants is thrifty and easy; animal foods are much more contaminated than plants; oil is bad and soy isn't so bad, and eating plants can help you lose weight.
My Beef with Meat diet plan – food list
Foods to eat in My Beef with Meat
These ingredients are included in recipes in the book:
Whole grains

Cereals – Ezekiel 4:9 cereal or equivalent Kashi or Grape Nuts), old-fashioned/steel-cut oats, shredded wheat
Whole grains – barley, brown rice, farro, quinoa
Cracked grains – grits, polenta
Breads – corn tortillas, pumpernickel bread, rye bread, whole wheat bread, whole wheat bread crumbs, whole wheat panko, whole wheat rolls, whole wheat tortilla
Whole grain flours – buckwheat flour, oat flour, whole wheat flour, whole wheat pastry flour, white whole wheat flour
Pasta and noodles – brown rice noodles, buckwheat noodles, soba noodles, whole wheat noodles, whole wheat pasta, whole wheat lasagna noodles
Wheat gluten / seitan
Sourdough bread

Vegetables

Artichokes, arugula, asparagus, avocados, bean sprouts, beets, beet greens, bell peppers, bok choy, broccoli, brussels sprouts, butternut squash, carrots, celery, collard greens, corn, cucumber, daikon radish, eggplant, jicama, kale, lettuce (all types including romaine), mâche, mustard greens, napa cabbage, onions, peas, peppers (all types), potatoes, scallions, shallots, snow peas, spinach, sweet potatoes, swiss chard, tomatoes, yellow squash, zucchini
Dried vegetables – Sun-dried tomatoes
Mushrooms – portobello, shiitake, dried mushrooms, etc.
Aromatics – garlic, ginger, pickled ginger, green chilies
Herbs – basil, cilantro, marjoram, mint, oregano, rosemary, sage, thyme
Fermented vegetables – Sauerkraut
Sea vegetables – nori sheets, kelp flakes

Fruits

Apples, bananas, blackberries, blueberries, cranberries, figs, grapes, lemons, limes, mandarin orange, mango, oranges, pineapple, raspberries, strawberries, watermelon
Dried cranberries, dried cherries, currants, dates, raisins
Unsweetened applesauce, pure pumpkin puree

Legumes

Beans – black beans, cannellini, kidney beans, pinto beans
Fat-free vegetarian refried beans
Black-eye peas
Lentils, red lentils, split peas
Chickpeas/garbanzo beans, hummus
Unprocessed soy – e.g. tofu (silken tofu, firm tofu, extra-firm tofu, etc.), miso, tempeh, edamame

Salt-free spices

Black pepper, cardamom, cayenne pepper, chili powder, chipotle pepper, chipotle powder, cinnamon, cloves, crushed red pepper flakes, cumin, curry powder, garam masala, garlic salt, ginger, nutmeg, onion powder, paprika, smoked paprika, turmeric
Cajun seasoning, Italian seasoning, Mrs. Dash Garlic & Herb seasoning blend and other similar spice blends, Southwest seasoning, taco seasoning, pumpkin pie spice

Nuts and seeds

Unsalted
Almonds, raw cashews, peanuts, pecans, pistachios, walnuts
Chia seeds, flaxseed, sesame seeds, sunflower seeds
Natural nut butters and seed butters, tahini

Beverages

Almond milk, hazelnut milk, oat milk, soy milk, other unsweetened non-dairy milks

Sweeteners
Condiments and pantry

Barbecue sauce, Bragg liquid aminos, hot sauce, ketchup, liquid smoke, marinara sauce, prepared mustard, pickle relish, salsa, low-sodium tamari sauce, teriyaki sauce, tomato paste, no-salt-added vegetable broth, vinegar (all types including apple cider, balsamic, brown rice, champagne, red wine, rice wine), wasabi powder
Baking powder, baking soda, gluten-free flour mix, corn flake crumbs
Nutritional yeast (in many recipes)
Jelly (no sugar added, fruit only), coconut extract, vanilla extract
Non-dairy chocolate, non-dairy chocolate chips
Foods to avoid or limit with My Beef with Meat
Avoid animal products

Meat, poultry, fish, seafood
Eggs
Milk, and milk products including cheese, butter, cream, yogurt, etc.

Avoid oils

Avoid vegetable oil, olive oil, coconut oil, etc.
All oils, even if they're organic, cold-pressed, unprocessed, bottled in jars, and stored away from heat and light, are damaging

Avoid processed and refined carbohydrates

Soda pop, donuts, candy bars
White pasta, white rice, white bread
Fried chips
Fruit juice – eat fruit instead (although orange juice and apple juice are included in some of the recipes)
There aren't any clear guidelines on sugars, but maple syrup is the only sugar mentioned in the recipes and you're supposed to avoid refined carbohydrates, so presumably sugar is out

Avoid processed soy

E.g. soy burgers, soy smoothies/shakes, soy energy bars, soy cereal, etc.

Limit salt
If an item you're considering doesn't fit into one of these categories – whole grains, vegetables, fruits, legumes, and salt-free spices – there's a good chance you don't need it
Avoid specialty products – get the bulk of your nutrition from basic ingredients and whole, plant-strong foods
Health benefits claimed in My Beef with Meat
The diet in this book claims to reduce the risks for: diabetes, heart disease, low sex drive, overweight/obesity stroke
As always, this is not intended to be a replacement for professional medical diagnosis or treatment for a medical condition. Consult your doctor before starting a new diet. This page describes what the authors of the diet recommend – Chewfo is describing the diet only, not endorsing it.
Get a copy of My Beef with Meat for detailed discussions of the reasons to follow a plant-based diet, and recipes



You can also see more information at www.mybeefwithmeat.com, http://engine2.com, www.facebook.com/Engine2Diet, http://pinterest.com/engine2diet, http://twitter.com/engine2diet, and http://instagram.com/engine2diet.
How has this diet helped you? Please add a comment below.