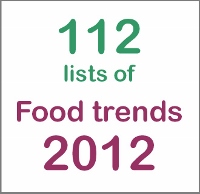 Here are 112 lists of food trends for 2012, mostly for the USA and some for Canada and the UK. They are listed by type in date order, as one food trend report often influences another. If you think the list would be more useful in a different order, or if something is missing, or if you have any other comments or suggestions – please let us know in the comments box below.
See also 38 Lists of Food Trends for 2011  | 113 lists of food trends for 2013 
Most common food trends 2012 | Food restriction trends 2012
Trends lists:
Restaurants and foodservice trends 2012 | General food trends 2012 | Miscellaneous food trends 2012 | Beverage trends 2012| Flavors trends 2012 | Market and retail trends 2012 | UK food trends 2012
Most common food trends predicted in 2012
Here are the terms that came up repeatedly in the lists:
Cooking methods

Pickling
Home cooking (can be because of frugality)

Cuisines

Peruvian
Nordic
Street food

Foods

Popcorn
Offcuts of meat / offal / fin to tail eating
Grilled cheese
Canelés

Health

Gluten-free
Minimally processed / natural / unprocessed
Allergy-free
Lower-sodium (natural flavorings as alternative)
Plant-based foods
Customized foods for individual needs

Ingredients
Sourcing

Local produce
Local meat
Origins / menu narratives / farm to fork journey
Hyper-local (home or restaurant gardens)
Seasonal

Weight-loss diets
Predicted trends in food restrictions
Here's Chewfo's opinion on food restriction trends:
Gluten-free – still one of the top news stories in this category.
Vegan / plant-based diets – for health and weight loss – these have been at or near the top of diet and health book sales for over a year. Some trends talk about plant-based foods, flexitarian lifestyles, and meat free days – but we think the demand is much higher than many in the food industry realize.
Unprocessed and less-processed foods – a number of the trends lists mention these, and they're important in a lot of currently popular weight loss and medical recommendation diets. But the label "natural" isn't cutting it any more.
Heart disease is being mentioned less, diabetes mentions are more prevalent. And there's an increasing trend towards reducing refined foods (instead of reducing fat) to lower the risk of diabetes.
The old low-fat and no-saturated-fats paradigms have started to shift – a number of diets now suggest that the natural fats in coconut and pasture-raised beef and milk products and eggs are good for you – just avoid unnatural fats such as corn- and soy-fed beef and cow's milk products, hydrogenated fats, etc.
Low-sodium is also trending down, as it's recognized that very low salt can be dangerous to your health and that only some people are very sensitive to salt.
Ethical food choices – Fair Trade sales have grown significantly in the past year in both the USA and the UK, there's a lot of interest in the ethical treatment of animals (pasture-fed beef, milk cows, chickens for meat and eggs; no gestation crates for pigs) and humans (fair wages and treatment).
Local food continues to be big – with seasonal foods not really taking off in popularity.
Lists of food trends 2012
Restaurant and foodservice trends
Andrew Freeman & Co Restaurant Trends 2012 Nov-1-11
Foods: Potatoes; Unusual ice cream flavors; Grilled cheese sandwiches; Hand-pulled noodles; Modern Thai cuisine; Vegetable desserts; Telling the story behind a dish; Do-it-yourself dining; comfort foods with gourmet ingredients; Indian street food; Breakfast for lunch, dinner, and late night; Specialty chili peppers; Health conscious menu items such as gluten free, lower fat, reasonable calories; Infusing with pine, fir, and eucalyptus; Complex flavors in liquid; Snow ice; Eastern European food
Food ingredients: Stroop (a Dutch dark treacle syrup); Schnitzel or Milanese sandwiches; Yuzu kosho; Issan sausage; Home-made flavored marshmallows; Marrow bone, rib bone, ham bone, bone soup; Duck and goose eggs; Currywurst; Lamb belly; Crispy pig skin, Chicken skin, Fish skin; Parisian gnocchi
Drinks: Mixed drinks on tap; Vintage beers; Cocktails paired with a shot of beer; Food truck cocktails; Solid cocktails; Small servings of premium spirits; Fruit infused beers; Mini cocktails;
Drink ingredients: Rye whiskey; Zwack liqueur; Bärenjäger Honey liqueur; Date syrups and glazes on meats and in drinks; Bitter lemon soda
Technomic – Seven Leading U.S. Restaurant Trends for 2012 Nov-8-11
Novel flavors; Rustic flavors and homestyle food; Local food; Social networking; Transparency for nutrition, labeling, sustainability and community involvement; Resisting discounting; Format flexibility
Baum + Whiteman – 16 Hottest Food and Dining Trends for Restaurants and Hotels in 2012 (pdf) Dec-2011
Mom & Pops hit the hardest by the economy; Flavors from all over the world on a single plate; Chain stores go the opposite way, causing a "flavor gap"; Alternatives to bread for sandwiches; Tongue (lamb and beef) and gizzards, tripe and chicken livers, pig's ears and oxtails; House-made vegetable and fruit pickles, kimchee; Korean food; About a quarter of America's population are happily spending in restaurants; Comfort food hits the wall and is being reinvented; Early drinking, late night dining; Round mouth foods including arancini, falafel, meat balls, croquettes, etc.; Beer gardens; Food truck operators opening bricks-and-mortar stores; Foraging and wildcrafting; Japanese craft beers; Horizontal architecture on plates; Peruvian food; Gourmet burgers are a bubble; Don't misuse words like "artisan" and "heirloom" and "local"; There's a looming oversupply of farmers markets; Too many chefs are smoking too many foods
Buzzwords for 2012: Fresh sardines; Ultra-long dry aging of meat; Uni; Yuzu; Tamarind; Ox tail; Duck will make a comeback but not slathered with orange marmalade; Hand-made ricotta and burrata; Kalbi, bibimbap, bulgogi; Huacatay; Bone marrow; Flowers re-appearing on dinnerplates; Hibiscus; Arepas; Coconut oil; Goat meat crosses the border from ethnic nabes; Shiso; Nordic cooking and ingredients; Upscale restaurants re-tenanting shopping center food courts; Lamb ribs and belly; Bao; More entries into the tossed salad restaurant business, using ever better ingredients; Nduja; Micro-distilleries; Bacalao; Large displays of exotic bitters on the bar; Crazier taco fillings migrating from food trucks to restaurants; Green papaya; Seaweed in non-Asian dishes
Technomic – Six Canadian Foodservice Trends for 2012 Nov-10-11
Revisiting the classics; Dishes with fewer ingredients, Simpler preparation techniques and locally-sourced products; More healthful kids' menus; More detailed menu labeling including nutrition and sourcing; Smartphone tools; Format flexibility
Mintel Menu Insights – Five foodservice trends set to shape restaurant menus in 2012 Dec-5-11
American regionalism; Double-sided menus with indulgent and healthy choices; Consumer control including customized ordering systems and flexibility in menu design; "Handmade" or "homestyle" cooking in fast casual restaurants; Importing ideas from international restaurants
National Restaurant Associates – What's Hot in 2012 Dec-8-11
Trends: Locally sourced meat and seafood; Locally grown produce; Healthful kids' meals; Hyper-local sourcing e.g. restaurant gardens; Sustainability; Children's nutrition; Gluten-free/allergy-conscious; Locally-produced wine and beer; Sustainable seafood; Whole grain items in kids' meals; Newly-fabricated cuts of meat; Farm/estate-branded ingredients; Food trucks/street food; Micro-distilled/artisan spirits; Artisan/house-made ice cream; Health/nutrition; Non-traditional fish; Fruit/vegetable children's side items; "Mini meals" e.g. smaller versions of adult menu items; Culinary cocktails e.g. savory, fresh ingredients, herb-infused
Appetizers: Vegetable/vegetarian appetizers; Ethnic/street food-inspired appetizers; Charcuterie plates/samplers; Amuse-bouche/bite size hors d'oeuvre; Warm appetizer salads
Main dishes / center of the plate: Locally sourced meat and seafood; Sustainable seafood; Newly fabricated cuts of meat; Non-traditional fish; Half-portions / smaller sizes
Sides / starches: Non-wheat noodles/pasta; Black/forbidden rice; Quinoa; Red rice; Vegetable pickles
Produce: Locally grown produce; Organic produce; Superfruits e.g. acai, goji berry, mangosteen; Exotic fruits e.g. rambutan, dragon fruit, paw paw, guava; Heirloom apples
Dessert: Artisan/house-made ice cream; Bite-size/mini desserts; Savory desserts; Deconstructed classic desserts; Dessert flights/combos
Breakfast/brunch: Ethnic-inspired breakfast items; Traditional ethnic breakfast items; Fresh fruit breakfast items; Prix fixe brunches; French toast/stuffed French toast
Kids' meals: Healthful kids' meals; Whole grains in kids' meals; Fruit/vegetable children's side items; "Mini meals"; Oven-baked items in kids' meals
Ethnic flavors and cuisines: Ethnic fusion cuisine; Peruvian cuisine; Regional ethnic cuisine; Cuban cuisine; Southeast Asian cuisine
Allrecipes / Hartman Group – The Measuring Cup: What American Families are Eating & Cooking: 2012 Insights and Trends Dec-13-11
Cutting back on meat / flexitarians; Clean-label foods and limiting highly processed foods, including interest in Paleo diets; Reading labels; Mini desserts; Shopping frugally continues; Inspiration from food websites; Mobile technology for meal planning and using smartphones during grocery shopping; Ketchup as the most popular condiment; Snacking; Sandwiches; Increased ingredient searches for half and half, quinoa, chickpeas, ground chicken, mayonnaise; Lower ingredient searches for scallops, avocado, phyllo, blackberries, caramel
Food Product Design – Foodservice Trends Dec-16-11
Healthy indulgence; Regulatory and governmental health push with consumers pushing back; Southern cooking; Telling the story behind menu items (natural, artisan, gourmet, etc.); Subtle diversification of tried-and-true foods with twists of dialed-down ethnicity, Artisan and gourmet touches; Sandwiches; Specialty meats
Custom Culinary – Top 10 Trends for 2012 Dec-19-11
The new steakhouse; American South foods; Ultra-contemporary meets country style; Signature breakfasts and lunches; Restaurants reaching out to kids; Smaller-portioned menu items; Trendy bar foods; Sustainable proteins; New wave health including foods that are quietly vegetarian and/or vegan, gluten-free, organic and more; Signature sandwiches
Nation's Restaurant News – Top restaurant marketing trends for 2012 Dec-19-11
Collecting, analyzing, and using data; Identifying and activating influencers; Signature items; Loyalty programs look to gaming; One-to-one accessibility to chefs; Coupon personalization; Search local
SmartBlog on Restaurants / International Foodservice Manufacturers Association (IFMA) – 2012 food trends Dec-21-11
Simple starters with emphasis on flavor; Different interpretations of comfort foods; Desserts as snacks
Nation's Restaurant News NRN – A food writer's top menu trends for 2012 Dec-22-11
Three types of dining occasions: inexpensive foods for quick and easy consumption, more healthful items, and items for splurging; Pistachios; Shake shots; Bananas foster; Independent restaurants growing their own foods; Local foods in restaurant chains; Telling the stories of ingredients; Asian cuisines get even more mainstream; New techniques such as molecular gastronomy in fine-dining restaurants; Cooking in-house at chain restaurants
Nation's Restaurant News – Industry experts forecast 2012 trends Dec-26-11
Premiumization; Customization; Minaturization; Chains offering real, fresh, or local foods; Accelerating daypart disintegration with meals at different times of the day; Fast casual remains hot; Better-for-you foods; Twists on the familiar; Commodity costs will drive rustic fare made in-house; Choice beef prices will rise; Lower grain prices
Foodservice and Hospitality – Foodservice Trend Report 2012: Food (no date)
Local food; Seafood; Red meat; Barbecue; Snout to tail; Charcuterie; Gourmet burgers; Cheese boards and cheese courses; Cheese and beer pairings; Grilled meats; Smaller, more chef-centric restaurants; Healthier foods including gluten-free, sodium-conscious / lower salt, lower-calorie, lower fat, and reduced-sugar/naturally sweetened foods; Korean barbecue, Thai Szechuan sauce; Simple flavors; Reducing waste
Luxury Travel Magazine – Top 10 Restaurant Dining Trends for 2012 (no date)
Sustainably sourced ingredients; Smaller portions; Desserts that incorporate vegetables; Sharing the backstory on menu items; Spicy foods; Adding technology to the dining experience; Bread upon request only; Fine dining burgers; Breakfast all day; Children in restaurants
The Travel Channel – 2012 Dining Trends (no date)
Breakfast all day; Bread upon request; Sustainable food; Small portions; Spicy food; Menu narratives; Vegetables for dessert; Mobile technology including menus and provenance information; Fine dining burgers; Fine dining for kids
NY Daily News – Top chefs like Kerry Heffernan spot food trends for 2012 Jan-1-12
Comfort food dishes; Sustainable and farm-to-table products; Southeast Asian sandwiches; Focusing more on the ingredients, rather than manipulating them; More natural plating; North African and Moroccan influences and ingredients; Chefs and restaurants going even more local; Chefs going back to the farms; 4- to 5-ounce protein portions in restaurants; Sea to table (nose to fin) to continue to gain momentum; Peruvian food; Grilling; Grilled cheese; Gin; Sustainable seafood
Nation's Restaurant News – Four top trends for QSR in 2012 Jan-4-12
Commodity inflation, menu price increases; Chains will focus on quality ingredients; New restaurant prototypes; QSR brands as good stock picks
Restaurant Hospitality – 2012 Restaurant Trends with Room to Grow Jan-4-12
Sandwich shops with artisan-inspired concepts; Food trucks growing at a slower pace; Mixology without the 15 minute waits; Concept-focused wine lists and tailored to the cuisine being served; Specialty meatballs; Vegan/vegetarian/organic for healthier eating; Fried pizza; Improved service and training; Social media and figuring out what guests want to hear; Execution and better-quality ingredients
QSR – Top 7 Quick Serve Trends for 2012 Jan-5-12
Double-sided menus with healthy snacks and indulgences; Small indulgences; New definitions of family including blended and mixed families; Clean ingredients – fresh, local, and organic without ingredients like high fructose corn syrup and additives; Emphasis on handmade; Bargain hunting; Online ordering and mobile tech
NPD Group – 2012 Restaurant Trends to Drive Traffic Jan-17-12
Better-for-you kids' food; Healthy and lighter foods; Hispanic and Asian influences
Mayo Clinic blog – Restaurant trends — What's on the menu for 2012? Jan-17-12
Locally sourced meat and seafood; Locally grown produce; Hyper-local sourcing (e.g. restaurant gardens); Locally produced wine and beer; Healthful kids meals; Children's nutrition as a culinary theme; Whole grain items in kids' meals; Sustainability; Sustainable seafood
Food Management – Food Trends for 2012 Feb-1-12
Upscale sandwiches; Eggs everywhere; Stealth health; Noodles; Whole grains on patient menus; The elimination of fried food; Menu options for K-12 that mirror popular restaurant trends but with healthy ingredients; Legumes; Vegetarian food; Salad bars; Mexican food; Herb gardens; Ethnic breakfasts
General food & beverage trends
LANE PR U.S. Food and Beverage Trends Report: 2012 Outlook (pdf) Oct-2011
Goat, pig, and game such as bison, elk and wild boar; Vegetables packed with nutrients such as kale; Legumes – beans, peas, and lentils; Chili pepper and black pepper varieties; Eastern spices and spice mixes including cardamom and za'tar; Incorporating artisanal products; French wines; flavored beers including fruit flavors and herbal-infused plus organic beer; Savory cocktails; Bitters in cocktails; House-made drink ingredients including cordials, tonics, ginger ales, and infusions; A move away from words like foodie, locavore, molecular gastronomy, artisanal, and sustainable to "local," "homegrown," and "homemade"
Innova Market Insights: 10 key trends to impact the food and beverage market through 2012 and beyond Nov-23-11
Pure is the new natural; Sustainability is expected; Location (local food, safety of imported foods, authenticity of foods from a particular country or region); Premium treats; Addressing the needs of seniors (packaging, specific health concerns); Food for consumers in the 40-65-year-old range; Scientifically proven claims listed on foods; Food companies changing the ways they manufacture their food to fight an obesity backlash; Unmeasurable niches such as gluten-free; Boom for protein including plant-based protein
Food Channel Top Ten Food Trends for 2012 Nov-27-11
Foods with intentional scarcity and limited supplies; Inconspicuous consumption (spending quite a bit, but making it look like we're not really spending much at all); Social media – finding common ground and common courtesy; Shopping schizophrenia – fit your food styles to your paychecks but also we have to feed your soul; Affordable food for students beyond ramen noodles; People tasting ingredients as they were meant to be, sometimes for the first time; Agri-chefs – a new breed of chefs that simply like to cook with what they've grown; Peruvian cuisine; Social cooking; YouTube chefs. See also http://www.foodchannel.com/shows/top-ten-trends/ for videos of all top 10 food trends lists.
The ePerspective Five Food Trends for 2012 and Beyond Nov-30-11
Freaking out about being fat / fat phobia; Healthy snacks; Southern cuisine; Pickled and peppered treats including ginger and chili; Pop-up and food truck. Also listed in the @ERWWPR full trends report: Hispanic flavors; Local and eco-organic foods for dogs; Latin influence in the cocktail market; Organic overload (for people who can't afford all things organic and sustainable); Discussion about genetically modified foods; Farmcations (staying at sustainable farms where families can learn to grow their own foods)
Epicurious Predicts Top 10 Food Trends for 2012 Dec-1-11
Hotel dining (pop-ups trending down); Fin-to-tail eating with whole fish entrees; Eating in Singapore; Moonshine; Happiness Diet; High-end Indian cuisine (Korean trending down); Fennel pollen; Homemade dairy; Fried sweet dough; Becoming a professional cheesemaker
Phil Lempert – Top Ten Food Trends 2012 – Supermarket Guru / Supermarket News Dec-5-11
Rising food prices; Social shopping and eating including LoSoPhoMo; Baby Boomers influencing 52% of spend on groceries; Increased emphasis on "farm to fork" journey; Using mobile for price comparison and checking info on individual products; Ethnic food trucks; Men shopping more, with 41% cooking at home; Eating at home to save money; Reducing sugars; Using multisensory perception to create foods that convey freshness, taste, and health attributes.
James Beard Foundation – Food Trends to Watch for in 2012 Dec-6-11
Local + regional foods; International doughnuts; Thai food; New Nordic cuisine (including sea buckthorn, wood sorrel, bark flour, and evergreens; Canelés; Eat-in kitchens reinvented; Blood as an ingredient; Smaller portion sizes
MonkeyDish 2012 trend book: food Dec-6-11
Trends: Chefs developing personal relationships with small livestock producers; Southern food; Potatoes; Chefs explore more thoughtful uses of fat; Plant-based foods; Small luxuries; New Old World cuisines; "Off proteins" trickling down to the mainstream, including sweetbreads, gizzards, tongue, pig face, pig ears, and pig blood; Smoking, pickling and fermenting; Casual dining
Foods:  Pimento cheese; Housemade marshmallows; Kimchee; Coconut oil; Chicken skin; Drinking vinegars paired with food; Marrow bones; Sriracha sauce; Evergreen and eucalyptus leaf infusions; Tamarind
Small Business Trends – 10 Food Business Trends to Watch for 2012 Dec-7-11
Artisanal everything e.g. marshmallows; Ice cream; Potatoes; Breakfast any time; Juice bars; Scandinavian sweets; Healthy eating including gluten-free, allergy-free foods, whole grains, salads, smaller portion sizes, low-sodium; Smaller-size portions; Mediterranean food; Familiar favorites with a twist
Huffington Post Food Trends 2012 Dec-8-11
Fast casual Asian; Beer tap innovations; French dips; The fall of food trucks; Mezcal; Pretzels; Niche hyperlocal cuisines, biologically and culturally local; Rabbit and goat; Mismatched dishes; Chicken skin; Sour beer; Affordable home sous vide
Hartman – 12 Key Concepts to Carry into 2012 Dec-15-11
Changing food culture –meal fragmentation; Eating alone; Snack culture; Immediate food consumption; Wellness is quality of life; Understanding food culture; Less focus on "nutrition education" and calorie counts; New visions for alternatives to meals; Fun marketing to millennials;  Legacy brands to become victims of innovation; Changing the retail experience
Publicis Consultants USA – 2012 American food trends Dec-15-11
Perpetual snacking; Inexpensive culturally mixed foods; Geo-targeting apps, recipe commenting, and crowd-sourced restaurant reviews; Wines from lesser known growing regions; Popcorn; Front-of-pack labeling; Grow it, raise it, pick it, eat it; In-home dining products beyond traditional comfort fare; Barramundi, the next sustainable seafood; Turmeric; Health and wellness gender gap with women ahead; Positive messages of what you can eat for health and wellness, not what you can't eat
JWT's "10 Trends for 2012" Dec-20-11
Food as the new eco-issue; Inhalable caffeine and chocolate; Heritage foods; Healthy vending machines; Heirloom-everything; Artery-cleaning functional foods; Pluerry as a new fruit; 100 Montaditos; Curbing food waste; Fat taxes; Local food fairs; Honey; Hydration stations for reusable water bottles; Mushrooms; Rooftop farming; Interactive screens in restaurants; Smaller manufactured food package sizes; Spiking food prices; Sustainable palm oil
Hartman Group – Looking Ahead – Food Culture 2012 (pdf) Dec-21-11
Food culture 2012: Niche food magazines; Chefs as leading indicators of food trends; Heirloom foods; Regional specialties and local offerings; Purity, freshness, simplicity and ethics in cooking; Scarce foods; Appreciating that less is more
Health & Wellness: Greater focus on a person's genetic makeup; Celebrating or demonizing particular ingredients at the expense of the food itself; Customized diets specific to individual needs;
Foods trending in for health & wellness: Real butter; grass-fed meat; sea salt; healthy fats; stevia; chicken thigh/dark meat; local, seasonal superfruits; Cage free whole eggs; Farmstead cheese; The family dinner; Heirloom marbled pork; Fresh produce; Portion control; Dance/Zumba; Craft beer; Kettle potato chips; Eating dark leafy greens
Foods trending out for health & wellness: Margarine; Processed soy protein; Low sodium; Fat free; Artificial sweeteners; Chicken breast/white meat; Superfruits from afar; Eggwhites; Factory processed cheese; Activities trumping mealtime; The Other White Meat; Excessive supplements; Elimination diets (carbs, sugar, wheat); Treadmills; Ultra lite beer; Baked potato chips; Drinking wheat grass shots
Diets: The Happiness Diet; Paleo diets; Rest and rejuvenation foods
Ingredients trending in: Coconut oil; Palm sugar; Farro; Cheaper, tasty butcher cuts; Kefir
Ingredients trending out: Canola oil; Agave; Brown rice; "Naturally raised" meat; Probiotic enhanced yogurt
Other wellness trends: Anti-fat sentiment on the decline; Avoiding soy; Gluten-free diets for non-celiacs and gluten-free as symbolic for less processed; Dr. Oz as trusted health source – arsenic in apple juice, avoid shopping in the center aisle, eliminate HFCS and hydrogenated oil; Vegetable-focused foods with meat as a condiment; More humane approach for rearing and processing animals; Herbology in foods; Mindless eating as a social health issue
Foods beneficial for anti-inflammation: Fennel; Ginger; Nettle; Local bee products; Turmeric; Cinnamon; Chiles; Calendula; Shiso
Foods beneficial for digestion: Aloe; Fennel; Cayenne; Calendula; Caraway; Cumin; Cardamom; Peppermint; Basil; Lemon verbena; Tamarind; Bitters; Dill
Foods beneficial for immunity: Hibiscus; Elderberry; Rosemary; Oregano; Thyme; Turmeric; Cayenne; Garlic; Algae; Sea buckthorn; Star anise; Black currant; Green coffee bean extract; Yuzu
Foods beneficial for relaxing: Lavender; Hops; Oatstraw; Camomile; Passionflower; Lemon balm; Rose geranium; Poppy
Foods beneficial for energizing: Bergamot; Yerba mate; Green tea; Ginseng; Rosemary; Peppermint
Foods beneficial for detoxing: Dandelion; Milk thistle; Elderflower; Burdock; Licorice root; Fenugreek; Marshmallow root
Ingredients: Subtly sour and less sweet flavors for beverages; Cold brew coffee; Local, seasonal superfruits; Grass-fed dairy from non-traditional breeds; Seaweed (nori, wakame, hijiki, dulse, arame, kombu, sea beans); Assertive greens (beet greens, chard, brussels sprouts, collards, kale, dandelion, nettles, broccoli rapini, escarole)
Packaged foods: Updated mayonnaises; Harissa; Gochujang; Heinz Balsamic; Hand crafted pretzels; Montreal style bagels; Snacking on real protein and fiber; Fun and indulgent bakery goods
Retail: Reduced self checkout; Animal welfare for foods sold; Pop-up produce stores; Non-GMO foods; Minimal packaging
Dining out: Renegade chefs; Focus on ingredients, products with a sense of place, interest in foraging, botanicals; Fresh flavors from India; Butchery renaissance
Sustainability and packaging: Avoiding BPA; Sustainable packaging;
Technology and retail: Mobile apps; QR codes have challenges; Using phones as cameras in stores for QR codes and social sharing
Cattle Network – What's brewing for 2012 Dec-23-11
Asian food, including fast-casual Asian restaurants; Items other than bread for sandwiches, such as arepas (a corn-meal patty), waffles or rice cakes; Smaller portions and bite-size servings; Odd combinations, such as pizza topped with humus and wasabi peas; Use of innards, such as tongue and gizzards; Pickling; Beer gardens; Peruvian food
Esquire – 15 Food Predictions for 2012 Dec-28-11 (tongue in cheek)
Instead of ordering "little plates," people will order one big plate and share; Expense accounts will be cut way back; Modernist/molecular/progressive cuisine will stop because of its extravagance and elitism; Overbuilt gastropub scene will die; The craze for creative pizza toppings will cease; Peruvian food has no chance of becoming a trend; The hot new food of 2012 will be Asian dumplings; The retro cocktail of 2012 will be the Old Fashioned; Better, cheaper French country wines will be imported, while inferior, more expensive Spanish and South American wines will try to flood the market
MSNBC Top food trends for 2012 Dec-29-12
Meatloaf; Carbon steel knives; Italian-American food; Layer cakes; USA regional wines other than Californian; Artisanal charcuterie; Homemake pickles; Portland OR and Kansas City
Philly.com: 'Intentional scarcity' and other get-'em-while-they're-hot trends Dec-29-12
Intentional scarcity; Grilled cheese; Customized French fries; Pickled and/or smoked herring; Korean; Celebrity farmers; Food trucks; Cupcakes and macarons; Caneles
General Mills – Eat Better America – 12 hot food trends for 2012 (no date)
Food and nutrition apps; Mini meals; Reduced sodium; MyPlate guidelines; Eggs; Greek yogurt; Whole grains; Sustainability including local; Better school lunches; Gluten free; Milk and flavored milk; Meatless Mondays
Lifetime Brands' Global Trend & Design's IHA Top Trends for 2012 Report (no date)
Growing your own food; Indian and Asian food markets growing; Cooking as leisure/entertainment; Empowering consumers with nutritional facts, allergy information, material and manufacturing information; Traditional kids foods go upmarket; New traditions to express individuality such as the sweet potato bar at Thanksgiving; Reinventing basics such as one-pot meals, gourmet basics, tricked out snacks, crafted cocktails, and embellished desserts; Brewing coffee at home; Taking comfort foods to the next level
McGladrey – 2012 Food trends (no date)
Niche publications and food shows; Recesses of food culture including wildcrafting, regional specialties, and regional offerings; Celebrity chefs and talk show hosts as trusted advisors; Healthy eating; Portion control; Hard to find foods; Move away from processed foods with added benefits towards less-processed, nutritionally rich whole foods; Diet turnarounds including not all fats are bad, processed soy being avoided; Gluten-free foods; Gastronomic interest in vegetables; Seaweed and other hearty greens; Beverages – less sweet and more sour; Carbonated soft drinks seen as an indulgence; Regional berries and tree fruits in beverages, baked goods, and snack foods for health benefits, seasonal offerings, and local elements; Milks from specific breeds of cows; Stronger-flavored condiments; Mini-versions of traditional favorite desserts; Interest in animal welfare standards; Transparency in GMO labeling; Pop-up farmers markets; Homespun atmosphere in the dining area; Asian and Indian cuisine; Localized and traceable butchers' products; Minimal, environmentally sound packaging; Using fewer resources in food production; Proprietary apps; Social sharing;
Men's Health / Women's Health – The Best and Worst Food Trends of 2012 (no date)
Food companies labeling everything "natural"; Restaurants sneaking extra fat into their foods; Menus calling meals "snacks"; Chains serving up salt-soaked "health" foods; Restaurants rethinking kids' meals; Smaller desserts; Food producers reducing salt; Good-for-you fast food breakfasts
Organic Authority – Food Trends 2012: What to Expect on Your Table (no date)
Global cuisine including Vietnamese street food, fermented foods including Korean kimchee; Asian dumplings of all sorts; North African food (especially Moroccan); Peruvian food; Heavy, savory comfort food dishes including macaroni and cheese, mashed potatoes, meatloaf, meatballs, doughnuts, popcorn, pie, grilled cheese sandwiches, casseroles, and beef stroganoff; Gluten-free foods including bread, muffins, baking mixes, cookies, and cakes; Alternative meats including goat, elk, bison, rabbit; Jewish food; Greek yogurt
Kraft Foods Foodservice Trend Predictions for 2012 Jan-2012
Customization; Vintage desserts; Specialization; Casualization of menus; Better better-for-you dishes; Restaurant/market combinations; Food as experience; Fusion 2.0; Ethnic desserts; Salt; Unusual pairings; Healthier kids' menus
The Daily Meal – Top Food Trend Predictions for 2012 Jan-1-12
Nordic cuisine; Fast-food reinventions; Cupcake successors; Gluten free (and the backlash); Big chefs and restaurants in Miami; Alternative iconic sandwiches; Food halls; Limited reservations at restaurants; Regional burgers; Wild greens; Moroccan food; More Neopolitan and funky pizzas; Jewish food; Exotic fish; Arancini; Mario Batali and Bobby Flay
Andre Dang in Futurespace Magazine – Food Trends for 2012 Jan-2-12
Peruvian cuisine; Greater obsession with cheese in all its forms; Foods and drinks served in jam jars; Social dining; Aged craft beers; Food shaped as balls; Hand pulled noodles; The Happiness Diet; Fried sweet dough; Edible dirt; Yuzu; Paletas
Rozanne Gold in Huffington Post Food Blog – What We'll be Eating in 2012 Jan-3-12
Kibbutz-style entertaining; Eating in your zip code; Mindfulness and gratitude about food – including sustainability and healthiness; Healthier breakfasts; Healthier school lunches; Real food movement; Upside-down foods (using fruits as vegetables and vice versa, sweet things in savory dishes, etc.); Alternative colors for vegetables; reduced demand for cupcakes based on calorie content; Spice mixtures including za'atar; alternative spices including sumac, ground seaweed, and turmeric
Ingredients to try – Cardoons, parsnips, kale, Chinese broccoli, mussels (making a comeback), new varieties of fish (including cuttlefish and herring!), persimmons, red quinoa, unhulled barley (great in risotto), spelt flour, leatherwood honey, buttermilk, beef shin, fresh chamomile, long beans, fresh lychees, mangosteens, congee (hot rice porridge) for breakfast (or dinner), hibiscus, coconut (oil and water), Thai fish sauce
New foods you'll soon see: Hummus made from everything other than chickpeas!, real Iberico ham from Spain, soft, spreadable chorizo, cross-cultural dumplings, pappa al pomodoro (instead of risotto or pasta), yellow marinara sauce (from yellow tomatoes and yellow peppers), Pão de Queijo (Brazilian cheese bread), cakes made with olive oil, good wine from Bulgaria, eating weeds and unknown edible plants, moss and lichens, jams and jellies made from vegetables, beans in everything (healthy and cheap), "bulgogi saucing" and "rendangs" ("dry stewing"), the dishes of Southern India, a few French classics making comebacks.
Edmonton Journal – Food trends for 2012 Jan-3-12
Nose to tail; Nostalgia; Street food
Shrink in the Kitchen – Food trends 2012 Jan-4-12
More animal parts including hooves, tails, snouts, and organs; More ingredients including exotic ones; The wow factor in dining environments; Restaurants pushing cocktails created by mixologists; More heavily salted foods; Chefs exert their personalities and create foods that reflect their moods, whims, and ideas; More food poisoning from international foods; Appliances; Restaurants turning Asian; The end of the restaurant reviewer
Andrew Stout Five Food Predictions for 2012 Jan-7-12
Organic becomes the norm; Farmers markets not just for "foodies" any more; Childhood obesity; Genetically modified crops fail to produce; Networked food hubs
Good Housekeeping – 10 Top Predictions in Food for 2012 Jan-8-12
Pickles; Bahn Mi; Honey and agave; North European cooking; Off cuts of meat; Healthy school lunches; Healthy school lunches; New pasta shapes; Sweet and salty desserts; Korean, Peruvian, Jewish; Slow cooking
Shape Magazine – 5 Healthy Food Trends for 2012 Jan-9-12
Craft beer; Local seasonal superfoods; Sorghum; Plant-based "dairy"; Exotic herbs and spices
Akron Beacon-Journal – Food Trends For 2012 Jan-9-12
Food prices will keep rising; Frugality is the new normal; Value for money while eating out, including the continuation of the burger trend; Food trucks; Snack machine offerings more healthy including in offices, with the possibility of mini carrots, nuts, fruit and even hummus; Baby boomer purchasing power continues, with benefits for big brands; Social media influencing food communications; Growth in local food
Boston.com – 10 food trends for 2012 Jan-11-12
Rene Redzipi's influence/Nordic cuisine; Molecular gastronomy at bars; Ramen restaurants; Vegetables in starring roles; Chefs obsessed with charcuterie and butchering; African flavors; Traceability; Microseasonality (seasonal + local); Eating as entertainment; Chef-taught cooking classes
Bon Appetit – 5 Things to Eat, Drink, and Cook in 2012 Jan-12-12
Seafood CSAs; Asian-inspired subs; Tasmanian food; Whey; Lap cheong cured pork sausages; Mackerel; Gluten-free; Beer cocktails; New pasta shapes; Sicilian wine; Amaranth grain; Scotch eggs; Secreto cut of pork; Canelés; Yuzu kosho condiment; Finger limes;
Winnetka Talk – Hot food trends for 2012 Jan-12-12
Elevated French dip; Home cooking  for the family table; Hyper-local home cooking; Farmers markets; Gluten-free restaurant fare; Macarons; Asian dumplings; Healthier children's food in restaurants; Pink pork; Doughnuts; Communal restaurant tables; Retro-inspired diner dishes
SPINS TrendWatch 2012 Jan-13-12
African Mango; Probiotics; Chia; Fermented drinks; Organic supplements; Cognitive health
Food Biz Daily – Top Five Food Trends Spotted at Winter Fancy Food Show Jan-17-12
Pickling 2.0; Drinks made with nuts and seeds and grains; Gluten-free grows up; Coconut; Ancient grains
USA Today – Winter Fancy Food Show trends for 2012 Jan-18-12
Salt; Artisan chocolate; Korean cuisine; QR codes on packaging; Nori seaweed; Gluten-free; Do-it-yourself food kits for basic foods and traditional dishes; Butchers; Food trucks; Drugstores as food stores; Mindful snacks; Pickles
Vancouver Sun – Food trends 2012 Jan-21-12
Parisian macarons; Gluten-free; Foraged ingredients; Offal; Street vendors opening storefronts; Marshmallows; Restaurant gardens
Kare11 Minneapolis-St Paul – Healthy food trends of 2012 Jan-21-12
Real foods, wholesome foods, less processed foods, "Pure" becomes the new "natural"; Products with an infusion of healthy ingredients (ingredients added to products to "healthify" them); Beverages with "real food" ingredients; Gluten-free and allergy sensitive foods; Probiotics and prebiotics in food; Dark/assertive greens; Heirloom/heritage foods; Healthy fats instead of fat-free; Home cooking; Healthy foods for kids
Packaged Facts: Food Flavors and Ingredients Outlook 2012 Jan-23-12
Less-processed foods; Southern cooking; Central and South America; Ingredients from specific states or regions; Korean; Peruvian; Sustainable seafood; Unusual cuts of meat; Humanely raised veal; Affordable options; Dessert ingredients including butterscotch, pear, lemon and lime, and corn; Slowing growth of farmers markets; Locally-grown food
USA Today Trend Tracking for Foodies Jan-26-12
Eat like a peasant; Homemade or homestyle, with healthier options; Double-sided menus; Home cooking; Freeze-dried and dehydrated fruits and veggies; Dining in the company of social networks; (Hopefully) smaller portion sizes
Howard Gevertz at the Culinary Institute of Virginia – Food trends for 2012 Jan-30-12
Local brews; Restaurant gardens; Macarons; Fast-moving big-city trends; Locavore movement; Peruvian food
Mintel's 2012 Dining Out Report: A look ahead Mar-12-12
Fresh and local fare; Made from scratch; Real; Ordering healthier foods with lower calories from calorie counts on menus
Huffington Post – Wacky Food Trends for 2012 Mar-15-12
Chocolate-covered sprouts; fish spines; unnaturally black foods; random animals (squirrel, donkey)
FastCasual.com – 2012 Top 10 food trends Mar-16-12
Heirloom foods; Neapolitan pizza; Burgers topped with an egg; Nordic cuisine; Exotic fish including Fugu (Japanese Puffer fish) and Paiche
Eat & Drink Blog (Canada) – The top 8 food trends in Toronto for 2012 Apr-12-12
Street food; Seafood; Japanese pub food; Communal dining; Pop-up restaurants; Home-made sodas; Food in jars; Filipino food
PBS Food Trends 2012 Apr-19-12
Peruvian cuisine; Gluten-free diets; Bitters; Local farming; Gourmet tacos; Simple techniques
Culinary Tide's 2012 top trends Apr-29-12
Government – GMO, BPA, acrylamide, salt, kids, food safety
Health – Obesity, gluten, BPA, salt, kids, seniors, cognitive function
Technology – QR codes, vending, food safety, digital accountability, GMO
Consumers – Escapism, deal chic, recession rejection, fresh, pure, health centric, transparency
Travel – Arctic, Leap list, extreme Asia, quietly exotic, bleisure
Beverage – Cocktails, guest bartenders, growers champagne, bitters, tea
Food & Flavor – Vibrant, daypart disintegration, pickled, wildcrafting, global comfort, Korean, blood, insects, Nordic, marshmallows, Low Country, Cuban, pie, carb revival, kids, seasonal, fin to tail, foraging, Peruvian
FoodNavigator-USA 2012 trendspotter May-1-12
Traditional fruits, Thai and Indian cuisine; Freshness; Different varieties of chili; Plant proteins; Smoke flavors; More part-prepared foods; Asian and Latin American flavors; Healthy blood sugar
NRA Show 2012 top food trends May-7-12
Miniature or single-serving desserts; Indulgent desserts; Customizable coffee; Southeast Asian flavors; Sustainability
Miscellaneous food trends
NewHope 360 – 7 nutrition market trends for 2012 Nov-8-11
Community connected as a backlash against globalization; A more modest and thoughtful approach to life as a reaction against society's wastefulness; Healthcare crisis forcing individuals to take charge of their own well-being; Escape from information overload and life's daily pressures; Defying convention; Curiosity about the cultures and cuisines of the world; Smaller, high-quality products and experiences
Food Insight – Food Safety Scoops and Predictions for 2012 Dec-2011
Consumer confidence; Risk of foodborne illness, especially for immune compromised people; Questions on chemicals in foods including acrylamide
Technomic Breakfast Consumer Trend Report Dec-14-11
Convenience and speed of service; Coffee; Kids' options; Breakfast growth for limited-service; Health – low-fat/no-fat, wholegrain, multigrain
Pollock Communications – Top Five Nutrition Trends for 2012 Dec-21-11
Unprocessed, natural foods (local, organic, sustainable, fresh, minimally processed foods); Cooking at home; Simplifying the ingredient list; Sodium reduction, Elimination of HFCS; Exotic and ethnically diverse flavors and cuisines; More antioxidants and phytonutrients; More vitamins and minerals; More fiber; Using USDA's MyPlate
Mambo Sprouts – 2012 Natural and Organic Market Trends Dec-29-11
Concern about what's not in your products – gluten free, non-GMO, and no antibiotics; Concern over organic preferences and price
Fairfield Green Food Guide – 2012 Sustainable Food Trends Dec-31-11
People growing at least some portion of what they eat in home and community gardens; More home cooks preparing food from local sources; Organic food growth and higher prices; Young farmers leasing land for local production; Interest in heritage and heirloom foods; High-end specialty food category growth; New and exciting craft beers and micro-distilled spirits; Restoring lost local brewing and distilling traditions; Artisan foods replace industrial choices
Calorie Control Council – Top 5 Trends in Dieting and Healthy Eating in 2012 Jan-6-12
Trying to buy local products and cook seasonally; Trying more international types of foods; More low-calorie products and recipes; Family meals
The Values Institute at DGWB predicts upcoming health trends for 2012 Jan-6-12
Boosting energy naturally; Flexitarian diet
USA Today – 10 new products to watch for in 2012 Jan-9-12
U.S. product introductions will likely shrink in 2012; Meals with very low prep time; Ethnic foods; Healthy frozen foods; Customizable foods; Juices with energy boost
Four Seasons Magazine – Travel Trends 2012: Food Jan-12-12
Cuisines from the varied regions of China, Brazil and India and the Le Marche region of Italy; Street food; "Dressed-up" comfort foods; Distinctive ethnic dishes; Farm to table; Artisanal canning; Upscale bar snacks; Out with molecular gastronomy, Sous Vide cooking, meatballs, and the overuse of truffle oil
In-Season Events – 2012 Wedding Food Trends Jan-13-12
Cake push pops; Sophisticated versions of childhood favorites like PB&J and tomato soup with grilled cheese; Infused waters; His & hers foods; Unique food displays; One plate meals;
Diabetes Self Management – Foodies Unite: Food Trends for 2012  Jan-17-12
Black garlic; Sea vegetables; Kombucha; Agave nectar; Kale
FastCasual – Top 5 2012 food innovation product predictions Feb-23-12
Organic globally; Arancini; Macarons; Coconut flavor; Ancient grains
Lake News Online – Nutrition trends for 2012 Mar-10-12
Healthy fats; Gluten-free; Whole grains; Reducing sugars; Reducing salt; Natural foods including butter, stevia, locally grown, organic; Saving food costs; Declining meat consumption; Healthy snacks
IFT Top 10 Functional Food Trends of 2012 Mar-30-12
Getting vitamins and minerals from the foods and beverages instead of supplements; Healthy versions of frequently-used foods; Bioavailability; Protein power; Plant based; Gourmet nutrition; The new risks (stroke, heart attack prevention); First aid (relief from sore throat, constipation, sleeplessness); Kids, dads and grannies (appealing to these groups); Liquidification
National Confectioners Association – Top Consumer Snack Trends 2012 May-29-12
Shareable affordable sweets; Sweet & salty; Snacks with Middle Eastern, Asian and Mediterranean-influenced flavors; A new generation of tropical fruit flavors, with mango leading the way; Healthy snacking
Beverage trends
Nation's Restaurant News – Beverage trends in 2012 Dec-19-11
Aged tequilas; Portuguese wines; Cocktails, wine, vermouth etc. on tap; Caraway flavors; Casual and unpretentious bars; Blended styles of beers such as amber pale ales, black IPAs and white IPAs; Local craft spirits; High-flavor/lower-alcohol beers; Thin, light wines; Blended older and younger whiskies
About.com Culinary Travel – Cocktail Trends in 2012 (no date)
Barrel-aging and bottle-aging spirits and cocktails; CO2 Canisters for frothy creamy drinks;
New flavors through the use of different cordials; "Abstract" seasonal fruits and vegetables; Kentucky bourbons; Pre-Prohibition drinks; Spirits on the rocks; Bartenders making their own bitters, tinctures, and sodas; Gin
FoodBev.com – CHD Expert provides beverage industry trends Jan-13-12
Hot beverage marketing continues to grow; Future growth in worldwide coffee and tea industries expected to rely on quality, health and convenience; Hot tea for health benefits
Flavors trends
Bell Flavors & Fragrances – Top 10 Flavors & Fragrances Dec-19-11
Sweet flavors:  Salty caramel; Red velvet; Strawberry jasmine; Cinnamon chipotle; Eucalyptus; Taro/sweet potato; Roasted coconut; Café de olla; Lúcuma; White sesame
Beverage flavors: White truffle oil; Kimchi; Absinthe; Calamansi lime; Rich umami; Rose water; Aged cayenne pepper; Satsuma orange; Mirin; Romesco
Savory flavors: Lemonade; Maqui berry; Aloe vera; White tea; Mamey; Cucumber mint; Chrysanthemum; Kumquat; Honey ginger; Green coconut
Comax Flavors for 2012 Dec-28-11
Ethnic Fusion:  Jasmine Coconut; Curry Mole; Asian Taco; Fiery Mango Pineapple Chutney
Pickled Paradise:  Pickled Mango; Pickled Jalapeño; Kimchi; Pickled Watermelon; Pickled Ginger with Wasabi
Wine Whimsy: Japanese Plum Wine; Italian Muscato Wine; Sauvignon Blanc Wine; Spanish Madeira Wine
Regional Reverie: Herbs of Provence; Lemon Parsley; Thai Basil or Garlic Basil; Ginger Rosemary
FoodProcessing.com – Flavor trends for 2012 Jan-4-12
Clean or 'friendly' labels with reduced artificial additives for more confidence in food products; Merging cultures; Spicy/robust ethnic flavors; Flavors for savory snack categories including varietal cheese flavors, barbecue, wasabi and garlic; Flavors of the Far East including Korean; Authentic spice blends; Moroccan; Reducing sodium using flavors; Different chili peppers; Alternative citrus including blood oranges, cara cara oranges, kumquats, Meyer lemons, seedless lemons, key limes, cocktail grapefruit, Satsuma and Jeju mandarins, and finger limes / citrus caviar; Sweet young coconut water and pulp; Red Caribbean papaya; Retro-inspired flavors; Tart cherries; Adventurous flavor combinations
Sensient Flavors – 2012 flavor trends Jan-5-12
Aji Amarillo; Black Garlic; Coriander; Honeycrisp Apple; Lucuma; Peach Rosemary; Pink Peppercorn; Plum; Spicy Caramel; Varietal Vanilla
Market and retail trends
New Hope 360 – Market trends for 2012 Nov-8-11
Community connection; Less wastefulness; Taking charge of your health through information; Return to a simpler way of life; Do something new; Curiosity about different cultures; Luxury in smaller portions
Convenience Store Decisions – Retail trends for 2012 Nov-23-11
Smart phone apps; Mobile phone payments; Loyalty program apps; Finding products based on location; More self-service
Leo Burnett – HumanKind 2012: The Transformation of Aspiration Dec-20-11
Americans want healthier menu items and affordable luxuries; Sense of fairness declines, happiness inequality rises; The average American family is anything but; Men evolve as masculinity declines; Collective bargaining tools like Groupon and LivingSocial mean people expect to pay less; Social/mobile technology becomes more practical
UK food trends
Leatherhead Food Research – 2012 Food and Drink Trends Dec-1-11 (UK)
Health and wellness including reduction of salt and sugar; Sustainability including packaging-reduction initiatives, ever-more ethical sourcing policies, reduction of food miles etc; Convenience including meal kits; Flavor solutions to compensate for lower levels of salt, fat and/or sugar; 'Free from' including allergies and wheat gluten; Natural; Affordable luxuries; Location including local food and exotic ingredients with an overt providence message; Over 55s including health benefits and functional ingredients; Softer claims for key messages from food manufacturers
Food & Drink Towers – Ten Top Trends For 2012 Report Dec-15-11 (UK)
Regional producers get a boost, local food; Food and nutrition to affect emotional and mental health; Packaging innovations: reducing size/weight, easier to open/close/dispose of, greater standout on shelf; Learning to grow your own, bake your own, make your own; Foraging; At-home dining occasions; Cooking from scratch for austerity reasons; Impulse foods growth; Health, convenience, and indulgence on a budget; Original food and drink pairing
FoodBev.com – 20 trends in the beverage industry Dec-19-11 (UK)
Coffee – flavors and ready-to-drink; Flavored beers and ciders; Stevia; Natural energy drinks; Water; Carbonated soft drinks resurgence; Citrus flavoured juice-enhanced drinks; Clear beverages; Drinks that tie in strongly to particular alcohol brands; Ginger; Oats; Ready-to-drink tea; Aseptic packaging; Better quality drinks for children; Sustainable packaging improvements; Hybrid electric/diesel delivery trucks; Water reuse in-plant; Garage forecourts and service stations as an outlet for beverage sales; Use of smartphones to track beverage ingredients; Music festivals are now recognised as important forum for beverages
Channel 4 – Top food trends for 2012 (no date) (UK)
Malaysian food; Drinking tea properly; Small plates for sharing; Churros; Cheek; Coconut water; Rabbit; Molecular gastronomy for the masses; Best of traditional British foods
Naturis – 2012 trends (no date) (UK)
Health and wellness including reduction of salt, fat and sugar as well as the active promotion of health benefits on products; Sustainability; Convenience / ready meal concepts; Flavor solutions to counteract lower levels of salt, fat or sugar; Free-from foods; Natural; Affordable luxury; Provenance; Over-55 age group; Softer claims
The Telegraph – Top ten food trends for 2012 (no date) (UK)
Thrift; Scandanavian food; Pickling; English veal meatballs; Salt beef; Casual dining; Ceviche/Peruvian food; Doughnuts and other deep-fried delights; Bacon candy; Quiz shows for foodies
McCormick and Schwartz Global Flavour Forecast 2012 (UK) Jan-2012
Honoring roots of a cuisine; Powerful harmonic bursts of elemental flavours for the ultimate taste experience; Vegetables – seasonal and fresh; Simple preparations; Herbs and spices to add flavour and improve taste with less fat, salt and sugar; Discovering, reinventing and even playing with food
New Nutrition Business / Julian Mellentin – 10 Key Trends in Food, Nutrition & Health 2012 Jan-2011 (UK)
Key trends: Naturality / natural functionality; Energy; Digestive health; Feeling the benefit as the most powerful marketing tool; Weight management; Movement; Senior nutrition; Fruit & vegetables; Dairy; Good grains
Micro-trends: Sports nutrition; Kids' nutrition; Immunity; Diabetes; Differentiate using packaging technology; Service with a product creates competitive difference; Smart thinking finds smarter ways to take health to market; The high-risk game of products for relaxation and brain health
My Secret Kitchen – Top ten food predictions for 2012 Jan-3-12 (UK)
Price increases on food; Granny's cooking; More grains including whole grains and alternate grains; Foraging and foraged foods such as mushrooms, herbs and berries; Whatever Twitter says; The rise of the minor celebrity chef; Moroccan; South American; French Macaroons; Family dinner table
The Telegraph – Top ten drinks trends for 2012 Jan-3-12 (UK)
Craft keg beer; Wine cocktails; Pop-up bars; Flavorsome and weaker real ales; Ready-made cocktails; Upmarket cider; Moscato d'Asti; Home brew extending to wines, spirits, and cider; Craft beer bars; Gin
Huffington Post – Food Trend Predictions For 2012 Jan-24-12 (UK)
Mini gourmet doughnuts; Two cultures merged into one in a dish; Upscale pork scratchings (skin); Edible dirt; Peruvian food and ceviche; 24-hour baguette dispensers; iPhone takeaway (take out); Alfajores; Matcha green tea; Pie-pops; Gourmet scotch eggs; Virtual supermarkets; Gelantina gelatine desserts; Modern Milk with vitamin D; Molecular cooking