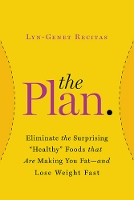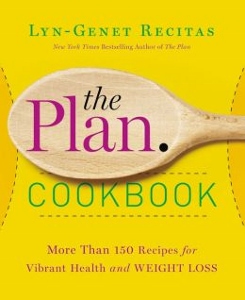 The Plan (2013) is an elimination/rotation diet that tests your reactions to food to check what foods work with your body chemistry
Start with low-reactivity foods
Introduce other foods one at a time
If you gain weight, you could have a reaction to that food
Below is an outline of the food recommendations in the book.  Summary  |  Preparation  |  General guidelines  |  3-day cleanse / phase 1  |  Structured testing phase / phase 2  |  Test more foods on your own – phase 3  |  Lifetime diet.  There's a lot more in the book.
Get a copy of The Plan for the detailed meal plan, recipes, and more.
Get The Plan Cookbook for more than 150 recipes.
The reasons behind The Plan
This book argues that weight gain is nothing more than your body's chemical reaction to foods. You're not eating too may carbs, or too much fat, or too many calories – instead you're eating certain reactive foods that are triggering an inflammatory response, and the inflammation causes a number of problems including weight gain and some chronic health conditions. These issues occur more as we get older.
We all have certain foods that are inflammatory for us. These foods might be healthy in a vacuum, but when combined with our body's unique chemistry, they can be quite toxic. When we eat one of these trigger foods, our bodies sense that something toxic has been introduced into our system, and flood the tissues with water trying to keep that toxic substance away from the brain tissues. It's never the food itself that causes weight gain – it's the chemical response it triggers in your body. The Plan helps you to systematically test foods to learn how your body reacts, so you can make informed choices – which are your "friendly" foods and which are your "reactive" foods.
The Plan diet – food list
The book gives you exact meal plans for each of the first 20 days, and guidelines on how to plan meals after that. Reactive foods are tested in a specific order, beginning with the least reactive foods, and the menus should be followed closely to get the most accurate results possible – this is a testing protocol systematically designed to gather the critical information you need to become an authority on what works with your body. You can substitute after the 20 days are over.
Weigh yourself first thing each morning – if you lose less than ½ pound, or if you have a flare-up of chronic symptoms, you may have a reaction to the food you ate the day before – put it on hold and re-test it later.
If the inflammatory response was moderate (up to ½ pound weight gain with no accompanying physiological response), then going forward you might want to incorporate that food only occasionally, say once every seven to ten days. Follow that day with a friendly day to allow the body to repair any inflammation. If the reactive response is more extreme, in terms of either weight gain or physical symptoms, avoid that food for right now and retest it in three to six months.
Potentially reactive foods for you to test
% is the percentage of the author's clientele that tested reactive to that food
90% reactive: Farm-raised fish, deli meats, most sushi, hot dogs, bagels, corn, thick-crust pizza dough
85% reactive: Shrimp, turkey, tomato sauce, eggplant, oatmeal, Greek yogurt, black beans, cannellini beans, cauliflower, cabbage, hard-boiled eggs, nonorganic spinach, cottage cheese, grapefruit, salmon, asparagus, bagels
70% reactive: Regular yogurt, green beans, oranges, pork, white or whole wheat pasta
60% reactive: Peppers, mushrooms (excluding shiitake), tuna, swordfish, edamame, pineapple, cod (unless you are thyroid deficient, in which case it lowers to 30%), whole eggs (other than hard boiled), sweet potatoes
50% reactive: Veal, cow's milk, couscous, white rice, almond milk, quinoa, artichokes, potatoes, tomatoes, bananas
40% reactive: Wild white fish, lentils, peas, lactose-free milk, tahini
30% reactive: Egg whites, nut butters made from roasted nuts, strawberries, tofu
20% or less reactive: Bread, scallops, steak, roasted nuts (if you have chronic illness, autoimmune disease, or depression, this can bump up to 70%), snow peas, bok choy, cow's milk cheese, sesame seeds, tempeh
10% or less reactive: Pit fruits (mangoes, avocadoes etc.), garlic, chickpeas, raw onions, shiitake mushrooms (may be higher if you have systemic yeast), chard (will be much higher if you have thyroid issues), organic spinach (will be much higher if you have thyroid issues), radicchio, endive, lamb, chicken, goat or sheep's milk cheese, pears, apples, berries (except strawberries and raspberries), broccoli, carrots, kale, zucchini, winter squash, beets, mixed greens (baby romaine, red leaf, butter lettuce, etc.), arugula (will be higher if you have thyroid issues)
Prepping for The Plan
Get tested for hormone function. If you have an underactive thyroid, avoid goitrogenic foods until testing them in The Plan: broccoli, broccoli rabe, brussels sprouts, cabbage, cauliflower, collards, horseradish, kale, mustard, rutabaga, turnips, millet, peaches, peanuts, pine nuts, radishes, raspberries, soybean and soy products including tofu, spinach, strawberries, sweet potatoes, swiss chard, watercress
Check for yeast overgrowth – set aside one day and include in your daily menu wine and beer, balsamic vinegar, and chocolate – all three in one day, or eat more of the others if you don't like one of them. The next morning, check your tongue to see if it has a white coating – if so, take high-quality probiotics for a week before starting Phase 1
General guidelines
Eat three meals and a snack a day, following the exact menu in the book.
Portion sizes for each meal:
Animal protein: one serving is 4 – 6 ounces for women and 6 – 8 ounces for men (about the size of the palm of each gender's hand)
Vegetables: unless otherwise indicated (e.g. limiting roasted vegetables), eat Plan-friendly cooked vegetables until you feel full
Salads: eat until you feel full
Soups: eat until you feel full
Cheese: 1 ounce is the optimal amount to begin with
Nuts and seeds: when they're included in salads or eaten as a snack, use a generous handful unless otherwise indicated, which is roughly 1 ounce for women and 1 ½ ounces for men
A few foods listed in the meal plans have portion sizes to limit the reactivity potential of those foods and mitigate excess sugar
General – eat:
Drink plenty of water – approximately half your body weight in ounces – for every sixteen ounces less than your body needs, it will hold on to half a pound. Don't drink more – it can be detrimental. Start your day with 16 ounces of fresh water with a squeeze of lemon juice, along with a liver detox supplement and/or cup of dandelion tea. Get all your water before 7.30pm to avoid having it show up the next day on the scale
You can replace the snack that is listed with fruit (half a piece for women, a whole fruit for men) and a handful of raw nuts or kale chips after day 4, as long as you've already tested and passed them. You can replace the hummus recipe with raw almond butter if you test okay with it
Always have a salad with cooked vegetables. In summer / warm weather, you can just have raw vegetables, but in winter / cold weather eat an even ratio of cooked and raw vegetables.
You can switch the lunch and dinner meals if you like, as long as they're meals from the same day
Eat the three meals and a snack, rather than grazing throughout the day
For optimum success, eat your meals at home for as many days as possible. Dining out is a test on day 18, when you test foods you've already identified as friendly – it's difficult to order in a restaurant with a limited selection of foods. If it's not possible for you to eat at home for 17 days, do this test on an earlier day and move the other tests back by one day
In winter or cool/cold weather, follow the Winter Menu, which is the regular plan in the book (pages 69-148). In summer or warm/hot weather, follow the Spring Menu (pages 233-257)
There's also a Thyroid Menu which avoids goitrogens (pages 259-290)
There were some alternate Plans available online if you want to avoid certain foods, but unfortunately they were taken offline. There are books available on Amazon, but at the time of writing this update (March 2015) they don't have reviews.
You can add these spices or condiments whenever you wish: basil, black pepper, cardamom, cayenne, cinnamon, cloves, cumin, garlic, ginger, Maine Coast Sea Seasonings, nutmeg, onion, oregano, rosemary, thyme, turmeric
Eat everything recommended in the meal – don't skip any part of it. Skimping on protein or fat impedes weight loss. Eat until you are full
Potato chips are allowed – 1 ounce for women and 1-2 ounces for men
Don't be shy with olive oil, butter, cheese, and nuts once you pass those tests – especially in the winter
Stick to organic where possible, especially the Dirty Dozen produce. Try to find hormone- and antibiotic-free chicken and meat
Healthiest ways to cook are steaming and sautéing / water-sautéing, followed by roasting and grilling. For meat and fish, with the exception of chicken, rare to medium-rare works best, as the proteins and fats in meats are unstable when heated and may affect your response if overcooked. If you test reactive to fish or beef, you may want to test sashimi or carpaccio
General – limit or avoid:
Limit roasted vegetables to one or two cups a day during the plan; after that you can find your own balance
Limit low-fat and nonfat milk products, as they are harder to digest and may hinder weight loss
Limit sugar, honey, and agave nectar – they are okay within reason ("within reason" isn't defined)
Avoid artificial sweeteners, sugar-free product, and also sugarless gum, and even avoid stevia
Tapioca is highly inflammatory, and so is potato starch
Xanthan gum can aggravate pain and inflammation
Avoid farm-raised fish
Limit salt/sodium – excess sodium in the body takes a mildly reactive food and turns it into a wildly reactive one
Avoid these spices during testing: paprika, licorice, chili powder, and fennel
Avoid seasoning mixes that contain MSG, or that say "spices" without listing the individual ingredients
Avoid mustard, or any dressings containing it, until you have tested it (read labels carefully)
Avoid ranch, blue cheese, or any other dressing that contains dairy until you have tested it
Have a rest day if:
You have a reactive day with physical symptoms
Your weight is up
You know that you are going to have a particularly hectic or stressful day
If you gain weight after a friendly day:
Make sure you drink the right amount of water, before 7.30pm
Make sure you don't have much sodium
Don't over-exercise
Make sure you get enough protein and fat
Get enough sleep
Leave time to recover from prior inflammation
Keep stress down
Look out for yeast overgrowth
Pause testing from 3-5 days before the beginning of the menstrual cycle until day one of your cycle, as many women's bodies go into pro-inflammatory state
Check for allergies
Phase 1 – the 3-day cleanse
This is a 3-day detox to create a neutral base line in your body.
Foods to eat during The Plan 3-day cleanse
For all tests – the next morning, weigh yourself first thing – if you've lost less than ½ pound you may be reactive to that food – don't eat it during the rest of the testing period, and retest it later. If you react badly to a food, take a few days off and eat only foods you've tested successfully before.
Day 1 – No test. You start out with flax seeds, blueberries, coconut milk or rice milk, carrots, zucchini, onion, beets, kale, shiitake mushrooms, butternut squash, broccoli, mixed greens, chia seeds, sunflower seeds, pumpkin seeds, broccoli with orange oil and lemon juice, pear, apple, citrus zest (orange oil or lemon oil), 1 teaspoon of brown sugar / honey / agave nectar per serving, and the spices/condiments listed above. In the followings days you continue to eat these foods and introduce other foods to test for their reactivity
Day 2 – Almonds and rice. Test raw, unsalted almonds (a handful), and brown rice (a cup for women, 1 ½ cups for men).
Day 3 – Chickpeas, chicken, roasted vegetables. Test low-sodium chickpeas (1/2 cup), baked chicken without salt (2-3 ounces for women, 4 ounces for men), and roasted vegetables (1 cup for women, 2 cups for men)
Foods to avoid or limit during The Plan 3-day cleanse
Coffee (green or black tea is okay, 2 cups maximum). You can have coffee if you really need it, not decaf, but it may make the detox less effective
Don't add any salt to your food – you can use Maine Coast Sea Seasonings / seaweed-based seasonings instead. After the end of the cleanse, seas salt may be used in moderation
Avoid butter – only during the cleanse, it's encouraged afterwards
Only eat the foods suggested
If you react to a food, stop eating it during testing
Phase 2 – the testing phase
Foods to eat during The Plan testing phase
Day 4 – Cheese, coffee, wine, and chocolate. Add one ounce of goat cheese. Have a cup of coffee in the morning if you want to test coffee (not later in the day), don't include milk until you've tested it although half and half or heavy cream is allowed. You can have a glass of wine if you want to test wine. Test 1 ounce of dark chocolate, 65% cacao or less. Note that tomorrow, if you introduced wine, chocolate, or vinegar, you should check your tongue for a white coating to see if there's yeast overgrowth – if so, avoid one of them for a week to retest
Day 5 – Rye. Test 1 rye cracker for women, 2 for men. If you react badly, it's likely you'll also react to wheat.
Day 6 – Protein. Test a new protein – could be wild white fish (avoid tuna, cod, and swordfish for now – you can test them later), a meat (beef / steak, lamb, or duck, preferably cooked medium rare, or venison, preferably carpaccio or cooked rare to medium) or egg (cooked any way but hard boiled). Note most people do well if they have beef only once every 7 days or so, and eggs every other day
Day 7 – No test – take a one-day break to allow your body to reset
Now we start testing some higher-reactive foods
Day 8 – Bread. Test plain white or wheat bread – not multigrain, sprouted grain, high fiber, or bagels. Regular bread, cakes, and cookies are made with lower-gluten flour, and are usually tolerated in moderation, say 2-3 days a week. Pizza, pasta, and bagels (which can be tested later) have a higher gluten content and may be tolerated less often. If you have a fully balanced diet with plenty of grain and vegetable fiber, a little white bread will have a minimal impact. If you pass this wheat day, you can now introduce other grains like spelt and kamut into your diet, which widens your choice for breakfast cereals. If you don't pass the wheat test, stick with a rice flake cereal (not puffed rice)
Day 9 – No test, rest day
Day 10 – Test new protein. Test a protein you didn't test before, from the list on day 6, or a higher-reactive protein such as pork (fresh, not bacon or deli meat / cured meat), scallops, or cow's milk cheese (1 ounce)
Day 11 – No test, rest day
Day 12 – Test new vegetable. Test one new vegetable, mixed with an already approved vegetable. Snow peas (test 5-6 peapods), bok choy (test ½ cup), brussels sprouts (test 4-5), savoy cabbage (test ½ cup), tomatoes (save grape and cherry tomatoes for a future test), red pepper (not green, orange, or yellow), potato, radicchio, or endive
Day 13 – No test, rest day
Day 14 – Test new breakfast addition, or milk. Some ideas: oatmeal, yogurt, French toast, bagel, whole or lactose-free milk. Stick to one test – either milk on an already approved cereal, or a new breakfast addition without milk, cream cheese, or yogurt
Day 15 – No test, rest day
Day 16 – Test two proteins in one day, at lunch and at dinner – use proteins you've already tested and passed
Day 17 – No test, rest day
Day 18 – Test new restaurant (or new vegetable). At a restaurant, eat foods you've already tested at home, using the same portion sizes – the restaurant itself is the test. If it tastes salty, send it back
Day 19 – Test new vegetable. Mix with other vegetables you've already tested, as day 12 above.
Day 20 – No test, rest day
Foods to avoid or limit during The Plan testing phase
Limit sodium
Only eat the foods suggested
If you react to a food, stop eating it during testing
Phase 3 – testing on your own
Foods to eat with The Plan when testing on your own
Continue to test new foods, so you have a wide range of friendly foods you can eat. If you continue to eat a small range of foods, your body will adapt and your weight loss efforts will stall. You can create food sensitivities if you don't keep rotating and adding in new foods.
Guidelines for testing new foods

For greater weight loss, it's best to test a new food every 4-5 days
When you're testing something new, test in the smallest reasonable amount to see what your body can tolerate
Any portion size of a friendly food that is increased by more than about 15-20% is a test
Test what's important to you and what you enjoy
Keep hydrated
Don't cut calories
Certain food combinations are tests as well. Rice and beans in the same meal, rice and animal protein in the same meal, beans and meat in the same meal, eggs and another animal protein in the same meal, a dense carb and a protein in the same meal

Guidelines for daily menu plans

Aim for at least 10 grams of protein at breakfast, 15-40 at lunch, 40-70 at dinner.
Rotate your friendly proteins – beef only once every 7 says, lamb 2-3 times weekly, beans once per day, fish twice weekly, eggs once every other day, 1-2 servings of nuts every day, 1-2 servings of seeds per day, cheese 1-2 ounces per day
Include as many tested vegetables as you can fit into a day
Limit fresh fruit to no more than 1 ½ – 2 servings per day; any fruits not already incorporated into the diet are a test
One serving a day of dense carbs (rice, pasta, bread) is best for weight loss
Test any condiments and sauces you haven't already tested
Use approved herbs and spices
Sweets and treats are a test

Five-day self-test

Create a list of all the foods that have worked for you. On rest days, you'll stick to these entirely, and on test days, you'll eat them surrounding the new foods or variable you are testing
Have one dense carbohydrate a day (like rice or bread) maximum and one animal protein a day maximum for weight loss (unless you tested well on two proteins in one day)
Day 1 – No test
Day 2 – Test portion size
Day 3 – Test new breakfast item
Day 4 – Test exercise
Day 5 – No test
Foods to avoid or limit with The Plan when testing on your own
If you react to a food, stop eating it
Lifetime diet
Foods to eat with The Plan for the rest of your life
Eat the foods you've tested
If you're testing a new food, don't drink past 7.30pm
Retest "failed" foods occasionally
Continue to hydrate well
Continue to eat the same amount of fat as on The Plan
Foods to avoid or limit with The Plan for the rest of your life
Beer, champagne, or mixing soda with hard alcohol can be an issue. However many cocktails like margaritas or cosmopolitans are okay if made with fresh lime juice
Health benefits claimed in The Plan
The diet in this book claims to reduce the risks for: acid reflux / GERD, Alzheimer's disease, arthritis, cancer, Crohn's disease, depression, diabetes, digestive ailments, eczema, high blood pressure, hormonal disorders, infertility, inflammation, irritable bowel syndrome IBS, joint pain, migraines, overweight/obesity, Parkinson's disease, polycystic ovarian syndrome PCOS, premature aging, psoriasis, skin conditions, yeast overgrowth
As always, this is not intended to be a replacement for professional medical diagnosis or treatment for a medical condition. Consult your doctor before starting a new diet. This page describes what the authors of the diet recommend – Chewfo is describing the diet only, and does not endorse it.
Get a copy of The Plan for a detailed meal plan, recipes, and information on how this elimination diet works.


 Diet book
Get The Plan Cookbook for more than 150 recipes.


 Cookbook
You can also see the author's website at www.lyngenet.com (with additional tips at http://lyngenet.com/tips-for-book-readers/), and follow her on Twitter at https://twitter.com/lyngenet and Facebook at https://www.facebook.com/TheLynGenetPlan, and discussions on SparkPeople and Facebook.
How has this diet helped you? Please add a comment or question below.