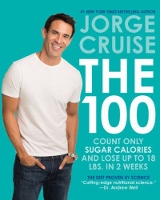 The 100™ (2013) is a weight loss book that encourages you to count and limit sugar calories –
Proteins, vegetables, and fats are "freebies" – portion size suggestions only
Sugars and carbs – limit to 100 Sugar Calories a day
Below is a detailed outline of the food recommendations in the book. What to eat  |  Foods to limit  |  How to calculate Sugar Calories. There's a lot more in the book.
Use this page as a cheat sheet alongside the book. Send this page to friends, family, and anyone else who you want to understand what you're eating on this diet.
Get a copy of The 100 for a detailed discussion of why this diet works, Sugar Calories for various foods, menus, meal planners, shopping lists, and outlined recipes
The reasoning behind The 100
This book claims that the "calories in, calories out" theory is incorrect. Insulin is the main regulator of fat storage and mobilization, and we secrete insulin primarily in response to the carbohydrate content of the diet. The more carbs and the less fat in the diet, the more insulin you secrete, and this affects weight. All carbohydrates are in essence a form of sugar, and this diet counts and limits carbohydrate calories as "Sugar Calories."
The 100 diet plan – food list
Follow this plan for 4 weeks. Afterwards, if you need to, return to the 4-week plan to recharge your weight loss.
Vegetarians and vegans can substitute the meats and/or cheeses with their own favorite options
Foods to eat in The 100 – Freebies
These foods have zero sugar calories and don't need to be counted:
Portion size

Ask yourself if you are actually hungry for your next bite. If you feel full, you have overeaten
Aim for 25-30 grams of fiber a day to accelerate your weight loss
Freebies aren't unlimited. For each food type in the Freebies, see the recommended portion size in this section.

Proteins

Portion size – deck of cards or 3 oz. (for men or those who are looking to build muscle you may go up to 6 oz.)
Poultry / game birds – e.g. chicken breast, cornish hen, lean ground turkey, turkey breast, duck, goose, pheasant
Eggs – e.g. chicken eggs (brown or white), duck eggs, egg whites, goose eggs
Fish & seafood – e.g. catfish, clams, cod, crab, flounder, halibut, lobster, mahimahi, orange roughy, oysters, salmon, sardines, scallops, shrimp, sole, swordfish, tilapia, trout, tuna
Meats – e.g. beef (Select or Choice grades of beef, trimmed of fat, including chuck, rib, rump roast, round, sirloin, cubed, flank, porterhouse, T-bone steak, tenderloin, ground beef), pork (center loin chop, tenderloin), veal (loin, chop, or roast), lamb (chop, leg, or roast), buffalo
Processed meats – e.g. bacon, beef jerky, bierwurst/beerwurst, bologna, Canadian bacon, chorizo, corned beef, Devon sausage, ham, hot dog, liverwurst, meatloaf, pastrami, pepperoni, pork roll, processed sandwich/deli meats (ham, roast beef, turkey, chicken, etc.), prosciutto, salami, sausage, smoked meat, summer sausage, turkey bacon, turkey burger
Vegetarian meats (check for carbs) – e.g. chicken substitute, vegetarian hot dogs, veggie burgers, tofu

Vegetables

Portion size – half your plate maximum (unless you have had your entire plate and are actually hungry – feel free to have another serving for this meal)
Alfalfa sprouts, artichokes, arugula, asparagus, avocado, bell pepper, bok choy, broccoli, brussels sprouts, cabbage, cauliflower, celery, collards, white corn (this looks like it was misclassified as it has carbs), cucumber, eggplant, endive, fennel, green onion, kale, lettuce (all types including iceberg, red leaf, romaine), mushrooms, mustard greens, okra, onion, pepper (all types including bell, jalapeño, serrano), radicchio, radishes, scallions, shallots, snap peas, spinach, swiss chard, summer squash, tomato, turnip greens, watercress, zucchini
Dill pickles
Seaweed

Fruits
Herbs & spices

Basil, chives, cilantro, garlic, ginger, parsley, pepper, peppermint, salt, thyme

Fats

Portion size – bottle cap or 1 oz. (this amount can vary up and down slightly, but try to stick to this range)
Animal fats
Saturated fat
Butter, ghee
Olive oil, sesame oil, walnut oil

Dairy products

No portion size given
There aren't any clear guidelines about whether to have full-fat dairy or reduced fat / low fat / no fat. However, on p.180 both whole milk and 1%/fat free milk have the sugar calories listed. Yogurt, half-and-half and sour cream are mentioned on p.178 without saying they should be low-fat or fat-free. Assumption – full fat is preferred, but low-fat is okay as long as you count the Sugar Calories
Cheese – e.g. American, asiago, blue, brick, brie, cheddar, colby, colby jack, dry jack, edam, farmer cheese, feta, fontina, gorgonzola, gouda, gruyère, havarti, limburger, mascarpone, monterey jack, mozzarella, muenster, parmesan, pepato, pepper jack, provolone, queso blanco, ricotta, romano, scamorza, swiss, teleme
Greek yogurt
Half and half, sour cream, whipped cream
Soy cheese
Unsweetened milk substitutes, e.g. almond milk, coconut milk, soy milk (check for carbs)

Nuts and seeds

No portion size given
Almonds, brazil nuts, cashews, macadamia nuts, peanuts, pine nuts
Pumpkin seeds, sesame seeds, sunflower seeds

Condiments and pantry

Baking powder, baking soda
Mayonnaise, mustard, soy sauce, vinegar

Beverages

Coffee (black), espresso
Stevia Tropical Singles
Tea, unsweetened plain, hot or iced
Water – drink when you're thirsty, and don't drink it when you're not

Treats

The book lists only red wine as a treat. If you don't want wine or alcohol – there's a cupcake recipe listed as a treat at 

https://jorgecruise.com/wp-content/uploads/2013/10/100_Free_Menu_Recipes.pdf

. Jorge's previous diet book The Belly Fat Cure has 1 ounce of dark chocolate as a treat – you could use that but you'd have to count the sugar calories. There are no clear guidelines about other alcoholic drinks which could be used as a substitute for red wine
Other guidelines:
Morning fast – Try a delayed breakfast one day a week, breakfast at 11am and the last meal of the day at 8pm on that day. You can have just 2 meals, a hearty late breakfast/early lunch and dinner. Make sure you drink plenty of water, and don't use this method on consecutive days. After you've done this for a few weeks and decided this is something that works for you, you can then increase it to two days a week.
How to calculate your Sugar Calories
For foods not listed as Freebies, you need to calculate the sugar calories. The sugar calories for many basic items is included in The 100 book, chapter 8: p.168 for the freebies list (no sugar calories) and p.180 for foods with sugar calories (serving size and sugar calories).
If you can't find the food you want listed in the book:
Take the Total Carbohydrate grams for the portion size you want, and and multiply by 4.
Sugar calories = Total Carbohydrate grams x 4
Don't forget that sugar is a type of carbohydrate, so you don't need to count it twice. If you're trying to work out the Sugar Calories for any food except sugar, ignore the calories number and just work out Total Carbohydrate grams x 4.
You can find the Total Carbohydrate grams on the food packaging, or you can check http://ndb.nal.usda.gov/ndb/search/list or www.calorieking.com or http://caloriecount.about.com or www.livestrong.com for carbohydrate data to use to calculate the Sugar Calories.
Foods to limit with The 100
You have 100 Sugar Calories a day to choose from, and you can use them anyway you like. All sugary and starchy foods have Sugar Calories. Try not to have any given meal reach the full 100 Sugar Calories but rather distribute them throughout the day. Don't use the "Sugars" label on food packaging; that isn't the full picture.
For sugar calories for the foods below, see the book.
There are two alternate plans, where you can eat more carbohydrates but lose weight at a slower pace. These plans may be suitable for some people, especially women over 40, who have severe carbohydrate cravings which may be related to hormone fluctuations and can be remedied by an increase in carbs. The first is the 100 Plus, which accommodates up to 300 Sugar Calories a day, while the second is a weekend plan that has you follow The 100 for the week, and then allows you more Sugar Calories on the weekends.
How to prioritize which Sugar Calories to choose
Beans and legumes
Starchy vegetables
Whole grains
Fruits
Refined carbs (white bread, buns, rolls)
Condiments
Treats and desserts
Beans and legumes

Edamame, green beans
Black beans, chickpeas/garbanzo beans, kidney beans, lentils, pinto beans
Baked beans, hummus

Starchy vegetables

Acorn squash, butternut squash, potatoes, rutabaga, sweet potato, turnips, vegetable blend, yam, yellow corn. Carrots aren't listed in the book but probably should be here
French fries

Fruits

Limit fruit servings to 2 a day
Apple, apricot, banana, blackberries, blueberries, cantaloupe, cherries, grapefruit, honeydew, kiwi, mango, oranges, peach, pear, pineapple, plum, raspberries, strawberries, tangerines, watermelon
Dried bananas

Carbohydrates

Breads and tortillas – e.g. bagels, sprouted whole grain bread, whole wheat bread, hamburger buns, pita, roll, tortilla (corn or flour), wrap
Pancakes, waffles, corn muffins
Pastas – e.g. whole wheat pasta, couscous
Cereals – e.g. Cheerios, Shredded Wheat, Uncle Sam's, Total, Wheaties, Ezekiel 4:9, granola
Grains – e.g. basmati rice, brown rice, jasmine rice, oatmeal, quinoa, white rice

Dairy products

Milk (fat free, 1%, whole), nonfat dry milk
Yogurt, fat-free, plain
Milk substitutes e.g. rice milk, soy milk (note that unsweetened versions are listed above as freebies)

Snacks & treats

Chips – e.g. cheese puffs, chips, nacho chips
Chocolate
Cookies
Corn snacks, crackers, crispbreads, rice cakes
Granola bars
Ice cream
Kettle corn, popcorn
Trail mix

Condiments & dressings (watch these especially for Sugar Calories)

Almond butter, peanut butter
Applesauce
Barbecue sauce, hot sauce, ketchup, miracle whip, salsa, teriyaki
Italian dressing, ranch dressing, cocktail sauce

Sweeteners

Stevia, xylitol , maltitol, erythritol, honey
AVOID artificial sweeteners – aspartame (NutraSweet, Equal, blue package), sucralose (Splenda, yellow package), saccharin (Sweet'N'Low, pink package)

Beverages (watch these especially for Sugar Calories)

Beer – regular, lite, or non-alcoholic
Wine – white, red, or dessert
The author suggests a glass of wine in the evening; however if you are not losing weight on this program, he recommends avoiding alcohol
Juices, e.g. apple juice, grapefruit juice, V8 vegetable juice
Sodas
Energy drinks and sports drinks
More processed foods aren't listed here because they have high sugar calories; however you may be able to have small amounts and still meet the guidelines.
Note also that the author suggests low-fat foods in general, but does not discuss this in any detail.
Health benefits claimed in The 100
The diet in this book claims to reduce the risks for: cancer, type 2 diabetes, fatty liver disease, heart disease, metabolic syndrome, overweight/diabetes; also to slow aging / reduce AGEs and improve immunity
As always, this is not intended to be a replacement for professional medical diagnosis or treatment for a medical condition. Consult your doctor before starting a new diet. This page describes what the authors of the diet recommend – Chewfo is describing the diet only, not endorsing it.
Get a copy of The 100 for a detailed discussion of why this diet works, Sugar Calories for various foods, menus, meal planners, shopping lists, and outlined recipes


The author's website is http://jorgecruise.com, which includes coaching, meals, and meal planners.
You can find The 100 Online program at https://jorgecruise.com/the100/. 
Also see www.facebook.com/JorgeCruiseFan, http://twitter.com/JorgeCruise, www.youtube.com/JorgeCruise, http://instagram.com/JorgeCruise, http://pinterest.com/JorgeCruise, and http://JorgeCruise.Tumblr.com.
How has this diet worked for you?