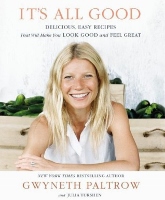 It's All Good (2013) is a recipe book that contains recipes that meet the guidelines for many current detox and other diets
Include whole foods, veggies, lean protein, non-gluten grains
Avoid gluten, dairy, eggs, white flour, sugar
Minimize caffeine, alcohol
Many Asian-influenced and Mediterranean dishes
Get a copy of It's All Good for pantry guidelines, recipes, and weekly menus (body builder, detox, family-friendly, vegan, and everyday)
It's All Good – food list and recommendations
The book claims to have recipes for all types of diets:
Icons for elimination diet, vegan, protein-packed
Dr. Alejandro Junger's Clean Program – marked "Elimination"
Zone diet (40% carbs, 30% fat, 30% protein)
Paleo diet – many recipes contain beans/legumes and grains and won't be suitable for many paleo diets, but other recipes are fine
Macrobiotic diet – some recipes are suitable
Vegan/plant-based diets – some recipes are suitable, marked "Vegan"
Foods to eat in It's All Good
Recipes contain these ingredients:
Proteins

Sheep's or goat's milk dairy, especially yogurt, preferably raw
Organic eggs, preferably local, from chickens, ducks, and quails
Fish – caught as locally as possible; no shellfish or deep-water fish (although there are couple of recipes with tuna – okay once in a while). Anchovies, striped bass, cod, flounder, fluke, grouper, halibut, salmon, sea bass, snapper, sole, tuna, whatever is caught locally to you
Poultry – organic chicken, turkey, and duck, as whole birds, ground meat, fresh sausages, and bacon. No guidelines about how the poultry should be raised
Red meat – beef, lamb – Gwyneth doesn't eat any and Julia only eats a little, but there are a couple of recipes in the book. No guidelines about whether the meat should be grass-fed etc.
Tofu
Legumes – black beans, cannellini beans, chickpeas, gigante beans, hominy, lentils,  navy beans, puy lentils

Vegetables – fresh

Acorn squash, artichokes, arugula, asparagus, avocado, beets, bok choy, broccoli, broccoli rabe, brussels sprouts, butternut squash, carrots, cauliflower, celery, Swiss chard, corn, cucumber / English cucumber, daikon radish, eggplant, endive, fennel, green beans / haricots verts, kabocha squash, kale, leeks, lettuce, lotus root, mushrooms (crimini, portobello, shiitake, etc.), Napa cabbage, onions, red onions, parsnips, peas, peppers (bell, poblano, etc.), radishes, romaine, romanesco, scallions, shallots, snow peas, spinach, sweet potato, tomatillos, tomatoes (also canned), cherry tomatoes, turnip, watercress, zucchini

Fruits

Apples, apricots, bananas, blueberries, clementines, figs, lemons, limes, mangos, nectarines, oranges, papaya, peaches, pears, strawberries, watermelon
Dates, dried figs, prunes

Herbs and spices – fresh

Basil, bay leaf, chives, cilantro, garlic, ginger, lemon verbena, mint, oregano (also dried), parsley, rosemary, sage, tarragon, thyme
Cardamom, cayenne pepper, chili flakes, chili powder, cinnamon, cloves, cumin, Chinese five spice powder, ground celery seed, hot chilis, gochujang (Korean red pepper paste), gochugaru (coarse Korean red chili flakes), jalapeños, nutmeg, Old Bay seasoning, turmeric

Carbohydrates

Buckwheat, buckwheat flour, buckwheat soba noodles, corn tortillas, gluten-free breadcrumbs, gluten-free flour, millet, old fashioned rolled oats, polenta, organic popcorn kernels, quinoa, quinoa flakes, arborio rice, bomba rice, brown rice, black rice / forbidden rice, rice flakes, rice flour, brown rice flour, brown rice pasta, spelt flour,

Nuts and seeds

Almonds, almond butter, almond meal, cashews, unsweetened coconut, pecans, pine nuts, walnuts
Flaxseeds, pumpkin seeds , sesame seeds (regular or black)
Goji berries

Fats and oils

Canola oil, coconut oil, grapeseed oil, pumpkin seed oil, safflower oil, vegetable oil, extra virgin olive oil, toasted sesame oil, Spectrum organic shortening
Green olives, kalamata olives

Condiments / jars and bottles / pantry

Agar flakes, arrowroot, baking powder, baking soda, dried bonito flakes, capers, chipotle in adobo, fish sauce, harissa paste, pickled jalapeños, kimchi, kuzu root starch, preserved lemons, mirin, GMO-free miso paste, barley miso, mustard (Dijon or coarse seeded), nori seaweed, pickles, sea salt, dried shiitake mushrooms, sweet pimentón, soy sauce, tomato paste, vegetable stock, tahini, tapioca starch, ume plum vinegar, Vegenaise, apple cider vinegar, balsamic vinegar, brown rice vinegar, red wine vinegar, rice wine vinegar, sherry vinegar, white wine vinegar
Raw cacao powder, dark chocolate chips, whey protein powder, vanilla extract

Sweeteners

Agave nectar, date molasses, manuka honey, raw honey, good-quality maple syrup, grade B maple syrup, membrillo (quince) paste, molasses, brown rice syrup, xylitol

Beverages / liquids

Plain unsweetened almond milk, vanilla-flavored unsweetened almond milk, apple juice, raw coconut water, rice milk, soy milk
Foods to avoid or limit with It's All Good
Cut caffeine
Cut alcohol consumption
No white flour
No sugar
No cow's milk dairy (although regular cow's milk yogurt is okay, and they'll eat a piece of "ripe, runny, stinky" cow's milk cheese occasionally)
No eggs
No shellfish
No deep-water fish – not defined, although tuna is included
Consult your doctor before starting a new diet. This page describes what the authors of the diet recommend – Chewfo is describing the diet only, and does not endorse it.
Get a copy of It's All Good for pantry guidelines, recipes, and weekly menus (body builder, detox, family-friendly, vegan, and everyday)


How has this diet helped you? Please add a comment below.