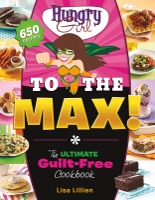 Hungry Girl to the Max! (2012) is a book of low-fat, low-calorie recipes, containing a lot of processed foods from the center aisles.
Processed "fat-free," "low-fat," "low calorie," "sugar-free" and "low sugar" foods
Avoid full-fat foods
Low calorie, calorie counting
Get a copy of Hungry Girl to the Max! for 650 recipes and recommendations of which brands to use for some processed foods.
Hungry Girl to the Max! – food list
Foods to eat in Hungry Girl to the Max!
These are the ingredients listed in the recipes and the recommended foods section:
Sweeteners – Splenda, Truvia
Carbohydrates

Flour and bread products – light bread, light buns, croissant/crescent dough, mini fillo shells, all-purpose flour, whole-wheat flour, , lasagna noodles light English muffins, panko breadcrumbs, pretzel sticks, 100-calorie flat sandwich buns, high-fiber flour tortillas,
Corn products – corn taco shells, corn tortillas, baked tortilla chips
Other grains – old-fashioned oats, brown rice, rice cakes,
Potato products – reduced-fat potato chips, shredded hash browns, instant mashed potato flakes
Cereals – bran cereal, Cheerios cereal, Cinnamon Toast Crunch cereal, puffed wheat cereal
Sugars – brown sugar, white sugar, powdered sugar

Protein

Meat – center cut bacon, precooked real crumbled bacon, fat-free reduced-sodium ham, hot dogs with about 40 calories and 1g fat or less each, pork tenderloin, top sirloin beef, lean beefsteak, extra-lean ground beef
Poultry – skinless chicken breast, chicken drumsticks, turkey bacon, no-salt-added turkey breast, lean ground turkey, turkey pepperoni, turkey sausage patties
Fish and shellfish – calamari, cod, imitation crabmeat, flounder, salmon, shrimp, tilapia
Meat substitutes – meatless low-calorie hamburger-style patties, ground-beef-style soy crumbles, low-calorie meatless patties, fat-free refried beans, red kidney beans, black beans, pinto beans, chili beans (pinto beans in chili sauce), cannellini (white kidney) beans, tofu noodle substitute, soy crisps

Dairy – fat-free liquid egg substitute, light whipped butter, light buttery spread, light cheese, low-fat cheese, fat-free cheese, blue cheese, fat-free cream cheese, fat-free milk, reduced-fat Parmesan-style grated topping, light or low fat ricotta, fat-free sour cream, fat-free yogurt, fat-free Greek yogurt
Beverages – plain soymilk, – light vanilla soymilk, unsweetened plain or vanilla almond milk, diet cranberry juice drink, orange juice, vodka, diet soda
Sweet items – no-sugar-added applesauce, fat-free or light caramel dip, semi-sweet chocolate chips, chocolate frosting, light chocolate syrup, candy, shredded sweetened coconut, low-calorie cookies, sugar-free flavored drink mixes, low-fat graham crackers, fat-free ice cream, sugar-free fat-free jello, sugar-free and low-sugar fruit preserves, jelly, and jam, mini marshmallows, jet-puffed marshmallow cream, sugar-free pancake syrup, peanut butter baking chips, dry pancake mix, low-calorie sugar-free pudding snacks, sugar-free fat-free pudding mixes, low -fat waffles
Condiments – sweet Asian chili sauce, low-calorie BBQ sauce, light blue cheese dressing, light/reduced-fat Caesar dressing, red enchilada sauce, hot sauce, ketchup, fat-free mayonnaise, Dijon mustard, honey mustard, oyster sauce, fat-free ranch dressing, light/low-fat salad dressing, reduced-sodium/lite soy sauce, Sriracha chili sauce, fat-free Thousand Island dressing, seasoned rice vinegar
Spices and herbs – dried basil, fresh basil, Cajun seasoning, cayenne pepper, cilantro, cinnamon, cumin, garlic powder, Italian seasoning, dried minced onions, dried oregano, parsley, taco seasoning mix, salt
Vegetables – artichokes, asparagus, avocado, bamboo shoots, bean sprouts, bell peppers, bok choy, broccoli, cabbage, carrots, cauliflower, celery, eggplant, garlic, green beans, kale, lettuce, mushrooms, onions, peas, potatoes, scallions, spaghetti squash, spinach, sugar snap peas, sweet corn, tomatoes, turnips, water chestnut, zucchini, coleslaw mix, broccoli cole slaw mix, canned cream-style corn, canned pumpkin
Fruits – apples,  bananas, blueberries cherries, mango, strawberries, mandarin orange segments in juice, sliced peaches in juice, pineapples in juice, freeze-dried fruit, sweetened dried cranberries, raisins
Other – baking powder, balsamic vinegar, moist-style cake mix, fat-free chicken broth, unsweetened cocoa powder, low-calorie hot cocoa mix, coconut extract, instant coffee, Cool Whip Free, corn starch, fat-free non-dairy powdered creamer,  sugar-free French vanilla powdered creamer dill pickle, fat-free chicken / turkey gravy, jarred jalapeño slices, lemon juice, lime juice, low-fat marinara sauce, peanuts, reduced-fat peanut butter, pecans, peppermint extract, fat-free Reddi-wip, salsa, low-fat canned soup, dry stuffing mix, thick teriyaki marinade or sauce, sun-dried tomatoes (not packed in oil), tomato paste, vanilla extract, fat-free vegetable broth, cider vinegar, walnuts, Worcestershire sauce
Foods to avoid or limit with Hungry Girl to the Max! 
Anything full fat, including full-fat dairy, poultry skin and dark meat, baked goods
Whole eggs
Fatty meats
Consult your doctor before starting a new diet. This page describes what the authors of the diet recommend – Chewfo is describing the diet only, and does not endorse it.
Get a copy of Hungry Girl to the Max! for 650 recipes and recommendations of which brands to use for some processed foods.



How has this diet helped you? Please add a comment below.