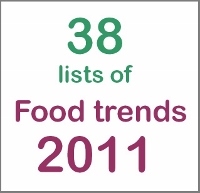 See also 112 lists of food trends for 2012 | 133 lists of food trends for 2013
At the turn of the year, media bring out lists of predictions of top trends for the upcoming year. In the predictions for 2011, a number of ideas kept coming up – Local ingredients; Korean cuisine; Pop-up restaurants; Using mobile devices / social media; Small pies; Sweet potatoes.  My favorite is the Culinary Tides / Suzy Badaracco report "Shifting Sands 2011" – Suzy is a trends forecaster who tracks the movement of 23 industries to forecast upcoming influences on food, flavor, and health trends, and she looks at what's missing from 123 top-10 trends for 2011 affecting the food industry.
Regarding food choices, here's what was indicated in these trends lists: Local foods growing in preference over non-local; No meat on "meatless Mondays"; Avoiding fad diets; "Free from" foods (gluten, lactose, MSG, HFCS, rBGH, GMO/genetically modified, caffeine, etc.); Allergy awareness; Foods with reduced sodium, sugar and HFCS; Smaller servings of protein; Calorie-consciousness at restaurants.
Here are some food trends lists – General predictions |  Food products and retail |  Restaurants, hospitality, and food service | Flavors and functional ingredients |  Other specialist trend reports
General predictions
Food Channel  – Top 10 food trends to watch
Canning makes a comeback; Gender roles switching in the kitchen / men in aprons;  Locavores – Love your local grower; Don't ask and don't tell the calorie counts in your food / against the nanny state; An appetite for food apps; Small (business) is the new big business;  Fresh food every day – rediscovering the butcher, baker, and cheesemaker;  Chefs in the school cafeteria; Discomfort foods / stretching your food vocabulary;  Foods that keep us young, strong and active
Packaged Facts – Foods, Flavors and Ingredients Outlook 2011
Olive oil in sweet foods; Macaroni and cheese flavoring; Red velvet flavor; Ethnic sauces like sriracha, chimichurri and miso; oatmeal in non-breakfast foods;  Agave will lose ground to other natural sweeteners like honey and stevia; Top fruits – figs, pears, cherries and blackberries, plus blueberry/pomegranate; Frozen yogurt renewed interest; Ethnic foods; Japanese foods especially yakatori [skewered grilled chicken]; Indian and Korean food; Greek food especially hummus and yogurt; Moroccan and Turkish food; Scandinavian cuisine
Food Navigator-USA predicts top five industry influences in 2011
The Dietary Guidelines for Americans 2010; New food safety legislation; Continuing M&A activity; Front-of-pack labeling recommendations from the FDA; Focus on preventing weight gain and healthy eating
Tennesseean.com – Foodies predict trends for the coming year
Fruit and fresh juices; Gulf seafood; Food quality before origin; Responsible poultry; Adventurous tastes; Local, fresh, and minimally prepared foods; Small and local food operations
Mayo Clinic – More food trends for 2011
Home food preservation; Men in the kitchen; Food-related apps; Buying from local merchants; Chefs in school cafeterias; Search for superfoods
Food&Drink Towers – Top 10 trends for 2011
Mini treating; Dispelling food myths; Sustainability; Sleep; Nutrition during pregnancy; Pop-ups; Reducing food waste starts at home; Healthy convenience foods; Rising cost of raw materials; Social networking & interactivity
ProChef SmartBrief – What is your favorite culinary prediction for 2011?
Korean cuisine; Urban wineries; Foraging; Meatless Mondays and Tofu Tuesdays; Macarons
Allrecipes.com – Measuring Cup Report – What American Families are Eating and Cooking – 2011 Insight & Trends
Mobile devices; Ethnic cuisines; Drinks at home; Home-grown, organic and heirloom vegetables; Farewell to fad diets; Local artisan shops; Pies; Pre-made ingredients; Small kitchen tools; Countertop appliances; Men in the kitchen; Casual sit-down dinners at home
Epicurious – Food Trend Predictions for 2011
Food halls; Korean cuisine; Macarons; Meatless Mondays and Tofu Thursdays; Foraging; Tiki bar cocktails; Pop-up cafés; Sweet potatoes; Urban wineries, Pimentón de La Vera
Hartman Salt – From Duck Fat to DIY Bubbles: The Food Trends of 2011
Pimenton de la Vera; 00 flour; Ricotta; Duck fat; Meatballs; Oysters; Low-brow chicken; Korean; Underground take-out; Bicycle cuisine; Nordic; Craft cocktail bar; Tiki; Carbonation; Hyper local – foraging; Hyper local – pig brawling; Vegetables; Playful portion control with diminutive treats; NoriSnak; Handpie revival
Good Housekeeping – Top 10 Food Trends of 2011
Pies replace cupcakes; Sweetpotatoes; Almond milk; Vegetables; Quality sausage is the new bacon; Gourmet hot dogs; Haute junk food; Tart cherry juice is the next health drink; Comfort food comeback; Gluten-free for everyone
Food Insight – 2011 Trends to Watch
Food safety; label changes; sustainability; Instant gratification and personalization
Food Channel – Top 10 foods to watch
Small pies; Sausage; Nutmeg; Moonshine; Gourmet ice pops; Grits; Sweet potatoes; Fin fish; Cupuaçu fruit; Beans
AdAge – The Year Ahead: 2011 Predictions for Marketers
Packaged foods: Reduce unhealthy ingredients; Retro packaging and ad campaigns
Beverages: New sweeteners; packaging innovation; marketing innovation
Fast food: The challenge of calorie counts on menus; Rising price of commodities; Wean people off the steep discounts
USA Today – 10 marketing trends popping up in 2011
Simplification; Fast from scratch; Almost homemade; Flexitarians; Sweet potatoes; Cracker chips
Culinary Tides / Suzy Badaracco – The Unmentioned Top 10
Cognitive function research; Behavioral research for obesity; BPA and acrylamide technologies; Packaging and sustainability; FDA pushed to define Natural; Legislation follows blame; Central American food; Middle Eastern food; Consumer distrust of government, food safety, sustainability and health claims, and whatever the next diet fad is to be; Consumer fearlessness returns
For more details, see the "Shifting Sands 2011" report
Food products and retail
Mintel – Consumer Packaged Goods Trends for 2011
Reducing sodium, sugar, and HFCS; Redefining natural foods; Professional products for amateurs; Sustainability focused on the basics; Hybrid products / blurring categories;  New retro / revitalizing old products and old ad campaigns
Natural Foods Merchandiser – Retail trends and hot products of 2011
Using Aggregate Nutrient Density index for measuring nutrition; Healthy kids' snacks and convenience foods; Energy drinks with functional ingredients instead of caffeine; Chemical flavorings instead of sodium; Gluten free continues to grow but so do alternative grains; Blending of gourmet and natural; Organic spirits & mixers; Probiotics new uses
Natural Foods Merchandiser – Consumer concerns shape future food aisles
Consumers going back to what they know and spending less; 2010 trends including private label, coconut, gluten free, and non-GMO; Water footprinting; Natural alternatives to salt including spices and umami flavor; Humanely raised meats
Supermarket News – Six of the 'New' Food Trends to Watch in 2011
Food apps for smarter shopping;  Improved nutritional guidelines; Smaller food stores; Vitamin D including white milk for kids; Product sampling before hitting the market; Social responsibility
Food Product Design – Food Industry Faces Challenges in 2011
Convenience demand should grow; Food safety; Low consumer confidence and high food inflation give pressure on food prices; more-natural, safe food may be difficult to achieve
Restaurants, hospitality, and food service
National Restaurant Association's "What's Hot in 2011"
Locally sourced meats and seafood;  Locally grown produce; Sustainability as a culinary theme;  Nutritious kids' dishes;  Hyper-local items;  Children's nutrition; Sustainable seafood;  Gluten-free/food allergy-conscious items;  Simple / back-to-basics cuisine;  Farm/estate-branded ingredients.
Mintel – Foodservice Trends for 2011
"Healthier for you" ingredients; Automated menus and order-taking; Nutritional information transparency; Indigenous ingredients; Seasonal offerings without nutritional information as "guilty pleasures"
Andrew Freeman & Co (Hospitality and Restaurant Consultants) – 2011 Trend List
Trends: Pies (move over cupcakes); Mom & Pop restaurants; Single purpose restaurants; Snack size meals/mini plates; Multi-purpose spaces (e.g. markets in the corner of restaurants); Simplified menu descriptions; Dried, crumbled ingredients instead of sauces; Wood-fired oven-cooked foods; Hot dog and sausage shops; Vegetable dishes / flexitarian; Fried vegetables; Exotic soft-serve ice cream; High-end junk food; Popsicles; Yogurt; Scandinavian influences; Signature breads; Goat and lamb belly
Popular ingredients: Neck (lamb, beef, goat and pork); Whey in salads and sauces; Kumquats in salads, relishes, and desserts; Pimento cheese; Smoked olive oil, cumin and butter; Hay used for roasting and smoking; Hummus in sauces, spreads and ingredients; Popcorn in various courses; Pretzel crusts; Local honey
Beverages: Custom drinks from bartenders; Home-made fruit-flavored vinegar syrups; Fatwashing/fat flavors in drinks; Micro-distilleries; Sherries and port; Wine from alternative packaging; Customized signature wines from chefs; Beer-based desserts;  Home-made non-alcoholic drinks
Food and Dining Trends in Restaurants and Hotels for 2011 – Joseph Baum & Michael Whiteman Co. Inc. (International Restaurant Consultants)
Old Italian; Business increases for upscale restaurants; Non-restaurant competition such as drug stores and convenience stores; Food trucks; Korean food; Popsicles; Cost-saving tactics by restaurants; Junk food in huge portions; Breakfast all the time; Grits; "Free from" foods (gluten, lactose, MSG, HFCS, rBGH, etc); Popup restaurants; International and specialty sandwiches; On the way out (artisanal hot dogs, gourmet hamburgers, bacon, pork belly, cupcakes); Collaborating/Groupon
Technomic – Restaurant trends "11 for '11"
Action in adult beverages; Food trucks and pop-up eateries; Farmers as celebrities; Social media evolution; Korean food; Frugality fatigue; Price deals; Brand extensions and ultra-niche eateries; Roots comfort food (Southern, Italian, desserts, family-style); New competition from convenience stores; Healthful vs. indulgent
Nation's Restaurant News – A food writer's top trend list
Burgers and other comfort foods; Alternative French fries; Local traceability; Functional drinks; Avoiding caffeine and gluten; Japanese and other Asian ingredients and flavors
Mayo Clinic – Restaurant trends for 2011
Locally sourced ingredients; Smaller portions; Big flavor; Nutritional food for children; Allergy awareness
Philadelphia Inquirer – Philadelphia culinary trend-spotting for 2011
Cocktails at lunch; A return to luxurious dining; Small, focused restaurants; Organic foods; Fruits and vegetables in children's menus; Gluten-free for all; Comfort food
Fast Casual – top trends for 2011
Asian menu category grows; Children's meals get a healthy boost; Food trucks to have regulatory obstacles; Popularity of farm to fork programs to increase; Social web and business intelligence
Sodexo 2011 College Food Trends Report
Stealth health including gluten-free pasta, whole wheat and brown rice; Apps to eliminate wait time
Flavors and functional ingredients
McCormick Flavor Forecast 2011
Spirit of Discovery: A hunger for international culinary adventure propels exploration of new ingredients and techniques; Flavor with Benefits: Eating for wellness is more delicious than ever; Invigorating and Uplifting: Exciting pops of flavor bring new energy to dining; Soul satisfaction: Comforting favorites soothe the mind, heart and taste buds; Craveable contrasts: The interplay of tastes, textures and visual cues adds fun and excitement to the basic pleasures of eating.
Comax 2011 Flavors
Homespun; Soft exotics (familiar with a touch of exotic); Take-me-away (evoking exotic, foreign places)
Sensient Flavors 2011 flavor trend predictions
Aguaje; Berbere; Borojo; Ceylon cinnamon; Cherimoya; Grains of paradise; Hibiscus; Pandan; Yacon; Yumberry
Bell Flavors and Fragrances – Top 10 Flavor Trends for 2011
In the sweet flavor category, the list includes chocolate soufflé, honey vanilla, red velvet, caramel macchiato, yumberry, coconut creme, sweet potato, ginger peach, mint citrus and French toast.
For savory applications, the list includes black garlic, rich umami, truffle oil, aged cayenne pepper, nuc maum, calamansi lime, demi glace, harissa, aji panca and paneer cheese.
Beverage flavors include blood orange, yumberry, coconut water, maqui berry, cupuacu, elderflower, caramel, white grape, rambutan and snake fruit.
Nutrition Business Journal – Top seven [functional ingredient] picks for success in 2011
Krill; Omega-3s, Polyphenols; Probiotics; Stevia; Vitamin K2; Vitamin D
Other specialist trend reports
Top 10 Side Dish Trends in 2010 (tasty side dishes that are becoming the new "center of the plate.") Food Channel and CultureWaves, The International Food Futurists, and Mintel
Seasonal foods; Growing your own; "Roasted is the new grilled"; Potatoes; Rice; American regional; Root vegetables; Ethnic side dishes; Smaller portion sizes for protein; Brightly-colored produce
Calorie Control Council – Top 5 Trends in Dieting and Weight Loss in 2011
A focus on preventing weight gain; Updated dietary guidelines to help shape eating patterns; "Light" products; Corporate wellness programs; Calorie consciousness at restaurants