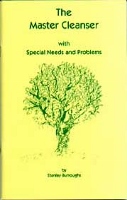 The Master Cleanser (1976) is a detox diet. It is usually known as The Master Cleanse or the Lemonade Diet.
For 10-40 days, drink only lemonade prepared in the way described; no food.
Recommends steps for coming off the cleanse, and then a vegan lifetime diet is suggested.
Below is a description of the food recommendations in the diet.  Preparing for the diet  |  The cleanse  |  The lemonade recipe  |  Breaking the diet  |  Lifetime diet.  There's a lot more in the book.
Use this page as a cheat sheet alongside the book. Send this page to friends, family, and anyone else who you want to understand what you're eating on this diet.
Get a copy of The Master Cleanser for details on how the detox diet works; thoughts on modern medicine, vitamins and supplements, natural alternatives to medicines, and some recipes.
The reasoning behind The Master Cleanse detox diet
The Master Cleanse is designed to detox the body – the author says that cleansing is basic for the elimination of every kind of disease. Diseases happen because we eat the wrong foods, which are highly toxic and mucus-forming – all diseases, regardless of their names, are only varied expressions of the one disease of toxemia. Poisons and congestions accumulate in the body, and they become crystalized and hardened, settling around the joints, in the muscles, and in cells throughout the body. The liver, spleen, colon, stomach, heart, and other organs, glands, and cells come in for their share of accumulations, thus impairing their natural action. When we stop adding to the accumulations and cleanse our system, we stop their development and spread; then they dissolve or break up and pass from the body. All weak and deficient cells, caused from improper nutrition, will also be broken down and eliminated from the body.
Weight loss is a side effect of this body detox.
The Master Cleanse diet plan – what to eat and foods to avoid
"The following diet is given solely as a suggestion; anyone who follows it does so voluntarily, since each person, naturally, reacts differently, each individual must use his own judgment as to its use."
The author suggests you follow the diet for a minimum of 10 days or more, and that up to 40 days and beyond may be safely followed for extremely serious cases. Follow it 3 or 4 times a year, or more frequently for serious cases.
One of the best signals of the completed diet is when the formerly coated and fuzzy tongue is clear pink and clean looking. During the diet it becomes very badly coated.
Before starting the lemonade diet
Read the instructions
Prepare yourself mentally to follow in detail the entire directions and continue as long as is needed to make the necessary changes
The night before the diet, start taking the laxative tea
Master Cleanse instructions
Some people experience a tremendous stirring up and may even feel worse for a few days. Vomiting may occur under certain conditions, increased pain may be felt in various joints of the body, and dizziness may develop on certain days. If weakness develops at any time, "it is the result of poisons circulating through the blood stream rather than a lack of food or vitamins." Rest and take it a little easier if you have to, although most people can go about their regular business without difficulty. Don't "cheat" by eating a little food or you may destroy the benefits.
Foods to eat in The Master Cleanse
Take from 6-12 glasses of the Master Cleanse lemonade daily during the waking period. Recipe below
As you get hungry, just have another glass of lemonade
Mint tea may be used occasionally during this diet as a pleasant change and to assist further in the cleansing
Extra water may be taken as desired
If you're not having 2-4 eliminations a day, and preferably right from the beginning, take a good laxative herb tea last thing at night and first thing in the morning. You can also cleanse with internal salt water bathing – 2 teaspoons of uniodized sea salt in 1 US quart of luke-warm water, drunk first thing in the morning. If the salt water does not work the first time, try adding a little more or a little less water, or possibly take extra water with or without salt
The lemonade recipe includes "proper material for building as the waste material is eliminated."
The Master Cleanse lemonade recipe and directions
2 tablespoons lemon or lime juice

Approximately ½ lemon or 1 small lime
Use fresh lemons or limes only, never canned lemon or lime juice nor frozen lemonade or frozen juice
Use organic where possible
Blend a part of the lemon skin and pulp with the lemonade in a blender for further cleansing and laxative effect (peel off the outer skin if you cannot get uncolored, organically grown lemons)
Never vary the amount of lemon juice per glass
Lemons and limes are "the richest source of minerals and vitamins of any foods known to man"

2 tablespoons genuine maple syrup

Not maple flavored syrup
Use a darker grade maple syrup, e.g. Grade  / Dark Amber is better than Grade A / Light Amber for this diet
The maple syrup has a large variety of minerals and vitamins, which will vary according to the area where the trees grow and the mineral content of the soil
The trees should not be tapped using formaldehyde
For those who are overweight, less maple syrup may be taken. For those underweight, more maple syrup may be taken
The book says that pure maple syrup is the most perfectly balanced of all. Pure sorghum is the next best sweetener, as it too has not been refined or altered or adulterated.
For diabetics, blackstrap molasses must be used as it gives the necessary minerals the body needs for making the needed insulin and to make other balances in the blood sugar. The diabetic should start with only one teaspoonful of the molasses for each glass and then gradually increase the amount daily until the full amount is taken (two tablespoonfuls).

1/10 teaspoon cayenne pepper (red pepper) or to taste

This breaks up mucus and increases warmth by building the blood for an additional lift; it also adds many B and C vitamins

10 oz. water, medium hot or cold
Combine the juice, maple syrup, and cayenne pepper in a 10 oz. glass and fill with the water.
An alternative version uses freshly extracted juice from sugar canes:
10 oz. fresh sugar cane juice (medium hot or cold)
2 tablespoons lemon or lime juice
1/10 teaspoon cayenne pepper (red pepper) or to taste
Another possible but lesser replacement for maple syrup and water could be pure sorghum.
Foods to avoid or limit with The Master Cleanse
No food other than the lemonade and occasional mint tea should be taken during the full period of the diet
Sweeteners

Honey must not be eaten at any time
Avoid artificial sweeteners, synthetic sugars, and refined sugars
Breaking the diet
Coming off the lemonade diet properly is highly important, and you should follow the directions very carefully.
If you usually follow a (raw) vegan diet

1st day after diet: Several 8 oz. glasses of fresh orange juice as desired through the day. Drink it slowly. If there has been any digestive difficult prior to or during the change over, extra water may be taken with the orange juice
2nd day after diet: Same as first day
3rd day: Orange juice in the morning. Raw fruit for lunch. Fruit or raw vegetable salad at night. You are now ready to eat normally

If you usually have eaten meat, milk, refined, and devitalized food, change over as follows, gradually adopting a raw fruit, nut, and vegetable diet

1st day after diet: Several 8 oz. glasses of fresh orange juice as desired through the day. Drink it slowly.
2nd day: Several 8 oz. glasses of fresh orange juice as desired through the day, with extra water if needed. Some time during the afternoon prepare a vegetable soup (recipe in book); have this soup for the evening meal using mostly the broth, although some of the vegetables may be eaten. Rye wafers may be eaten sparingly with the soup, but no bread or crackers
3rd day: Drink orange juice in the morning. At noon have some more soup. For the evening meal eat whatever is desired in the form of vegetables, salads, or fruit. No meat, fish, eggs, bread, pastries, tea, coffee, or milk
4th day: Normal eating may be resumed, but best health will be retained if the morning meal consists of the lemonade cleanse juice (recipe above) or fruit juice, and if a strictly fruit, vegetable, seed and berry diet is followed.
If, after eating is resumed, distress or gas occurs, it is suggested that the lemonade diet be continued for several more days until the system is ready for food.
Lifetime diet
Foods to eat in The Master Cleanse lifetime diet
Follow a vegan diet; raw may be beneficial
Fruits and berries
Vegetables
Seeds and nuts
Juices should be intact, including the pulp
Suggested daily menu

Breakfast – fresh lemonade (recipe above), fresh orange juice, or fresh grapefruit juice. Occasionally, if you have no desire for this, try some hot peppermint tea
Noon lunch – lunch may be omitted with no ill effects; many will find a small amount of fruit sufficient. If one desires more, a small vegetable or fruit salad may be eaten. Soup (homemade vegetable soup) or tomato juice, hot or cold, may be taken with vegetable salad. Freshly made coconut milk or almond milk (recipes in the book) may be taken with the fruit salad
Evening dinner – start with a vegetable soup, then have two or three vegetables steamed slightly. On other occasions try special dishes such as vegetable stew, various types of brown rice dishes (curried rice, Spanish rice, chop suey and rice), chili beans (made with lima beans or red beans), or any recipe using lentils or garbanzo beans/chickpeas
Change your menu daily, and make sure there is plenty of variety from day to day
An occasional mono diet meal, with just 1 or 2 ingredients, is beneficial
Do not over eat – stick to small portions
Foods to avoid or limit with The Master Cleanse lifetime diet
Animal products – meat, poultry, fish, eggs, milk, milk products
Meat substitutes should be eaten very, very sparingly or not at all
Processed foods, including bread and pastries
Sweeteners – honey, artificial sweeteners, synthetic sugars, and refined sugars
Coffee or tea
Health benefits claimed in The Master Cleanse
The diet in this book claims to reduce the risks for: abscesses, allergies, asthma, boils, bronchial troubles, carbuncles, colds, edema/dropsy, flu, hay fever, high cholesterol, mucus diseases, pimples, sinus troubles, skin disorders, stomach ulcers, toxemia, ulcers
As always, this is not intended to be a replacement for professional medical diagnosis or treatment for a medical condition. Consult your doctor before starting a new diet. This page describes what the authors of the diet recommend – Chewfo is describing the diet only, not endorsing it.
Get a copy of The Master Cleanser for details on how the detox diet works; thoughts on modern medicine, vitamins and supplements, natural alternatives to medicines, and some recipes.



How has this diet helped you? Please add a comment or question below.