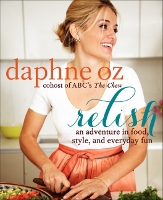 Relish (2013) is a lifestyle book aimed at young women in their 20s and 30s. As well as food choice recommendations, it contains recipes and recommendations on fitness, looking good, home decorating, hosting parties, work and play, love, and other lifestyle tips. Dietary recommendations include:
Fresh foods, lots of produce
Organic, local, no GMO, pastured, unprocessed
Limit carbohydrates (especially refined carbs) and animal products
Get a copy of Relish for recipes and lifestyle tips.
Relish – food list
Foods to eat in Relish
Eat happy: Eat foods that give you vitality, experience, joy – or all three
Vegetables

Artichokes, asparagus, avocadoes, beets, broccoli, carrots, cauliflower, celery, chile peppers (habanero, jalapeño), cucumbers (Persian, English seedless), garlic, ginger, green beans / haricots verts, kale, leeks, lettuce (romaine, mesclun greens, iceberg), onions (Vidalia, yellow, red), purple / red cabbage, red bell pepper, scallions, shallots, shiitake mushrooms, snap peas, snow peas, Spanish olives, spinach, sweet potatoes, tomatoes (plum, heirloom, cherry, canned), turnips, yellow squash, zucchini
Eat raw unstarchy vegetables as much as possible, cook lightly as needed, and avoid fried, candied, drowned in cream sauce or syrup, or otherwise no longer recognizable
Eat many different colors
Eat organic if possible – but eat conventional produce more frequently than organic produce once a week. Try to get organic for "the dirty dozen" – celery, sweet bell peppers, spinach, lettuce, cucumbers, potatoes

Herbs

Basil, chives, dill, mint, parsley (curly, flat leaf), tarragon, thyme
Dried lavender

Fruit

Low-sugar fruits are preferable – Apples (Gala, Pink Lady, Granny Smith), blueberries, grapefruit, lemons, limes, melon (watermelon, cantaloupe), oranges, peaches, pomegranate seeds, raspberries, strawberries
Higher-sugar fruits should be eaten in smaller portions – bananas, cherries, grapes
Dried currants, Medjool dates, prunes, sultanas or raisins
Avoid candied or processed
Try to get organic for "the dirty dozen" – apples, peaches, strawberries, nectarines (imported), grapes, blueberries (domestic)

Dairy and eggs

Butter, buttermilk, cheese (feta, cheddar, pecorino, Parmesan, low-moisture mozzarella, Monterey Jack, mascarpone), heavy cream, milk (whole or 2%), sour cream (full fat or low-fat), yogurt (Greek, regular, goat's milk)
Eggs
Always look for dairy from sources that were not given rBGH/hormones, genetically modified foods, and/or antibiotics; preferably certified humane

Animal protein

Chicken breasts and thighs
Limit red meat (see below)
Choose organic
Always look for animals that were not given rBGH/hormones, genetically modified foods, and/or antibiotics. Pasture-fed is best

Carbohydrates

Amaranth, brown basmati rice, brown rice, millet, quinoa, rolled oats (not quick-cooking)
Whole grain or whole-wheat bread with whole grains, whole-wheat pita

Beans and legumes

Beans (black, pinto, cannellini, kidney, garbanzo/chickpeas), lentils (red, green, Puy),

Fats and oils

Extra-virgin coconut oil, extra-virgin olive oil, flaxseed oil, sesame oil, white truffle oil
Try to get a 1:1 ratio of omega-6 to omega-3 fats, but even 4:1 is great – do this by limiting vegetable oil consumption, enjoying raw nuts and seeds, and using organic coconut oil or olive oil, having avocado and a few servings of fatty fish such as salmon, mackerel, and anchovies each week

Spices

Bay leaves, cardamom (pods and ground), chipotle powder, cinnamon, coriander (seeds and ground), cumin (seeds and ground), dried chile flakes, dried mint, dried oregano, fresh-cracked black pepper, garlic powder, nutmeg, onion powder, paprika, powdered mustard, smoked paprika

Nuts and seeds

Almonds (raw, smoked, almond butter), raw cashews, hazelnuts, pecans, pine nuts, pistachios, walnuts
Coconut – unsweetened
Chia seeds, flaxseed, hemp seeds, raw sunflower seeds, sesame seeds. Keep in the fridge so they don't go rancid

Condiments and sundries

Applesauce, Barlean's organic greens powder, capers, chicken or vegetable stock, chile jam, chipotle chilis in adobe sauce, hot sauce (Tabasco, Cholula, or your favorite), ketchup, mayonnaise or vegenaise, mustard (Dijon, grain), olives (Niçoise, green, oil-cured black), psyllium husk powder, semisweet chocolate chips, low-sodium soy sauce or Shoyu, sriracha hot sauce, tahini (sesame paste), Umeboshi paste, vinegar (apple cider, balsamic, champagne, red wine), wheatgerm, Worcestershire sauce

Cooking and baking basics

Active dry yeast, baking powder, baking soda, brewer's nutritional yeast, cornstarch, good-quality cocoa powder, pure maple syrup, pure vanilla extract, raw honey, salt (sea, kosher, flavored, fleur de sel / flaked sea salt), whole-wheat flour

Beverages

Almond milk, apple cider, coconut milk (unsweetened), ginger ale, pineapple juice, seltzer, tomato juice
Chai tea bags, green tea
Bourbon, champagne (or cava or prosecco), cognac, gin, light rum, tequila, vodka, whiskey, red wine, white wine

Serving guidelines

Complex carbohydrates from grains, beans, and legumes – 3 servings a day – each about the size of your palm or a deck of cards
Fruits and vegetables – 5-8 servings a day – each about the size of a tennis ball – mostly vegetables and some fruit for sweet treats
Protein – 2-3 servings a day (serving size not clear)
Dairy – 2 or fewer servings a day – a cheese serving is about the size of a golf ball, a milk or yogurt serving is ¾ cup or about as much liquid as you can cup in both hands
Red meat – keep to a minimum – less than two palm-sized (4-ounce) servings a week
Nuts and fats: 2 teaspoon-size servings a day

Try to get organic, local, non-GMO foods where possible
Foods to avoid or limit with Relish
Eat saturated animal fats (e.g. butter) in moderation, the less processed the better
Ideally, limit starchy vegetables – corn on the cob, potatoes (russet, small new red)
Limit simple carbohydrates such as white flour, white-flour bread, crackers, bagels, baguettes, ciabatta, corn tortillas, Pullman loaf, pasta, wonton wrappers, Italian breadcrumbs, other baked goods
Occasional – Refined sugars such as cane sugar, white sugar, dehydrated cane juice, granulated sugar, brown sugar
Avoid industrial meat and dairy as much as possible
Avoid genetically modified / GMO foods as much as possible
Avoid processed foods as much as possible
Avoid chemical additives as much as possible
Avoid sweeteners as much as possible
Avoid processed fats as much as possible, including hydrogenated and trans fat
Consult your doctor before starting a new diet. This page describes what the authors of the diet recommend – Chewfo is describing the diet only, and does not endorse it.
Get a copy of Relish for recipes and lifestyle tips.
How has this diet helped you? Please add a comment below.