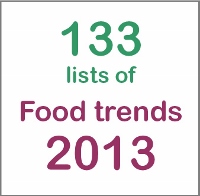 Here are 133 lists of food trends for 2013, mostly for the USA and some international. They are listed by type in date order, as one food trend report often influences another. If you have any other comments or suggestions – please let us know in the comments box below.
See previous lists of lists: 112 lists of food trends 2012 | 38 lists of food trend lists 2011
General food trends | Restaurants and foodservice | Specialist food trends | Beverage trends| Flavors trends | Market and retail trends | International food trends
Most common food trends predicted in 2013 – and how they may have been influenced by diet and healthy eating books
See also Bestselling diet books 2012 all year and monthly diet and healthy eating bestsellers
Vegetables at the center of the plate

Bestselling healthy eating books in 2012, including Eat to Live, Forks Over Knives, and The China Study advocated a plant-based diet (veganism), and most other diet books, including Wheat Belly, The 17-Day Diet, and The Blood Sugar Solution asked you to eat your veggies
Vegan diets trended down at the beginning of 2013, but are starting to become more popular again. Most everyone is still asking you to eat your veggies
Related: vegan / plant-based diets; dark leafy greens (kale, mustard greens, turnip greens, collard greens, chard); vegetables in desserts

Fermented foods

Nourishing Traditions, with recipes for fermented foods, has been selling well for several years. The 17-Day Diet and some Paleo diets and cookbooks in 2012 recommended probiotic foods, including sauerkraut
Healthy gut bacteria / intestinal microflora is increasingly mentioned in diets and healthy eating plans, including Clean
In 2013, the trend has continued with popular recommendations like The Plan
Michael Pollan's Cooked is also encouraging you to try fermentation
Related: pickled, cultured, cured, brewed, lacto-fermented; probiotic; sour flavors

Ancient grains

A number of diet and healthy eating plans in 2012 recommended avoiding gluten and refined grains, including Wheat Belly and Clean. Whole grains such as amaranth, barley, quinoa, farro, kamut, millet, quinoa, spelt, teff, while rice and whole of the grain variations such as bulgur (cracked wheat) and freekeh (charred green wheat) are often mentioned in these diets and have grown in popularity as alternatives. Note that barley, farro, kamut, spelt, bulgur and freekeh contain gluten
In 2013, the gluten-free, whole-grains, and ancient grains trend has continued with The Virgin Diet, It's All Good, Relish, and The Plan
Related: gluten-free

Locally grown food
Other trends frequently mentioned include:

Popcorn
Snacking and mini-meals
Chicken and heritage chicken
Smoked foods
Gochujang
Small plates
Brazilian food
Korean influence
Ethnic flavors
Nose to tail
Kids' meals made more grown-up
Avoiding food waste
Monkfruit sweeteners
Pre-made cocktails
Beer as an ingredient
Tea as an ingredient
Non-meat proteins
Not mentioned much but should have been
Pastured meat and dairy

Many diets and healthy eating recommendations in 2012, including It Starts with Food and Clean, urged people to avoid factory-farmed meat, poultry, and dairy (and often farmed fish), and instead eat animal proteins from free-range animals that can eat naturally and provide higher-quality protein with higher omega-3s and other benefits. It's a standard recommendation in Paleo diets – although these are not as popular as they once were, they are still on the radar
In 2013, this is continuing, for example Relish
Related: sourcing transparency, game, ethics

Allergen-free, free-from

Clean resurged an underlying trend towards allergen-free
Other elimination-reintroduction diets have been popular since the beginning of 2013 including The Plan and The Virgin Diet. Most of these suggest you can reduce the risks of chronic health conditions by finding out what are your trigger foods, often common foods including wheat, soy, eggs, and dairy

Dropping soda consumption
Contact us if you'd like to learn more about how understanding dietary trends can help your food, recipe, retail, or foodservice business.
Lists of food trends 2013
General food & beverage trends
Culinary Visions – Food trends 2013 (USA Today) Oct-22-12
Locally grown food; Street market inspiration; Pure foods; Healthier but affordable food options for kids; Pop-up eateries; In-house canning and pickling; Veggies at the center of the plate
Sterling-Rice Group (SRG) Top 10 Food Trends in 2013 Nov-2012
Tart/sour, acidic, and bitter flavors; Chefs using more vegetable ingredients; Asian-influenced American comfort food; Vegetables as main courses; "Grown-up" foods for kids; American-crafted artisanal foods; Small plates not for sharing; Fruit as a savory ingredient; Listening to dietary requests; Popcorn
Epicurious – Top Food Trends of 2013 Nov-29-12
Collaborations; Technology such as Instagram menus and iPads in the dining room; Cauliflower; Vegetable plates, especially seasonal; Toronto restaurant scene; Mezcal; Exercising to eat; Brazilian food; Sumac; Pinning pictures of what we might make; Homemade snacks; Vegetables in desserts; Artisan food producer as a culinary profession
Next Natural Retail Trends (New Hope 360) Nov-30-12
Transparency; Intelligent customization; Value natural products; Ancient wisdom: simpler, cleaner and minimally processed products
Nestlé – Top Food & Beverage Trends to Watch in 2013 (BusinessWire) – Dec-5-12
Regional production of foods; Soda down, water up; Health and nutrition for kids; Food trucks for dogs; "Grown-up" comfort foods; Foods that connect with customers' ethnicity; Vegetables in the main course
Food Channel – Top Ten Food Trends for 2013 Dec-5-12
Crowdfunding for new food concepts; Smoked foods and beverages including smoked olive oil, smoked cocktail, smoked water; Nordic/Scandinavian cuisine; High-end specialty bakery products for home bakers; Prix-fixe in restaurants for fine dining trickling down to casual; Supermarket concierges; Brunch is becoming the hot new meal occasion; Traditional seasons are getting stretched out, e.g. pumpkin used in the summer; Earl Grey and other tea flavors are starting to be used in cooking; Comfort food with an ethnic accent; Tiny portions for people who want to be really skinny; Underground chefs
Certified Angus Beef brand – Top food trends – 13 for '13 (The Food Channel) Dec-6-12
Strip steak; Surf and turf using more economical pieces of beef such as the ball tip and teres major cuts; Reintroducing alternative cuts of beef that have been braised; Using local ingredients to create international dishes; Craft-driven cocktail, cheese, charcuterie, bourbon, cheese and pickle programs; High-end nostalgic favorites and fair food; Adding lesser known cuts of beef like the chuck flap and sirloin flap, and dark meat chicken to the menu as they become more accepted by American palates; Repurposing lesser known cuts of beef; Individual tapas-style dishes; Elevated menu items like artisan sausages or gourmet burgers; Using social media to share behind-the-scenes stories of product sources, seasonal specials and delivery to the plate; Communicating information previously acquired from the traditional butcher; Educational programming for guests including cooking classes, book clubs with menu pairings and chef exchange events
Leatherhead LFR – global food industry outlook for 2013 Dec-18-12
Mixed global economic outlook; Sustainability including  energy use, raw material sourcing, the environment, human and animal welfare, waste, water usage, and so on; Governance and regulation including continued scrutiny of the use of salt, fat and sugar, as well as how 'healthy' foods are marketed; Natural/clean-label foods; Functional foods continue to grow but need proof; Free-from market to continue to grow; Breakthrough technologies and processes to reduce salt, sugar, and fat; Foods and packaging for aging population; Fair Trade foods, higher welfare standards, provenance, bio-diversity etc. even when money is tight; Ingredients take center stage for consumer decisions
Supermarket News – 10 Predictions for 2013 Dec-20-12
Brands go online direct; Green coolants; Meatless trend to increase; Online grocery shopping explodes; More mobile scanning apps; Frozen foods seen as healthy; Digital media used for dialogue; Merchandizing changes in the deli and cheese departments of major supermarket chains; Apps make shopping fun; Kroger and Safeway will gain in sales volumes
FoodNavigator USA – Trend spotting gallery: What's hot and what's not as we head into 2013? Dec-21-12
Sales of non-GMO products; Supergrains including farro, spelt, kamut, millet, quinoa, amaranth, chia, freekeh, teff; Greek yogurt; Protein-based products; Continued growth of gluten-free; Veggie proteins including algae, quorn, almond- and coconut-based beverages and dairy substitutes; Asian savory sauces; Mexican caramel; Functional foods containing proteins that inhibit galectin-3 to reduce the risk of heart failure; Kanna extract for mood boosting; 100% juice beverages including coconut water; Apple cider; Relaxation shots; Drop in soda consumption; Private label increase; Foods containing natural sweeteners stevia and monk fruit, also OatSweet; Eating alone is the new norm; Heavy decline in "beige" foods such as bread and rolls, ready-to-eat cereals and wheat-based cereal bars; Aggressive growth of hispanic food and beverage market
Food Network – 2013 Predictions Dec-23-12
Fermentation, beer, miso, yogurt, kombucha, live active cultures, probiotics; Foods flavored with hot chilis and alternate hot spices; Fish sauce; Asian fusion including kimchi, gochujang, shichimi togarashi; Fun food; Comeback American hyphenated cuisines
Publicis – 10 food trends to track in 2013 (Restaurant Hospitality) Dec-27-12
Coffee; Preserved foods including cured, brined, pickled and fermented items… and possibly frozen; Stealth health including salt alternatives, healthier types of fats and new natural no-calorie sweeteners like monk fruit; Higher-quality boxed wine; Food photo sharing; Food labeling transparency; High-protein products; Bitter flavors; Casual eating experiences; Coconut water, coconut milk, and coconut oil
Futurespace – Food trends 2013 Dec-28-12
Beer as an ingredient; Pickled vegetables; Barrel aged cocktails; Tea bars; Goldenberry; Whole animal dining; New Jewish cuisine; Madeleines and choux pastry; Artisanal syrups and bitters ; Garden-grown foods (vegetables) as main courses, carb replacements, and beverages
NPR – On Your Plate In 2013 Dec-30-12
Asian food and Asian street food; Fermented food; Vegetables at the center of the plate including brussels sprouts, dark, leafy greens, beet tops, collards, more varieties of kale, and seaweed; Veganism; Nose to tail; Farm-to-table and farm-to-bar
Hampton Roads – 2013 food trends Dec-30-12
Paying for quality in interesting and unique items; In-home catering; Healthier and more sophisticated children's meals; Gluten-free; Locally-sourced seafood; Baking bread; In-house, barrel-aged cocktails
New York Times – 10 Trends for 2013 Dec-31-12
Long-aged meat; Smoked everything; Sunchoke/Jerusalem artichoke; Artisanal soft-serve; Chicharrones; Raw winter vegetables; Barrel-aged hot sauce; Pig tails; Fermentation; New cured meats – charcuterie/salumi
Food & Wine Magazine – Top Food Trends To Try in 2013 (No date)
High-quality paid bread and butter dishes in restaurants; Popped grains such as puffed amaranth; Sea foraging such as sea buckthorn and seaweed; Charred foods; Slate serving pieces; Alternative ramen soups; Blue curaçao; Artisanal tonic syrups; Wine cocktails; New-school sangrita; American vermouth; Alternative nondairy milks made from flaxseed, hemp and oats; Chefs of many different ethnicities making Mexican food; Corsican wines; Fig cookies; Dacquoise
Esquire Magazine – 16 Predictions for Food and Drink in 2013 (No date)
Good value in restaurants; Traditional pizzas; Korean food; Bordeaux with good prices; Innovative Chinese restaurants outside of Chinatowns; Eastern European cuisine
Prevention Magazine – 13 Hot Food Trends for 2013 (No date)
Balancing macronutrients; Digestive enzyme supplements; Plant-based diets; Healthy eating apps; Non-GMO foods and labeling; Organic greens; Natural foods as superfoods; Fermentation and sprouting; Alkaline foods; Spices for health; Whole foods; Feeding kids like people; Qualitarian – concentrating on better-quality foods
Eating Well Magazine – 10 Top Food and Health Trends in 2013 (No date)
Quinoa; Gluten-free everything; Elimination diets; Organic food; Breakfast; Adult jello; Goat meat; Slow cookers; Regional cheeses and microbrews, artisanal jams, olive oils and breads; Cake pops
California Restaurant Month – Top 5 hot food trends for 2013 (LA Times) (No date)
Wine experimentation; Food foraging; The reinvention of the burger; Extra virgin olive oil; Farm to table
Gayot – Culinary Trends 2013 (No date)
Cocktail pairings & courses; Gluten-free and other "healthy" options and information including calorie counts; Gourmet airport food; High-end fast food including gourmet burgers & pizza, exotic sausages, fancy sodas; Underground dining, from pop-ups to supper clubs
Culinary Tides – Top 10 Trends Analysis – Shifting Sands 2013 (No date)
Government – GMO, BPA, acrylamide, salt, kids, food safety
Health – Obesity, sugar, kids, apps, cognitive function
Technology– QR codes, vending, digital storytelling, GMO
Consumers – Newism, deal chic, recession rejection, health centric, green grows up
Travel – Arctic, extreme Asia, island travel, digital detox
Beverage – Cocktails, specialty ice, smoke, textures, bitters, tea
Food & Flavor – Edgy, seasonal, daypart disintegration, pickled, wildcrafting, global comfort, Nordic, Low Country, regional Latin America, kids, fin to tail, noodles, smoked, wild game
St. Louis Gallery – The Top 13 St. Louis Food Trends of 2013 Jan-2013
Food trucks go flat; More pop-up restaurants; More large footprint restaurants; Kale; Provel cheese; Vegetables move to center of plate; Brown booze; Communal dining; Chef-driven burger joints; Locally owned fast-casual restaurants
Bon Appetit – 25 Food Trends for 2013 Jan-2013
Paloma cocktail; Juice cleanses; Duck eggs; Taking better food photos; Kitchen collaborations; Better-raised, better-tasting chickens; Burmese thick-cut noodle soup; Food documentaries; Homemade yogurt; Cemita; How to Boil an Egg book; Mingling with chefs at culinary events; Gochujang; Fernet-Branca; Fresh horseradish; Milling your own flour;  Eddie Huang; Tea; Stovetop smokers; Dungeness crab; Bread courses; Indie food magazines; Blondies; Sodastream booze
Food & Wine – 2013 Restaurant Preview Jan-2013
Chicken; Restaurant nesting dolls, one living inside another; Chefs and food entrepreneurs becoming Italian experts; Restaurants that double as artisanal food markets becoming ad hoc community centers or mini-malls; Regional American seafood; Leftovers as ingredients; Reinventing restaurant dishes; Experimental pub food
Hour Detroit – Food Trends for 2013 Jan-2013
Popcorn; Global comfort food; Made in USA / local; Specialty diets such as gluten-free, vegan; Healthy food; One-theme restaurants with simple menus where ingredients are king; Healthy prepared foods including assembly kits and plant-based ready meals; Fast food upgrades; Pickled foods like sauerkraut and fermented foods; One-pot dishes for home cooks; Juicing; Exotic ingredients such as durian, black garlic, fiddleheads, quail egg, duck egg, goose egg, ramps; Charcuterie such as sausages and pâtés with more creative flavor profiles; Prosecco; Craft everything, cottage industry entrepreneurs creating local foods and products
Cooking Light – 2013 Food Trends Jan-2013
New twists on current trends such as powdered coconut water and chia seeds; Ancient grains in snacks; Vegetables take the starring role; Komatsuna; Ramen; Sour foods including kombucha, gourmet pickled vegetables, kimchi, sour beers; Better burger buns; Popcorn in healthy formulations, in confections, and in savory dishes; Boozy desserts
US Foods – 31 for 13 Jan-2013
Artisan breads such as ciabatta, pugliese, fougasse; Your parents' cocktails including Rob Roy, Tom Collins and Manhattans; Grazing; Punch; Grapefruit; Freshwater fish; Infused alcohol; Salt cod; Brown spices – combination of cinnamon, cloves, star anise, allspice, nutmeg; Ginger; Parsnips; Foraged foods including wild fruit, ramps, bee pollen, winkles, buckthorn; Dry cured meat; Korean fusion; Danish food; City foodies move to the countryside; Traditional, local foods; Gourmet tamales; Chef pals; Ramen; Kale; Couples running restaurants; Transplanting products with long geographic history to new locations
Eatocracy – Food Trends We'd Like to See in 2013 Jan-1-13
Tater tots; Non-alcoholic drink options; Southern dishes with actual ingredients from the South in them; Grain and vegetable-based entrees that aren't an afterthought; More invasive species and sustainable protein on restaurant plate; Barrel-aged hot sauces; House-made vinegars; Radishes; Tokyo turnips
Organic Authority – 8 Must-Eat Food Trends for a Delicious 2013 Jan-2013
Lobster rolls; Gochujang; Greens including kale, mustard greens, beet greens, turnip greens, chard; Smoked everything; Seaweed including green kombu, chewy red dulse, dried black hijiki; Pineberries; Brazilian cuisine; Vegetable desserts
Fox News – Food trends for 2013 Jan-2-13
Veggies including kale, spigarello, beets, leeks; Heirloom chicken; Allergen-free foods; Fermenting including kimchi, sauerkraut, and pickles; Gochujang; Popcorn used in creative ways; Game meats; Teff
Chicago Times – 2013 food trends Jan-2-13
Heirloom chicken; Vegetables at the center of the plate including kale, Brussels sprouts; Baobab as superfruit; Using local and seasonal foods in regional cooking; Mobile technology while grocery shopping; Greek yogurt as an ingredient; Udon, soba, cellophane and rice noodles; Digestive health; Fast-food favorites including mini-burgers, Korean tacos, fancy cupcakes; Restocking the pantry; Less sugary sodas and fruit juice, more fresh juices
The Daily Meal – Top Food Trend Predictions for 2013 Jan-3-13
Rise of the pressure cooker; High-end counter dining; Alternative citrus including Buddha's hand, pomelo, satsuma, finger limes, calamansi/calamondin; Eggs in appetizers; Korean inspiration; Fast food mashups/hybrids; "New" cuts of meat including Denver steak, pork flat iron, teres major / shoulder tender; "Designer" brand-name meats including heritage or unusual breeds of pork, beef, and lamb; Sea beans/samphire/pousse pied; Smoked everything; Beer and wine hybrids; Beer cicerones/experts; Charging for chips and salsa; Charging for bread; Lardo; Urban honey; Eastern Europe as culinary destination; Healthier in-flight options
Mario Batali predicts 2013 food and drink trends (Eatocracy) Jan-4-13
Wild line-caught fish from both lakes and oceans, like walleye and perch; Cruciferous vegetables, both raw and cooked, including kohlrabi and beet greens; Hand-made food in all forms including non-processed tortillas, cakes, pasta, jams, breads, sausages and salumi; DOC and DOCG stuff from all over Italy, also American products that represent the place where they're made; Wine varietals outside of the big three, including Morellino di Scansano, Ciró and Nero d'Avola
Daily News – Food predictions for 2013 Jan-6-13
Freekeh; Hawaiian cuisine; Sourcing transparency; Plant-based plates; Fermentation; Indian spices; Small open-kitchen restaurants; Finger limes; Natural flavors instead of refined sugar; Chef/restaurant swaps; Cocktails based on local produce; Southeast Asian ingredients; Popcorn; Asian comfort foods like ramen, kimchi, pot stickers and pho; Obscure and organic/sustainable wines
Standard-Examiner (Ogden, UT) – Hers – Food trends Jan-7-13
Farm-to-fork; Allergen-free products; Chia seeds; Greek yogurt; Salty desserts, sweet entrées; Sweet potato fries; Paleo diet
St. Louis Post-Dispatch – 10 food trends to look for in 2013 Jan-8-13
Chicken; Restaurant markets; Communal tables; Better vegetarian options; Cauliflower; Mezcal, bourbon; Brazilian food; Smoke; Barrel-aged cocktails; Products in supermarkets including protein-packed snacks, picked and fermented products, coconut-based items
Four Seasons Magazine – 2013 Culinary Travel Trends Jan-8-13
Getting creative with kimchi; Single-dish restaurants; Sour beers; Peruvian cuisine; Pigs' ears
Food Processing – Flavor and Ingredient Trends for 2013 Jan-8-13
Converting ingredients to natural forms; Peach-colored foods; Foods for cognitive function, brain health, mood enhancement, stress management; Glucose control; Probiotics/microbe customization; Finger limes; New and unique cuts of meat; Southeast Asian ethnic cuisines; Sour/tangy flavors; Bean and ancient grain flours in place of wheat flours; Sustainable fish – swai and barramundi
Advertising Age – Food Trends for 2013 Jan-10-13
Putting traditionally solid foods into liquid form, while pitching drinks as replacements for solid meals; Meatless and veggie-centered options; Ancient grains and veggies in smaller health-food fast-casual restaurants
Kare11 Minneapolis-St Paul – 2013 food trends – health Jan-20-13
Fermented/pickled foods/probiotic foods for digestive health – yogurt, kefir, buttermilk, soymilk and cheeses with live active cultures, kimchi, sauerkraut, kombucha, cereals; Vegetables are center-plate; Ancient grains including farro and freekeh; Tea for cooking; Heritage meats / "antique" breeds; Local foods; Gluten-free foods
USA Today / Winter Fancy Food Show – Six food trends for 2013 Jan-23-13
All things coconut; Exotic oils such as vegetable and seed oils; Beer as an ingredient in food products; Regional heritage foods such as black walnuts; Herbs in drinks; Spicy sweets
Hartman Group – Ideas In Food 2013 – A Cultural Perspective Jan-31-13
Breakfast is back, with global flavors and protein; Protein for perceived health benefits; Ethics in food production, such as sustainable and traceable seafood, gestation-crate free pork, and cage-free eggs; Crowd-funding brings hip communities together; Sugar as the next tobacco, with links to systemic inflammation, diabetes, insulin resistance, raised triglycerides, and cancer; Gluten-free in whole forms, including emmer, red fife wheat, spelt, farro, freekeh, and kamut; Whole grain rye; Cultured, fermented, pickled, cured, brewed, and lacto-fermented foods and beverages for improved immunity and digestion; Vegetables take center plate, especially fresh and seasonal, while animal products lessened; New forms of healthy foods such as whole grains (quinoa, sprouted millet), protein (Greek yogurt, heirloom beans), omega-3s (wild salmon, grass-fed beef), probiotics (kombucha, coconut kefir); "Cold-pressed" or HPP high pressure pasteurized foods for nearly-raw foods; Premium private label; Marketing to men and LGBT; Upgraded convenience stores with fresh foods and higher-quality snacking; Nutrient-dense snacking; Food courts with collections of micro restaurants; Heritage chicken; Developing and communicating menus that address dietary restrictions; Ethnic snacking; Fairtrade candy; Edible food packaging
Lane PR – Food and Beverage Beat 2013 Feb-1-13
Consumers looking for new tastes, ethnic food category; Street food from Singapore, Israel, Mexico and other countries; Wines from Portugal; Natural, organic and sustainable food; Promotion of healthy, wholesome features such as zip code-specific products; Chia seeds in foods and drinks; Smaller portions more popular; Consumers opting for cleaner, fresher flavors, especially in drinks and cocktails
General Mills – Top 10 global food trends for 2013 Feb-8-13
Vegetables at center of plate; Global food influence; Mini-meals and snacking; Alternative grains such as quinoa, millet, wild rice; Clean eating – sourcing transparency, eating pure and simple, being able to pronounce ingredients; Food companies and chefs finding ways to create better-for-you alternatives that are still tasty; Healthy and sophisticated kids meals; Avoiding food waste – portion-controlled and frozen foods; Sharing food virtually; Boomers looking for healthy food to extend active years and control diseases – antioxidant rich foods, whole grains, fruits and vegetables
Lake News Online – Top Nutrition Trends of 2013 Feb-8-13
Cauliflower and mini-greens; Veggie-centered meals; Bulgur; Coconut water; Monk fruit sweeteners
AARP – Top 5 Food Trends for 2013 Feb-15-13
Less meat eating, but it's top notch – hormone-free, locally raised, grass-fed meats, artisanal sausage and fancy charcuterie; Vegetables dominating the menu including kale, nori, kelp, and brussels sprouts; Juicing; Ancient seeds as alternatives to wheat, including quinoa and chia; Popcorn
Cikipedia – Food Trends for 2013 Feb-21-13
The rise of the informed shopper; The increase of the alternative shopper; The increase of the male shopper; Breakfast; Ancient grains in snacks; Plant-based diets; Foods in supermarkets dedicated to diabetes, high blood pressure & heart disease; Juicing; Good bread; Better burger buns
Packaged Facts – Food Formulation and Ingredient Trends: Health & Wellness (Food-Navigator USA) Feb-22-13
Alternative proteins – ancient grains such as amaranth and quinoa, beans and lentils in new uses, wider use of pea proteins, more interesting usage of nuts, chia, and hemp seed; Breakfasts with higher protein, more products combining whole grains and low-fat dairy, and more products promising benefits associated with hunger satisfaction, sustained energy, weight management, and digestive health; High fiber breakfast executions of indulgent snacks and desserts, and more oat-based products from smoothies to more sophisticated products; Healthy snacking trends including squeezable fruit, kale, sweet potato and seaweed-based snacks, portion controlled single serving snacks, products containing fruits, vegetables, cheeses and nuts (especially almonds), ready-to-eat air-popped popcorn; Switching sweeteners from HFCS to sugar, sugar to honey, agave to coconut sugar, aspartame or sucralose to stevia or monk fruit; Sodium reduction including smaller crystals of sodium chloride and also potassium chloride
Condiment Magazine – Food Trends for 2013 Feb-28-13
Southern food; Drinking chocolate; Gourmet burgers; Lettuces, especially arugula and butter lettuce; Poutine; Hearty meals; Artisan and upstart food and beverage product companies
USA Today – Next big food trend? / travel Mar-12-13
Tahitian poisson cru; Yucatan panucho; International empanadas; Burmese mohinga; Brazilian moqueca; Bulgarian tarator; Yemeni mukbasa; Osakan okonomiyaki; Vietnamese pandan waffles banh kep la dua; Mexican huitlacoche; Vietnamese coffees
Functional Ingredients: 5 food trends for the year ahead (New Hope 360) Apr-9-2013
Convenience –  portable, convenient, resealable or single serve, including gluten-free and Paleo; Snack foods for healthy eating – gluten-free, vegan, raw, nutrient-dense, dairy-free, or a combination; Transparency of what is in food and how it is made, including GMO labeling; Protein in snack foods and meals, and front of label; Ancient wisdom including ancient grains and seeds such as quinoa, flax, and chia, backyard chicken coops, home gardens and beekeeping
IFT – Top Ten Food Trends for 2013 Apr-16-13
Eating occasions that can be described as "savoring"; Fresh and animal welfare foods seen as healthy – terms including house-made, home-made, from scratch, artisan, authentic, seasonal, real, never frozen, farm-raised, grass-fed, free-range, cage-free; Millennials using helpers in the kitchen; Eating alone; Seeking true transparency including food safety, antibiotics/hormones in meats; humane treatment of animals; calorie counts in restaurants; Ethnic flavors on non-ethnic menus; Agricultural appreciation including hyper-local, restaurant gardens, farm/estate brands, small-producer suppliers, farmers' markets mainstreaming, the cut and breed of meat; Finger foods; Products with vitamins and specialty nutritional ingredients and for muscle strength; Mothers buying nutritionally enhanced food/drinks- organic, no GMOs
Fox News – Top culinary trends for 2013 Apr-16-13
Craft cocktails reach the next level; Gluten-free products and menus; Gourmet airport food; Pop-up restaurants; High-end fast food
Sierra Culture – 2013 Food Trends Apr-17-13
Hand-crafted artisan foods; Chef collaborations; Blended wines; Locally sourced food; Craft cocktails; Craft beers; Smoked foods; Healthful children's meals; Vegetarian, vegan, and gluten-free; Pinning pictures online of what we'd eat
Restaurant and foodservice trends
Andrew Freeman & Co. – Evolution:Revolution Trends report 2013 Oct-16-12
General trends: Open kitchens; Casual food at the bar; Knowing but not flaunting ingredient origins; Using official certifications for claims; Gluten-free menus; Juice; Food trucks
Hotel trends: Hiring dedicated wine directors and skilled sommeliers; Chicken coops;
Restaurant & food trends: Customized rolls; Boards for serving foods such as bread; Sophisticated Mexican; Argentina, Brazil, Chile; Speeding up service; Kitchen counters; Fixed price menus at all types of restaurants; Culinary couples opening new restaurants; Back stories, new ingredients, and new menu dishes inspired by chefs' travels; Ancient grains, including fermented, sprouted; Drunken bar snacks; Pay-by-the-piece pre-appetizer courses
Ingredients: Lamb breast, riblets, and belly; Pork secreto; Freekah; Bulgur; Homemade ricotta; Skin including chicken and pork; Neck including lamb and goat; Vegetable "noodles"; Push-pops; Pig's heads
Beverage trends: Herbal fortified spirits; Small batch and homemade vermouth; Aperitifs and digestifs;  Premade carbonated and canned cocktails; Barrel aged cocktails; Cocktail progressions, pairs, and flights; Cocktail pairings with menus; Going off the menu; Vegetable flavored cocktails; Foreign wine varietals; Corsican wines; Sherry and oxidized wines; New and innovative pricing structures and service styles to make wine more fun and accessible; Beers thoroughly integrated into meals; Scandinavian beers
Drink ingredients: Chartreuse; Roots; Cynar; House made tonic; Fennel; Becherovka; Clarified / distilled juices; Honey beer; Cider
Market: Gourmet meals at home with high-quality restaurant-caliber food, packaged to finish preparing at home; Major cities celebrating what makes their food culture unique
Baum & Whiteman – 17 Hottest Food and Dining Trends for Restaurants & Hotels, 2013 Oct-23-12
Beverages: Artisan bars;  Boozy soda fountain bars for grown-ups; Pre-made barrel-aged cocktails; Fat washing; Bars specializing in brown booze, especially bourbon and new-old ryes; High-proof spirits (50% alcohol and up); Artisan beers with 8% to 12% alcohol; Beer-based cocktails; "Enhanced" juices with a small amount of alcohol; Juice bars including hotel spas, hotel breakfast rooms, and popup juice bars during midday; Artisan sodas using fresh and local ingredients; Colas being abandoned; "Fresh" beverages or fruit-flavored carbonates and smoothies with the illusion of health
Food: Trading down to fast-casual formats with "fresh" foods and values such as Chipotle, using ethnic cuisines and a format of customizable upscale options, bolder flavors,  distinctive, contemporary décor, more youthful appeal than dinnerhouses but more mature than fast-food plasticity, prices about half-again as much as fast food, and consumers tolerating slower service in exchange for better quality; Higher-priced "gourmet" fast food options; Mini foods; Snacks from all food suppliers; Law suits about sourcing claims such as natural, organic, artisanal, local, also GMO and calorie and fat content; Bigger bundling including higher prices, especially whole animal or whole bird dinners; Pop-up restaurants and bars with edgy design and food in hotels; Drip-irrigated green walls, possibly ending up as edible garden walls; Order-and-pay kiosks and vending machines, probably starting in convenience stores; Charging for bread baskets; More elaborate breads and rolls; Seaweed beyond sushi; Kale becomes mass-market; Beet greens, chard, turnip greens, and mustard greens finding favor; Food suppliers opening own-brand stores
Buzzwords: Menu shuffling aimed at flexitarians; Asian flavorings: togarashi, yuzukosho, gochujang; More chicken (often upscaled), less beef; Fermented everything; Donuts getting bizarre upscaling; Bar-made and small-batch tonics and quinine syrups; Lillet, Dubonnet, Chartreuse, Benedictine and other golden oldies; Craft bourbon, small-batch rye, local gins; Zip-code honeys; White strawberries; Green tomatoes; Geranium leaves; Hibiscus; Shiso; Charred octopus tentacles; A good year for hard cider; Lobster rolls; Charcuterie boards
Spice trends: Torridly hot, smoked, warm and aromatic, fruity
Technomic – What's Ahead in 2013? Nov-19-12
Vegetables – flexitarian meals with actual vegetables, salad and vegetable dishes, and vegetables at the center of the plate; Grains playing a star role, including gluten-free grains; Chicken; Snacks; Value-as-volume; Premium diner and deli fare; Noodles; South American cuisine including Brazil, Argentina and Peru; Global fast casual themes; Beverage differentiation including fresh fruit beverages, natural energy drinks, housemade sodas, cocktails made with candy-like flavored vodkas, microdistillery liquors that promote drinking locally, regional craft brews starring in beer-and-food pairings, and the rise of hard ciders
Phil Lempert – Top Ten Food Predictions for 2013 Dec-5-12
Avoiding food waste; Snacking and smaller portion sizes; Boomer reactions to diabetes, high blood pressure, and heart disease; Moving away from meat proteins; Breakfast becomes the most important meal of the day; Evolution of frozen foods; Men in the supermarket and the kitchen; Mobile apps related to food shopping; Impact of millennials; Food transparency
Grupo Olson and Global Business Alliance – Global Menu Trends for 2013 (Culinary Visions) Dec-11-12
Global cuisine on menus; Mediterranean flavors; Latin; Asian flavors; Mall culture; Regions to watch include Brazil, Turkey, Indonesia and South Africa; Wellness and functional foods; Agritourism; Food ethics
NRA 2013 Restaurant Trends Dec-21-12
Locally sourced meats and seafood; Locally grown produce; Healthful kids' meals; Environmental sustainability; Children's nutrition; New cuts of meat; Hyper-local sourcing; Gluten-free cuisine; Sustainable seafood; Whole grain items in kids' meals; Farm/estate branded items; Non-wheat noodles/pasta; Non-traditional fish; Ethnic-inspired breakfast items; Fruit/vegetable children's side items; Health/nutrition; Half-portions/smaller portions for a smaller price; House-made/artisanal ice cream; Black/forbidden rice; Food trucks
Nation's Restaurant News NRN – Top 10 restaurant menu trends for 2013 Dec-27-12
Chicken breast; Skin – pork, duck, chicken, salmon; Avocado; Bycatch / junk fish and seafood eaten instead of being regarded as waste; Custom beer; Game meat including bison, elk, venison, antelope; Australian bush tucka / aboriginal herbs, seeds and fruits – herbs including lemon myrtle and pepperleaf, fruits including muntries, kakadu plums and finger limes, and seeds include wattleseed; Sriracha; Potatoes including provenance and varieties; Tropical fruits in beverages
BizBash – Caterers Predict Food Trends Dec-31-12
Masa; Crushed oats; Acadian caviar; Vadouvan spice blend; Tea in cooking; Chile de Árbol; Polenta; Yuzu; Beef brisket; Guanciale; Quinoa; Blood oranges; Kale; Local greens; Puntarella; Vinegar, fermented juices, tart, acidic, and bitter flavors; Fruit and vegetable dust; Local wines; Parmesan not just for pasta; Ancient grains including amaranth, farro, bulgur, quinoa, and kañiwa; Dungeness and blue crab; Garam masala
Food Fanatics / US Food – 5 Trends to Watch in 2013 (No date)
Locally grown or farmed foods; Local, artisanal bread; Vegetables take center stage; Quality take-out experience; Putting underutilized space to work
Kraft Food Service – 2013 Trend Tracking (No date)
Customization and food as experience merge; Fusion 3.0; Casualization eases into everything; Unusual pairings move mainstream; Seasonal, fresh, wholesome food; Salt; Limited menus; Vintage desserts get provocative; Healthier kids' menus; Ethnic desserts; Restaurant/market combinations; Pretzels as an ingredient
Heinz Foodservice – Chef Jeff McMurdy 2013 trend predictions 2013
Poultry and chicken including thighs and skin; Small plates; Eating more vegetables, like cauliflower, rapini, beans, kale
Heinz Foodservice – Chef Dustin Hilinski 2013 trend predictions 2013
Exotic ingredients and unique cooking methods from around the globe; Nose to tail; North African cuisine; Popcorn
Heinz Foodservice – Chef Mike Hampson 2013 trend predictions 2013
Flavorful food that is better for you; Vegetables take center stage; Affordable, convenient world cuisines; Specialty cocktails and craft beers
Heinz Foodservice – Chef Dan Burrows 2013 trend predictions 2013
World cuisines and different chili peppers; Pickles and pickled vegetables; Fermented foods and their positive health connotations; Fresh, locally grown, healthful dark greens
Mintel – 2013 foodservice trends Jan-8-13
Using clever menu tactics to defray high ingredient costs such as beef; Beverage innovations; Building trust in ingredients; 24/7 access to higher-quality food
QSR – 10 Trends for 2013 Jan-2013
Going local; Healthy kids' meals;  Economic struggles; Snack as meal; More fruit and veggies; Gluten-free options in restaurants; Fast casual starting dining trends; Ethnic foods; Innovative beverages; Evolving around health care, including calorie counts on menus, sizes of certain beverages, nutritional value of kids' meals
E-Squared – 2013 restaurant trends (Restaurant Hospitality) Jan-9-13
Vegetables as the star of the plate; Haute butchers; Cooking with minimal manipulation; Pit cooking; Discovery of new ingredients; Sommeliers playing an increasingly prominent role in the dining experience
Top Chefs Forecast Food Trends (Forbes) Jan-31-13
Cultural and ethnic flavors; Fermenting; Tasting menus; Food trucks; Sous vide; Sustainable seafood; Restaurant gardens; Molecular gastronomy; Charcuterie; Ember cooking; Pickling; Vegetables at the center of the plate; Amuse-bouche, Specialty burgers
Custom Culinary – Top 10 Foodservice Trends for 2013 Feb-25-13
Globally authentic foods; Small plates / snacking; Dressed-up comfort food; Healthier children's menus; Smoked foods and beverages; Fermenting, pickling, kimchi; Economy new proteins including eggs, nut butters, tofu, beans, legumes, and cheaper cuts of meat; Barbecue; South American food including Brazil, Argentina, Peru and Chile; Vegetables become the star
Specialist food trends
Berry on Dairy – Ice Cream Trends 2013 Nov-16-12
Desserts within desserts gain momentum, but the characterizing dessert needs to better connect with the consumer; Sweet and salty have become quite common as inclusion blends in ice cream – add tang with peppers, hot sauce, citrus and even cheese, or better still make it local; Dairy within dairy; Add some nutrition, e.g. fruit; Alcohol-flavored ice creams for the more mature palette
Melissa's Produce – Emerging Produce Trends (Tom's Foodie Blog) Nov-21-12
Calamondin; Finger limes; Raw garbanzo beans / chickpeas; Baby sweet potatoes; Padron chile
FoodNavigator USA – Trend spotting 2013: Protein rocks! Dec-3-12
Muscle and protein will be a hot trend across all age groups; Less hardcore claims on the rise, including added protein, whole grain/high fiber, 100% real fruit, and gluten-free; Adding fiber and protein for hunger management rather than weight loss
Symphony Consulting – TrendSpotting in Health Food Claims Dec-18-12
Macro claims include Better for You; Dietary Restriction; Condition-Specific; Natural; Energy
Berry on Dairy – Dairy Food Trends 2013 Dec-20-12
Protein content; Kids' products; Hand crafted, artisanal, local—tell a story; Fruit and nuts – where they came from, nutritional content; Targeting a day-part
The Daily Meal – Event Catering Trends for 2013 Dec-24-12
Popcorn bars; Tacos, dumplings, and ethnic finger foods wrapped in dough; Bizarre and botanical; Diverse and personalized desserts
Health & Fitness Trends for 2013 – Joy Bauer- Today Show Dec-27-12
Processed foods with cleaner ingredients; Cacao; Vegetables for dessert; Popcorn
National Consumer Research Institute – Top Five Health Trends for 2013 (MarketWire) Dec-27-12
Food waste consciousness; Wellness in the workplace; Mini-meals and snacking as healthy eating; Meatless / vegan eating habits; Gluten-free
Pollack Communications / Jenny Craig – Diet trends: Low-fat, low-carb out (UPI) Dec-30-12
Continued demand for natural and simple foods, minimally processed with few ingredients; Low-fat and low-carb diets less popular; Gluten-free; Commercial diet programs; Nutrient-dense foods
The Knot – Wedding Catering: Top 10 Catering Trends (No date)
Food colored to match the wedding's theme colors; Letting guests play bartender; "Interactive culinary kiosks" around the cocktail hour and reception; Healthy meals; Organic and sustainable ingredients; Family-style meals; Exotic ingredients; Tasting menus; Kids' menus are more sophisticated; Late-night snack at around 10pm
Weddings Illustrated – Top 10 Wedding Trends for 2013 (No date)
Statement cakes; Mini-food, bite-sized
Bridal Guide – Top 13 Wedding Trends for 2013 Jan-1-13
Plated dinners; Spotlighting your culinary heritage; Pork entrées, Tequila; Eye-popping cakes
NBC Latino – 6 Latin food trends for 2013 Jan-3-13
Mainstream foods with spicier flavors; Sour flavor profiles; Tapas that's for portion control instead of sharing; Chef-driven tacos with crossover flavors; Chorizo goes mainstream; Superfoods such as nopales and chayote squash
A Season to Celebrate – 2013 Wedding Food Trends Jan-2-13
Alcoholic smoothies & shakes; Ombre (graduated color) wedding desserts; Creative catering dishes/utensils; Customized barware; Ethnic cuisines
New Hope 360 – 2013's organic trends Jan-11-13
Organic regulations becoming stricter; Organic fusing with food safety and product integrity; International standards for organic; Sustainably organic; Transparency of organic certification; Non-food going organic; Increased consumer literacy on organic; Organic foods beyond grocery stores: in schools, hospitals, food banks, convenience stores
Be Well Philly – 7 Healthy Foods Jan-15-13
Amaranth; Farro; Daikon radishes; Coconut oil; Freekeh; Nutritional yeast; Dates
American Egg Board and NPD Group – Top Egg Trends for 2013 (Food Product Design) Jan-17-13
Protein at all meals; Growing breakfast category including platters, bowls and skillet dishes; Fried egg creations at chains; Food truck menus with eggs; Innovative egg dishes using fresh vegetables, ethnic flavors and spices, especially Mexican style; Eggs in clean-label foods; Good for food labels
Nutrition Business Journal – 7 nutrition industry trends for 2013 (New Hope 360) Jan-18-13
Mergers & acquisitions; Increased regulation; GMO labeling lives on; Plant-based proteins including rice, pea, hemp and soy; Make it where you sell it – large companies buying and manufacturing locally; Better regulation of caffeine consumption; Ethnic foods and flavors
Calorie Control Council – Top 5 Trends in Dieting and Healthy Eating in 2013 Feb-19-13
Increased use of low-calorie products; Using apps to track calories, weight, exercise; Clean eating, focusing on whole foods, fruits and vegetables and lean proteins; Gluten-free
Meat Conference 2013: Meat Trends (Supermarket News) Feb-26-13
High end or affordable but not much in between; Tell the story; Antibiotic-free and hormone-free products; Meat snacks; Assembled meals
Food Processing – Snack Trends 2013 Feb-28-13
Snacks using nuts as a base ingredient; Sodium reduction while keeping the salty taste; Gums as binders; Air-popped and baked; Whole-grain snacks; Bacon maple flavor
Allrecipes and Meredith Research – Global Measuring Cup 2013 Trends: What Global Families are Cooking and Eating  Mar-2013
Preparing more meals at home; Online recipe sites are the #1 resource for home cooks, also video sites; Peer-based ratings for recipes are important; "Healthy" food is being redefined; Learning to plan, prep and cook smarter using mobile and apps
Berry on Dairy – Cheese Trends 2013 Mar-21-13
Tradition, creativity and fine craftsmanship continue to drive cheese consumption; Tell a story – talk about the milk source, the proprietary aging technique, the driver behind the product; Ingredients that add flavor or provide some kick; Improved nutrition facts, not "low fat" or "low sodium"
National Confectioners' Association – Sweets and Snacks 2013 Trends May-20-13
Hot and spicy snacks; Comfort food-flavored candy and snacks; Small bites; New spin on classic candy; Nontraditional ingredients in candy and snacks; Decadence; Taste sensations
Beverage trends
Camper English – 2013 Predictions – Key Cocktail Trends (The Daily Details) Dec-6-12
Carbonating cocktails; Molecular mixology; Butcher-to-bar including carnivore-friendly bar snacks like charcuterie and chicharrones; Palatable spirits with low-alcohol ingredients such as top-quality French vermouths, bold Spanish sherries, Italian amaros; Batch cocktails for faster service
Technomic 's Top 10 Adult Beverage Trends for 2013 Dec-11-12
Sweet wines; Beer in fine-dining restaurants; Advances in hard cider; Flavored standard liquors and flavor combinations; Upscale adult beverage retail; Higher standards for mixers; Spirits and cocktails on tap; Digital tablets for ordering drinks; Beer gardens; New options for whiskey
Food & Wine – 2013 Cocktail Trends (No date)
Daiquiri; Chefs creating cocktails; Low alcohol cocktails; Brandy, cognacs, and armagnacs; Mineral-driven cocktails; Suze bitter aperitif; Japanese mixing glasses; Clarity of ice; The South as a cocktail destination; Portland, OR as a cocktail hub; Mezcal; The Paloma; Cocktails on tap
The Spirit Business – Top 10 Cocktail and Bar Trends 2013 Jan-7-13
Bottled cocktails and "ready-mixed" drinks; Fun drinking; Cocktails that evolve  in the glass, such as herbs and spices that release their flavors slowly to custom ice; Interesting vessels and elaborate garnishes; Bartender-owned bars; Beer cocktails; Local spirits; Whiskey from craft distilleries; Low- and non-alcoholic cocktails; Floral flavors
USA Today – Hotel Bar Trends Feb-22-13
Cutting-edge cocktails; Premium cocktails; Made in the kitchen; Savory cocktails; Cocktails as entertainment; Harder-to-find liquors; Specialty ice; Greater non-alcoholic choices; Exotic ingredients; Farm-to-table cocktails
Healthy Beverage Expo – 7 healthful beverage trends for 2013 (Restaurant Hospitality) Mar-14-13
Functional drinks, e.g. touting brain health, bone health, healthy energy drinks; Beverages that use natural sweeteners and flavorings, less-sweet beverages; Healthy alcohol-based beverages including vitamins, all-natural ingredients, fewer calories, organic, non-GMO; Healthy beverages for under-18s; Gastronomically seasoned beverages; Healthy, better-tasting ready-to-drink coffee beverages, Healthy and simple lemonade beverages with real lemon
Flavors trends
McCormick – Flavor Forecast 2013 Dec-6-12
Global food trends: Global ingredients beyond traditional roles; Decadence; Handcrafted condiments; Creating health and wellness through personalized, flexible approach; Waste-not mentality
Bell Flavors & Fragrances – Flavor Trends 2013 (Food Product Design) Dec-17-12
Sweet & Dairy: Nostalgia; Mediterranean
Beverage: Dessert-inspired flavors; Spicy beverages
Savory: Regional Mexican and Latin American; Regional American
Comax Flavors 2013 Trend Predictions Dec-27-12
Intensity and experimentation, boldness and clout; Herb appeal: peach basil black tea, peppered apple bacon, chili ginger lime, cardamom pear berry; Duets: butterscotch coffee crunch, maple bitters, dolce de leche buttered rum, flan de nuez; Smooth finish: pistachio almond cream, pink cherry marshmallow, black russian cappuccino, dark chocolate bourbon truffle
Sensient – 2013 Flavor Trends (Food Product Design) Jan-8-13
Alderwood smoke; Blue honeysuckle berry; Cloudberry; Dandelion honey; French toast flavor; Ghost pepper; Pawpaw; Peanut butter and jelly; Speculoos cookie flavor; Za'atar
Food Product Design – 2013 Flavor Trends For Kids Feb-2013
Familiar and traditional flavors; Curious flavors such as prickly pear, s'mores and birthday cake; capturing kids' need for adventure by pairing sophisticated old favorites with extreme bold flavors, such as cinnamon and ginger; Peanut butter and jelly; Ethnic flavors with Hispanic and Asian influences; Natural flavors such as honey, forest berries and citrus
Market and retail trends
Innova Market Insights – Top consumer trends of 2013 (New Hope360) Nov-8-12
Transparency, credibility and accountability; Functional food messaging; Focus on an aging population; Free-from foods; "Natural" labels moving towards ""additive-/preservative-free"; Protein overdrive; Beating the sugar demon; Sensory experience; More with less; Interest at the extremes
Logistics Viewpoints – The Logistics Story for 2012 and Beyond Dec-11-12
Alternative delivery – locker services, centralized pick-up location, pop-up stores to pick up products during periods of high seasonal demand; Cost awareness and reduction; Resiliency in making more sophisticated changes on the fly, such as re-planning remaining delivery legs as goods are in transit; Increasing collaboration and information sharing; Increasing overall supply chain flexibility and responsiveness to meet the increasingly impatient and fickle demands of consumers; Innovation
Supply Chain Management Review – 5 Supply Chain Predictions For 2013 Dec-25-12
Trading networks; Fast data; Social supply chain; Supply chain control towers; Dynamic cost; Dynamic risk management
JWT – 100 Things to Watch in 2013 Dec-26-12
Allergen-free foods; Chia seeds; Dads in the aisles; Faux meat; Food sharing; Humane food; Imperfection; Menu-free dining; Midcalorie foods; Online groceries; Reduced-guilt candy; Tech-enabled farm-to-fork; Teff; Vegetable boxes; Vertical farming; Yogurt shops
Colloquy – Under the Radar: Ten Trends Loyalty Marketers Might Not See Coming in 2013 Dec-10-12
Health equals wealth; Rewards for non-purchase activities; Friend, blend, spend (the open-loyalty economy); Augmented reality; MomPopolies (mom and pop establishments that have as much engagement power as their national rivals, but with local panache); Scalable coalition loyalty programs; Data scientist shortage; Data marketing regulation rebound; Glocalism (when regional businesses are altered by far away events); Economic fear and control
FoodNavigator – Top Five Industry Drivers in 2013 Jan-2-13
Open innovation instead of in-house R&D to solve formulation challenges; Consumers expect ethical practices including environmental stewardship, animal welfare, and fair pay for workers; Food prices continue to rise; Governments will continue to keep an eye on how different food pricing policies including taxes and subsidies affect consumption; Simplicity of ingredients, such as shunning low-calorie sweeteners for sugar and choosing "pure" fats like butter ahead of fat-replacing starches and hydrocolloids; Natural colors, flavors, and sweeteners to continue their rise; Shorter ingredient lists; On-pack explanation of why certain ingredients are included
Food Processing – 2013 Food Industry Outlook: 5 Things to Look Out For Jan-10-13
Continued GMO debate; Defining "natural" foods; Changing business climate with many mergers, acquisitions, and separations; Commodity costs increasing; Private label food growth to continue to outpace growth in branded food; Tougher restrictions on advertising to children, more scrutiny of health-imparting claims and maybe even taxation as a way to separate people and food
Consolidated Label Company – Top 4 Label Packaging Trends for 2013 (FoodBev.com) Feb-28-13
Increase in shrink sleeve production for dairy bottles; Continued segmentation of consumer product lines, offering more bespoke products for consumers; Breaking down larger packaging sizes into individual serving sizes to meet consumer demand; Digital printing
Symphony IRI – CPG Industry Trends, Predictions for 2013 (Progressive Grocer) Mar-5-13
Shopping in fewer channels; Continued focus on value; Millennials important; "New media" becoming commonplace
Datamonitor infographic: 10 Trends for CPG in 2013 (Shopper360) Mar-20-13
Sourcing transparency; "Better for you" junk foods; Safe foods; Game meats; Multi-dimensional flavors; Vegetable snacks; Sweet foods; Energy foods
International food trends
See global Measuring Cup food trend lists from Allrecipes.com at http://press.allrecipes.com/research/2013-global-measuring-cup/
Australia
Weber Shandwick – Australian dining trends Dec-10-12
Artisan supermarkets; Nostalgic menus; Casualized menus; Food trucks; South American and Asian flavors – Korean, Wagyu and Peruvian restaurants, spicy food from northern China, Kimchi, Mexican food becoming a standard part of the kitchen; Vegetables in the centerpiece of meals; Novel foods from nature, such as the Kakadu Plum and Warrigal Greens, possibly grasshoppers and locusts; Natural sweet and savory flavors
MasterChef Australia – 2013's food trend predictions (No date)
Flexitarianism; Ancient grains such as barley, millet, faro, quinoa, amaranth and spelt; Radical restaurants; Ash as underlying food flavor including vegetable dust; Trans-continental combos; Artisan supermarkets; Heirloom chicken; Edible insects; Chardonnay; Family feasts; Online grocery shopping; Mini-meals for kids to develop their palates and encourage healthy eating
Canada
Technomic – Five Canadian Restaurant Trends in 2013 (Fast Casual) Nov-30-12
Small plates for snacking; Gourmet update for chicken; Vegetable focus including locally sourced, in-season fresh veggies as side dishes, and also more vegetarian entrees; Asian cuisine; Specialty beverages – artisan preparation and ethnic flavor
Huffington Post Canada – The Healthy Food Trends of 2013 Apr-17-13
Minimizing food waste; Snacking and mini-meals; Variety of Greek yogurts; Gluten-free products with their own sections in supermarkets; Alternative grains such as quinoa, wheat berries, and barley; Consumers becoming more aware of food and nutrition issues
India
Times of India – Top food trends to watch out for in 2013 Feb-21-13
"Healthy" cookies including sugar-free, high fiber, multigrain, high antioxidants; Flavorful fruits;  Mold-free bread; Chinese farms on the moon; Milk fortification including fish oils; Ready-to-eat festive foods; Seaweed including seaweed bread, seaweed shakes and seaweed salads; Vegetarian meats / mock meat; Edible bugs
NDTV India – Top 10 food trends – 2013 May-17-13
Gluten-free; Quinoa; Cold pressed extra virgin olive oil; Eating raw; Farmers markets; Detoxification; Goji berries; Whole grain; Yogurt; Ragi, also known as finger millet
UK
Technomic – Five UK restaurant trends (Fast Casual) Nov-27-12
Customization for customers encourages experimentation; Super local foods and authentic global foods on the same menu; Stealth-health ingredients, including superfoods like beans, dark-green vegetables, salmon, soya, walnuts, yoghurt, tea and blueberries; Maturation of snacking menus with trends including around-the-clock snacking, ethnic snacks and bite-sized offerings; Swift-service concepts such as food trucks, quick-service and fast casual restaurants increasing takeaway options and meal deals for on-the-go consumers
Lost in Catering – UK Restaurant Trends 2013 (No date)
Customization; Generational shift in culinary awareness; Sharing, informality, and casualness; Serving food quickly; Value-for-money redefined to include sustainability, transparency (open kitchens, hygiene ratings, supplier sourcing), local, artisan, "teach-me," wellness; Street food, pop-ups, swarms and food trucks; Bold flavors, umami, and cross-over; Blurring of occasion
Lost in Catering – London Menu Trends 2013 (No date)
Chicken restaurants; Hipster pizza; Barbecue; Noodles; Flat top grilled burgers; Real Spanish food; Native / local ingredients, flavor-heavy international cooking paired with artisan produce; Gourmet hot dogs
Lost in Catering – London Bar & Drink Trends 2013 (No date)
Carbonated cocktails; Bottled cocktails; Craft beer still trending; Not-big-brand coffee plus filter coffee; Micro distilleries; Sour drinks; Tea everywhere including tea-based cocktails, bubble tea, and green tea in smoothies; Grower champagnes; Ice including  slow-melt extra large ice chunks, hand-cut rocks, unusual shapes like stars and hearts; Juice including green juice, HPP or cold-pasteurized juice; Cola being replaced, including alternate flavored sodas, homemade frescos, cucumber water, coconut water; Hard soft drinks
My Secret Kitchen UK – 10 food and drink trends for 2013 (FoodBev.com) Jan-7-13
Novel natural ingredients such as bee pollen; alternative chilli peppers; Popcorn with unusual flavors to become mainstream; Free-from foods moving to mainstream; Creative cocktails; Local meats such as rabbit, pheasant, and deer; Brazilian foods and drinks; Pickled foods; Sweet and savory mixes; Alternative types of peppercorns and non-chilli hot spices such as Szechuan
Bibendum Wine Ltd UK– 2013 – What Will We Be Drinking? (Huffington Post UK) Jan-31-13
Bordeaux and Burgundy to lose market share; The end of sub-£5 wines; Deals on South African wines; Unusual but delicious grapes such as Fiano, Picpoul and Bobal; Better wine in pubs, bars and restaurants; Sweeter wines
Olive Magazine UK – Cool List 2013 (Immediate Media) Apr-3-13
Alternatives to plates; Surprising comebacks from savory doughnuts to chicken gizzards to condensed milk; Vegetables for dessert; Black coffee; Fermented foods / microbiology / "rotten food"; Rude food and weirdness
That's all, folks!
Contact us if you'd like to learn more about how understanding dietary trends can help your food, recipe, retail, or foodservice business.